Some Windows 10 users have reported Windows Mixed Reality installation errors after installing a Feature Update on their device. Likewise, some Windows 11 PC users have reported the same issue after upgrading from Windows 10. This post provides the most suitable solution affected PC users can apply to resolve the issue on their devices.
Couldn't install Windows Mixed Reality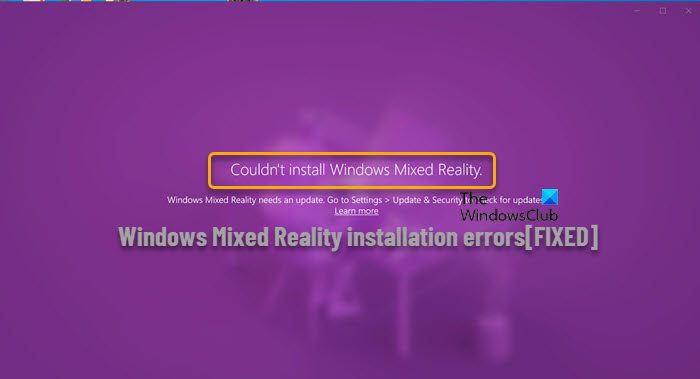 Fix Windows Mixed Reality installation errors
If you are encountering Windows Mixed Reality installation errors after you install a Feature Update on your Windows 10 PC, or after you upgraded from Windows 10 to Windows 11, then depending on the error message you get, see the sections below for solutions that apply specifically to each instance of the installation error.
General Troubleshooting to fix Mixed Reality errors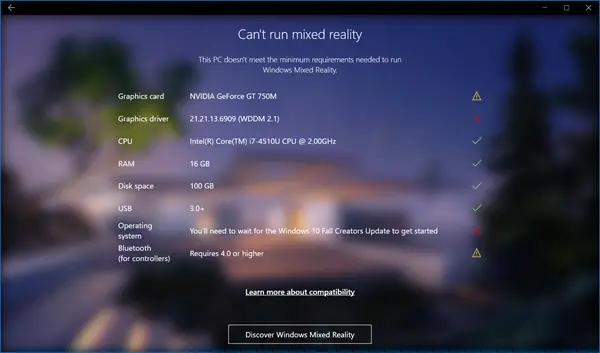 Before you proceed with the specific Windows Mixed Reality installation errors (with fixes) below, you need to complete the following pre-check task or troubleshooting and see after each see if your issue is resolved.
I] Check your system compatibility
The specs and capabilities of your PC as outlined in this guide will determine what experiences you're capable of running Windows Mixed Reality which supports various headsets across a diverse set of PC hardware configurations. Although you can disable Hardware Requirement Checks for the Mixed Reality Portal app on your system.
II] Check for Windows Mixed Reality updates
If you tick the box for system compatibility, the next step you should take is to check Windows Update (including Optional Updates) and, depending on your PC manufacturer, use their special driver download software (for example, the bundled HP Support Assistant) to install any available driver updates. In the case whereby you have the latest driver update from the manufacturer and Windows Mixed Reality setup says Your graphics card doesn't meet the requirements and you know the hardware does, then make sure your headset is plugged into the correct card, assuming you have multiple GPUs installed on your system.
Read: Mixed Reality headset & motion controller driver & software downloads
III] Disconnect and Reconnect your HMD
Do the following:
Disconnect your HMD (For example, you can unplug the power on the breakout box of the HP Reverb G2).
Next, open Command Prompt in admin mode and run the command below:
dism /online /remove-capability /capabilityname:Analog.Holographic.Desktop~~~~0.0.1.0
Once the command executes, run Windows Update.
Afterward, reboot your PC.
On boot, re-connect your HMD.
IV] Reinstall Feature Update (if applicable)
Suppose the issue started after you recently installed a Feature Update on your PC. In that case, you can uninstall the Feature Update and then reinstall the update and see if that works for you instead of just rolling back to the previous Windows version/build. If the issue started after installing a Cumulative Update, then you can uninstall the update or perform System Restore. It is not recommended that PC users remove any installed updates, especially security updates that keep your PC safe. However, sometimes removing the most recent update can help determine the source of the problem. However, if WMR still doesn't install correctly, you can reinstall the update.
Read: Windows Mixed Reality headset shows Black Screen
Below are specific error messages and the solutions that apply in case you see them.
You're nearly there—this PC doesn't meet the minimum requirements needed to run Windows Mixed Reality
As the message indicates, your PC doesn't meet the minimum requirements needed for the best experience in Windows Mixed Reality. Your PC may be able to run an immersive headset but may experience performance issues and not be able to run certain applications.
Before we can set up Windows Mixed Reality, your administrator will need to enable it for your organization
If you receive this message, then it's likely you're on an Enterprise-managed network and your organization is using Windows Server Update Services (WSUS), which with other policies, might be blocking the download. In this case, you must contact your organization's IT department or system administrator to enable Windows Mixed Reality in offline environments and WSUS, as detailed in this Microsoft documentation.
Read: How to configure Mixed Reality settings in Windows
We couldn't download the Mixed Reality software or Hang tight while we do some downloading
You may get this error if there's a pending update that can block the Mixed Reality Software download. In this case, check and install any available Windows Updates and WMR Updates on your PC. Ensure your PC is connected to the internet and has at least 2 GB of free storage space. Once done, restart your PC and try again.
Something went wrong, and we couldn't start Windows Mixed Reality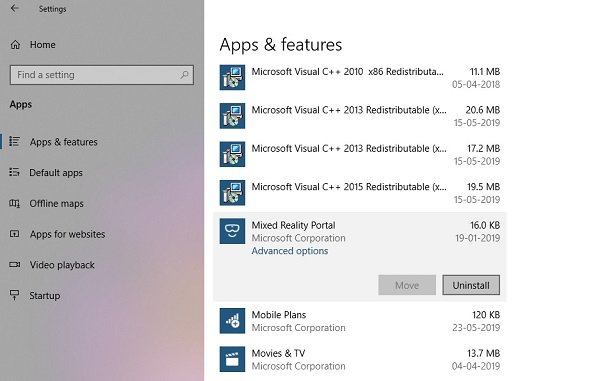 If you receive this error message, you can do the following and see if that helps.
Unplug both headset cables from the PC.
Restart the PC.
Check for Windows updates and download and install any waiting updates.
Reconnect your headset to the PC and then try setup again.
If the issue persists, uninstall Windows Mixed Reality on your Windows computer. After the uninstall procedure, restart your PC. On boot, plug your headset into your PC to start the setup process again. To get more information about a specific error code, refer to this Microsoft documentation.
I hope this post helps you!
Read next: Windows Mixed Reality is not working
What is OpenXR for Windows Mixed Reality?
Khronos offers OpenXR which is an open royalty-free API standard that provides engines with native access to a range of devices across the mixed reality spectrum. You can develop using OpenXR on a HoloLens 2 or Windows Mixed Reality immersive VR headset on the desktop. When using the HoloLens 2 emulator, the easiest way to install the OpenXR Tools for Windows Mixed Reality is through the Windows Device Portal. In the Portal, navigate to the OpenXR page > Developer Features, and select the Install button.
Do I need OpenXR for Windows Mixed Reality?
OpenXR for Windows Mixed Reality is only useful for people who own a VR headset of the WMR family (eg: Samsung Odyssey, HP Reverb, etc) and who have WMR set as their OpenXR runtime (as opposed to SteamVR). The only advantage SteamVR has is better motion reprojection (smoothing) but you'll need 45 FPS to enable it. Based on user experience, on a G2 the performance is considerably better on OpenXR. But running a Quest 2 on SteamVR through Virtual Desktop seems to be about the same performance-wise but runs way smoother.