Mixed Reality introduced in Windows 10 v1709 combines the thrill of virtual reality mixed with augmented reality in gaming & streaming. The feature has been made possible by advancements in computer vision, improved graphical processing power, enhanced display technology, and input systems. You can access it from the Settings section. However, if you find this setting is missing, you can add it. You can also use this tip to hide the Mixed Reality settings from the Settings page.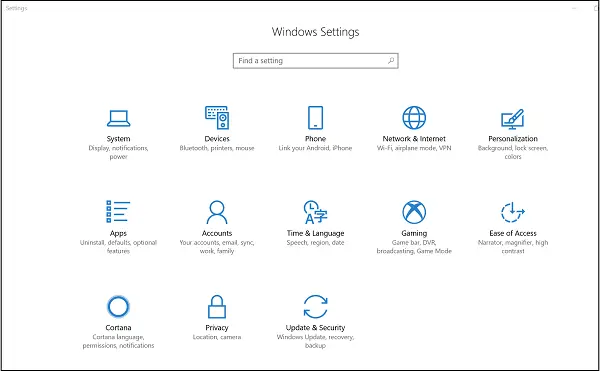 Let us see how to enable or disable, uninstall or reinstall Windows Mixed Reality Setting & how to connect the Desktop Microphone properly in Windows 10 in order to get the best mixed reality experience.
Mixed Reality settings in Windows 10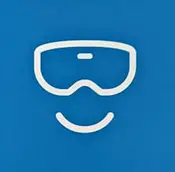 Before you begin, check if your PC supports Mixed Reality. If it does, then you should be able to see the Mixed Reality setting. If for some strange reason you do not, then this registry hack will help you get it. But mind you, if your PC does not support Windows Mixed Reality, you may not be able to open its Settings which includes options for:
Audio and speech,
Environment,
Head display and
Uninstall.
Open the Registry Editor. Use the Windows key + R keyboard shortcut to open the Run command. Type regedit, and click OK.
Next, browse the following address:
HKEY_CURRENT_USER\Software\Microsoft\Windows\CurrentVersion\Holographic
Then, right-click the Holographic (folder) key, choose 'New' and click on DWORD (32-bit) Value.
When done, assign the key the following name – FirstRunSucceeded and press Enter.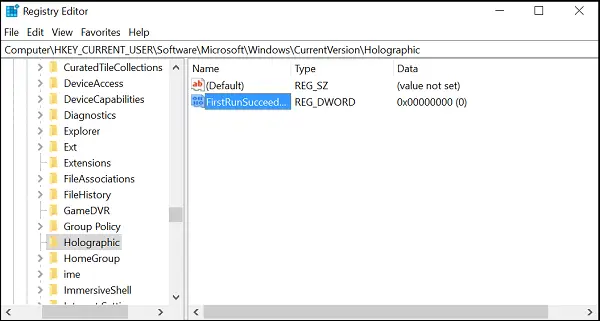 Now, double-click the newly created key and change its value from 0 to 1. If the DWORD already exists, you then need to just change its value to 1.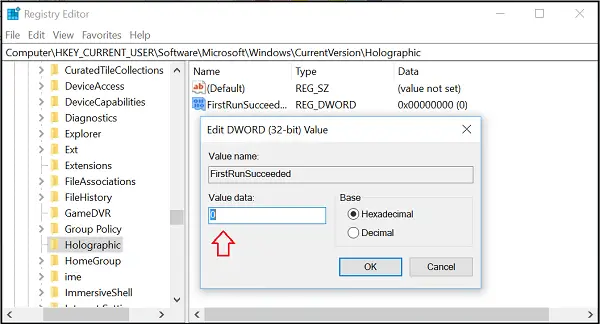 Click OK, when done. Now, reopen the Settings app, and you should see the "Mixed Reality" tile added adjacent to "Update & Security" section.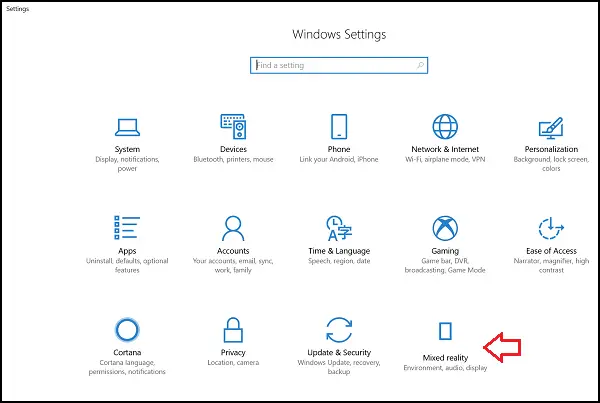 To explore its options, which you can click and explore the settings you can now customize. But as I said, your PC will have to support Mixed Reality.
By default, if Windows 10 detects whether your PC supports Windows Mixed Reality, and then sets the value of FirstRunSucceeded to 1 – else it will be set to 0.
Connecting Desktop Microphone with Windows Mixed Reality
The audio is set to go to your headset whenever you connect it. However, if you are using headphones and not a headset with a microphone, you'll probably want to continue with desktop mic connected to your PC. Here's how to do this.
Open the Mixed Reality Portal app on your PC. Select settings and move to choose Audio and speech in the side menu.
Now, simply toggle the switch 'When I wear my headset, switch the headset mic to off'.
Also, if you would like to calibrate the headset display, choose 'Headset Display' from the 'Settings' and switch to the right-side panel. Here, you can make two modifications:
The quality of the visuals
Calibration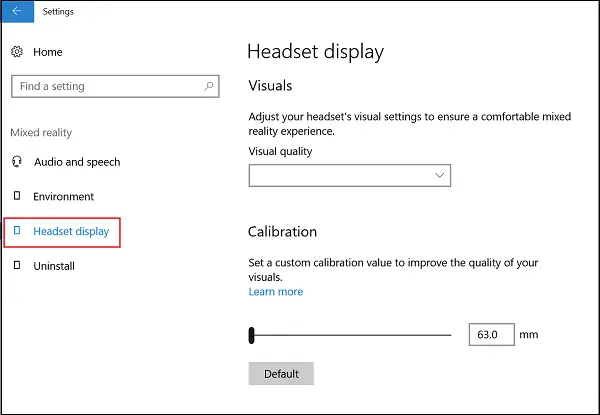 We are more interested in the latter option. So simply move the slider to the desired position.
This post will help you if Windows Mixed Reality is not working.
Uninstall Mixed Reality
If Windows Mixed Reality isn't working well or if you want to free up some disk space, you can uninstall it. This will also remove some related information – but the preinstalled Mixed Reality apps will remain on your computer. To uninstall Mixed Reality, select the Uninstall tab and then click on the Uninstall button. But before you do this, disconnect your headset and cloce the Mized Reality Portal.
To reinstall Mixed Reality, go to Start > Mixed Reality Portal and select Run setup.
Read next: How to set up Motion Controllers for Mixed Reality.