After rebranding View 3D app as Mixed Reality Viewer in Windows 10 Fall Creators Update, Microsoft has delivered Windows Mixed Reality Portal to end users. The app allows a user to use a Head Mounted Displays to interact with 2D and 3D objects, apps, and videos. The HMDs are tethered to PCs through a USB and HDMI connection established via a meter long cable.
Mixed Reality Viewer app in Windows 10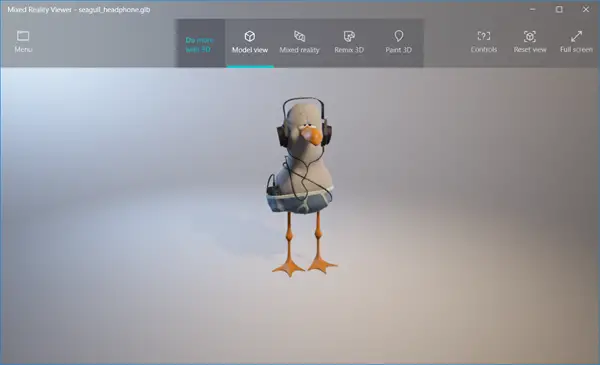 If you are not aware, Mixed Reality is a combination of augmented reality and traditional Virtual Reality. The former technology overlays interactive virtual objects into the real world while the latter puts the user in this newly created place.
To get the full-on Mixed Reality experience, you need a headset, different from traditional VR headsets. Mixed Reality headsets are different from VR headsets in a way that these are equipped with a pair of cameras on the front to capture actual reality and bring it into the virtual world.
In addition to this, motion sensing controllers in your hands help you navigate the virtual Windows world, without hassles. Most renowned brands like Acer, Dell, and Lenovo, are offering Head Mounted Displays for Mixed Reality Portal.
The app opens .3mf files. When you first launch the app, its interface displays a welcome screen which allows you to place any 3D model in the real world and then capture it with mixed reality video.
Skipping it takes you to the main screen. Let us take a look at it in detail.
Menu
The Menu allows you to provide feedback about the app. Besides, it also displays 'Settings' option that allows you to configure Mixed Reality features.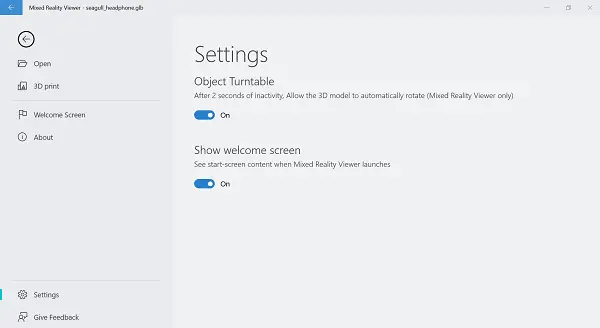 The other tabs visible on the main screen are,
Model View
Offers a distinctive view of your 3D model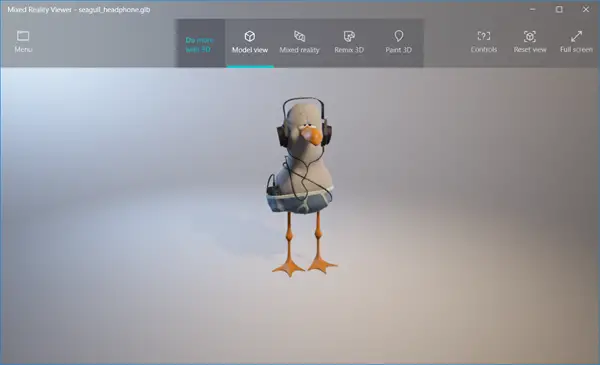 Mixed Reality
Uses a Windows 10 PC or tablet with a webcam as a Mixed Reality Viewer. All user has to do is point the camera of the device at a scene, and virtual objects will appear on the screen as if they're real. This offers a very standard augmented reality experience like the one Apple users experience with Apple's ARKit.
Remix 3D
It's an online community of 3D models that allow you to pick the desired character for your creation.
Paint 3D
It lets you add special effects to your work. For instance, you can add text or stickers to your picture.
Towards the extreme right, you have options like
Control – lets you choose either a mouse, pen, touch gesture or keyboard for performing different actions like
Orbiting around
Moving to left or right
Zooming in or out
Resetting to original position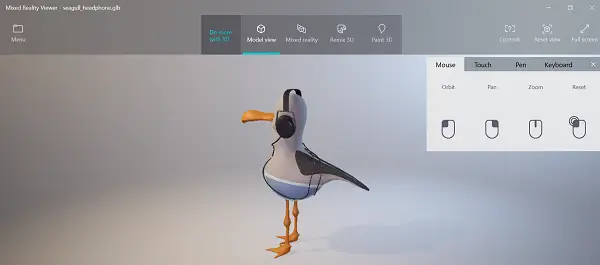 Microsoft has also added a new space for 3D content to the Microsoft Store under My movies & TV. Here, users can find a limited collection of 360-degree immersive videos that can be used with Windows Mixed Reality and one of the HMDs that are available.
All HMDs are readily available from the Microsoft Store along with an option to purchase Microsoft's Windows Mixed Reality Motion Controllers. The controllers cost around $100. However, you can find combos as a means to get both your headset and the controllers in a single purchase. Visit Microsoft Store today!
If you want to get a more immersive experience, you can choose to display a live stream of the view in your headset (Windows Mixed Reality Ultra only). To enable or disable this feature, select Start preview or Stop preview.
When done, check the status of your headset and controllers. Select 'Menu' to see complete info and try setting up new controllers. For this,
Click on Menu and choose Set up controllers. Next, turn the boundary on or off.
For creating a new boundary, select Menu  > Run setup.
To get to your mixed reality photos. Select Menu  > See mixed reality photos and for mixed reality apps and games. Select Menu  > Get mixed reality apps.
Mixed Reality Viewer App not working
Sometimes, while using Mixed Reality Viewer App, you run into problems and see an error message. Try these solutions to fix the problem, instantly.
1] Disconnect your headset from your PC (both cables) and restart your PC, then reconnect your headset.
2] If restarting method fails to work, make sure that your headset is recognized by your PC. You can verify this by selecting Start option, typing device manager in the search box, and then select it in the list. If you find Mixed Reality devices listed, expand it to find, your headset is listed. If it isn't listed,
3] Try plugging the headset into different ports on the PC.
Check for the latest software updates from Windows Update.
Uninstall and reinstall Windows Mixed Reality
Disconnect your headset from your PC (both cables).
Now, select Settings > Mixed reality > Uninstall. Here, unpair your motion controllers by selecting Settings, then, Devices and finally choosing Bluetooth & other devices. Select each controller, and then select Remove device.
To reinstall Windows Mixed Reality, plug your headset back into your PC.
Please note that Mixed Reality apps and features can be enabled and used only if your device fulfills the minimum hardware requirements. Check if your PC supports Mixed Reality.