In this post, we are going to discuss how to edit OBJ files and models in Windows 11/10. OBJ is a 3D file format developed by Wavefront Technologies. It is used to store 3D models designed by combining 3D objects, meshes, shapes, metadata, textures, and more. Now, if you have an OBJ file and you want to edit the model, this article will help you.
Here, we are going to mention some of the better freeware and online service that allow you to edit an OBJ file on Windows 11/10 PC. You can also use these editors to edit some other 3D files. The edited version of an OBJ model can be saved in the native format or can also be converted to some other 3D file formats. Let us check out these OBJ editors in detail now.
Can OBJ files be edited?
Yes, OBJ files can easily be edited. You just need to use a 3D CAD software or web service that lets you import and edit OBJ files on your PC. In this article, you can find some better free tools and software that let you modify OBJ models.
How do I edit OBJ in Blender?
Blender lets you import, edit, and export OBJ files. So, you can edit an OBJ file in it. It provides some advanced features to manipulate the 3D model consists of an existing OBJ file. However, it requires a learning curve to use as it provides some advanced features. Professionals can easily use it to edit and create 3D models as well as animations.
What software opens OBJ format?
If you are looking for software that can open OBJ files on Windows 11/10, you can use the 3D apps from Microsoft called Paint 3D and 3D Builder. Both the apps enable you to view as well as edit OBJ files. Other than that, you can also use third-party freeware that we have listed in this post.
How to edit 3D OBJ models in Windows 11/10
Here are the software and online tools that you can use to edit 3D OBJ models on your Windows 11/10 PC:
Paint 3D
3D Builder
Autodesk Meshmixer
Blender
MeshLab
Clara.io
FreeCAD
Let us discuss the above OBJ editors in detail now!
1] Paint 3D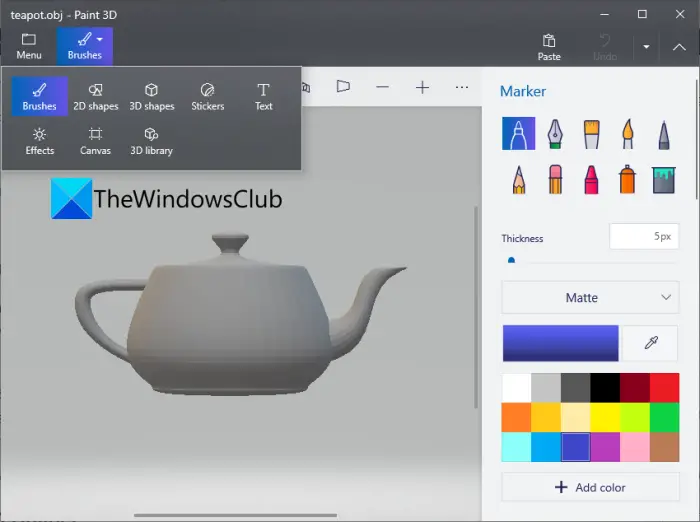 You can use the Windows native Paint 3D app to edit OBJ files on a PC. This app comes preinstalled in Windows 10. However, Windows 11 users won't get it by default. So, you will have to install it from Microsoft Store to use it.
Paint 3D is a cool 3D modeling app using which you can create 3D models. It also lets you edit 3D objects save in an OBJ model. You can use the Open feature to browse and import an OBJ model to this software. And then, start editing it using available tools. It lets you use various 2D and 3D shapes, marker brushes, stickers, text, and more to edit the OBJ model. Furthermore, it provides a 3D Library that offers various 3D animations and objects that you can add to the OBJ file.
If you want to make simple edits to an OBJ model, you can use this app. For advanced users, we recommend using some other OBJ editor software with more powerful tools.
Read: How to convert OBJ to FBX using Paint 3D.
2] 3D Builder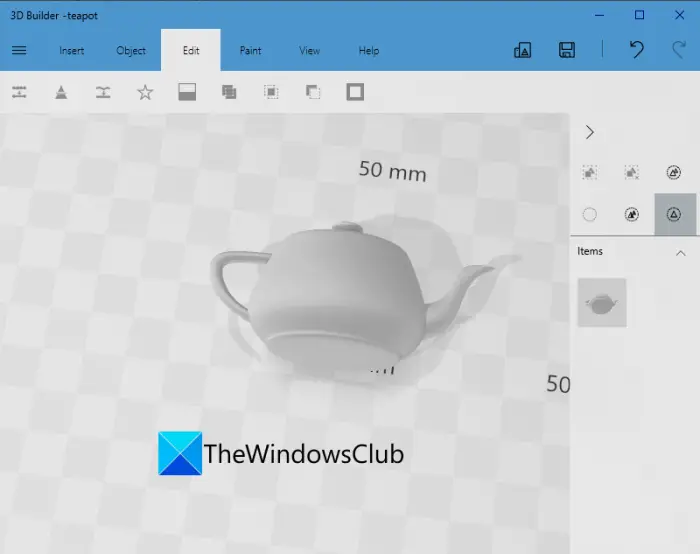 Another Microsoft app that you can try to edit OBJ files is 3D Builder. Like Paint 3D, it is also a native 3D modeling app in Windows 10. Windows 11 users can download and install this free app from Microsoft Store.
You can simply open an OBJ model and then modify it using several 3D modeling tools. It lets you insert several 3D shapes into the OBJ model including Cube, Cylinder, Cone, Pyramid, Sphere, etc. Apart from that, you can duplicate the existing model, change the position of individual elements, split or cut a selected part of the model. You can even reduce the number of triangles and simplify the model, smoothen the surface, emboss, merge several individual 3D elements, etc. It also offers handy Extrude Down and Paint features.
After editing, you can save the edited OBJ model in its original format or some other supported 3D format like 3MF, PLY, GLTF, STL, and GLB. It also provides a 3D Print function.
3] Autodesk Meshmixer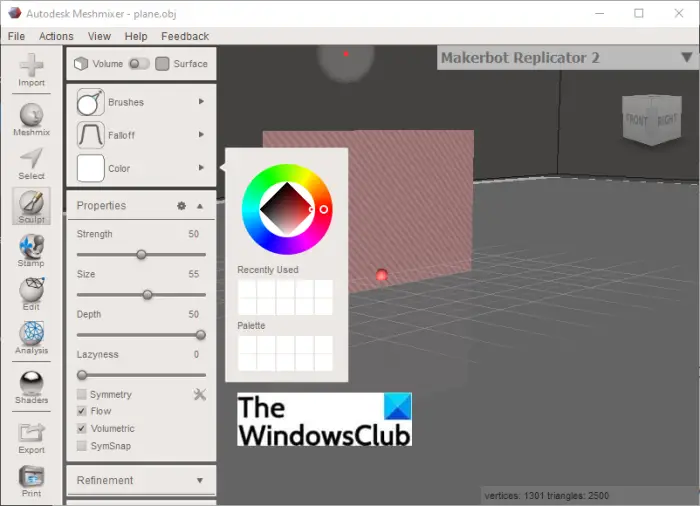 Autodesk Meshmixer is 3D CAD software using which you can edit an OBJ model in Windows 11/10. You can edit OBJ and some other 3D files using it, such as STL, AMF, PLY, 3MF, etc. In it, you can find a lot of good modeling tools that help you create or edit 3D models. Some of its designing tools include remesh, extract, bridge, join, erase, fill, separate, sculpt tools, shade tools, stamp tools, and many more. It provides advanced selection tools to select a part of an OBJ model and then apply some modifications.
You can also find various other editing tools including make solid, hollow, make slice, add tube, mirror, duplicate, transform, align, plane cut,  and unwrap. The good part is that it offers a lot of handy 3D model analysis functions. These include make real-world measurements, make mesh query, inspect defective meshes, find stability and strength, evaluate optimal orientation, and more.
It lets you save the edited version of the OBJ model in its original format. Or, you can choose to convert it to another 3D file format like STL, PLY, VRML, DAE, 3MF, etc.
You can download this handy 3D CAD and OBJ editor software from meshmixer.com.
4] Blender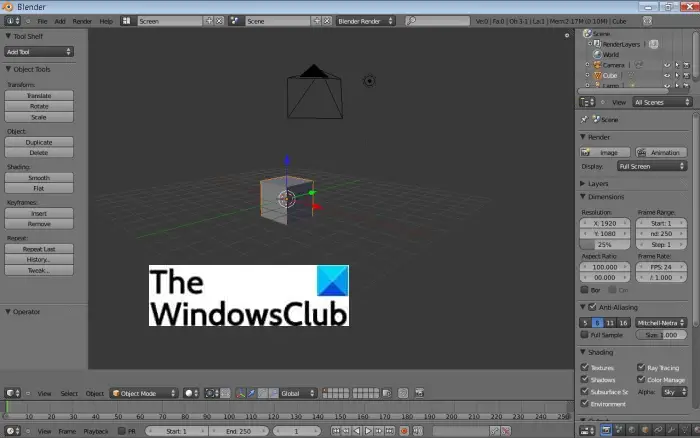 Try Blender to edit OBJ models in Windows 11/10. Blender needs no introduction. It is a popular software to create 3D content and animations on Windows as well as other platforms. In it, you get advanced tools to transform your model using move, rotate, scale, and more features. You can also edit modify meshes in the model, generate curves, create several shapes, add text, lattice, armature, and more, set lighting position, etc.
You can also use some more tools to manipulate OBJ or other 3D models, e.g., shading, animation, edit rigid body shapes, calculate mass, manually draw lines or polylines, etc. When the editing is done, you can export the modified OBJ file in the same format or FBX, STL, and other formats.
This powerful 3D software can be downloaded from here.
See: How to view an STP file in Windows?
5] MeshLab
MeshLab can be your other go-to for editing OBJ models on Windows 11/10. It is a free, open-source, and cross-platform 3D editing software. It allows you to create and edit models in a variety of formats including OBJ, DAE, 3DS, PLY, WRL, and more.
To edit OBJ models, you can use features like create meshes, edit referencing, shaders, filters, translate, rotate, scale, align tool, painting options, etc. It offers 3D Acquisition, Reconstruction, Color Processing, Color Mapping and Texturing, Hollowing, Closing, Simplification, Refinement and Remeshing, and more 3D designing features.
In it, you can import raster images, compare models, measure and analyze the model, and convert 3D models. It also lets you eliminate topological errors, duplicated vertices, unreferenced vertices, small components, and other errors to clean up the model. At last, save the edited model in OBJ format or any other 3D format.
All in all, it is a good software to edit, analyze, clean, and convert OBJ models. You can download it from meshlab.net.
6] Clara.io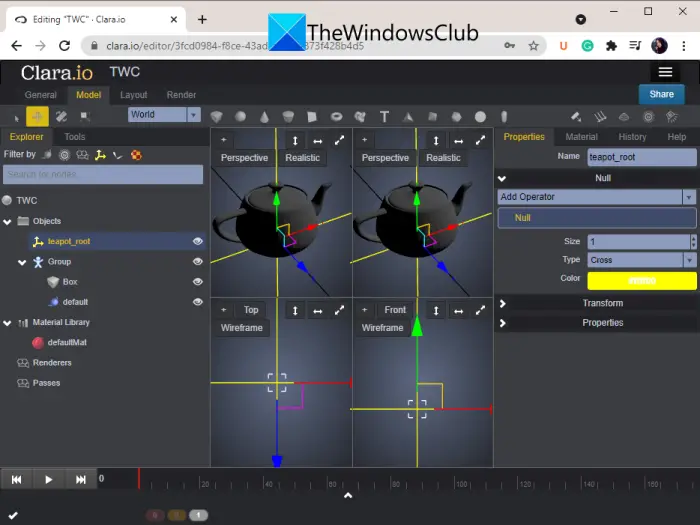 You can try a free online service to edit an OBJ model called Clara.io. It is a 3D modeling and rendering web service using which you can create as well as edit existing 3D models. You can edit OBJ and other supported 3D files in it. Sign up for this free service and log in to use it.
This free online OBJ editor provides tools to create poly meshes like box, sphere, cone cylinder, torus, circle, and more. Also, you can create and set up options like light, camera, and shapes. Plus, it lets you make advanced selections, transforms your model, performs UV mapping, auto smooth the model, grow, shrink, etc.
It allows you to invite your friends or colleagues to edit the model in collaboration. You can export the model in OBJ and other formats like FBX, DXF, STL, glTF, and more. Or, you can generate a URL of your OBJ model and share it with others on the web.
To use it, head over to clara.io in a web browser.
Read: Best free Molecular Modeling software for Windows.
7] FreeCAD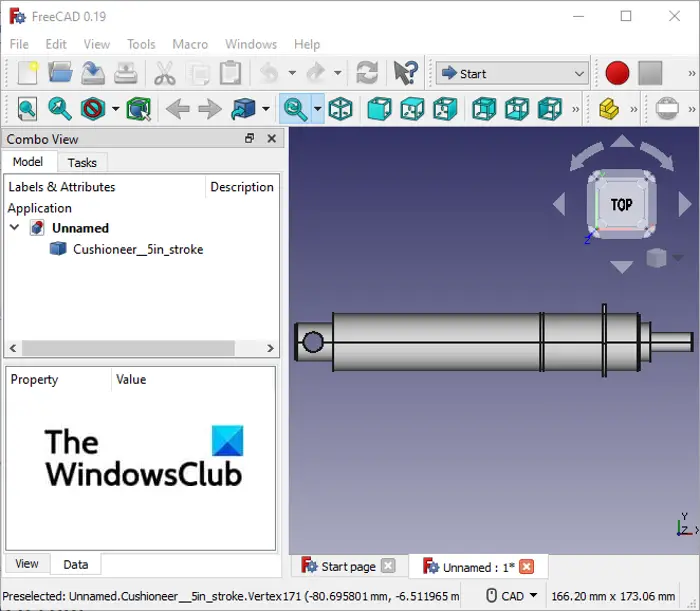 FreeCAD is a free and open-source CAD modeling suite for Windows 11/10. It lets you edit an OBJ file. You can use its different workbenches to make modifications to your model. It offers part designing tools, mesh creation features, raytracing, surface editing, transformation (rotate, scale, move, flip, etc.), and more functions. You can also create 3D robotic models in it.
This software allows you to save edited OBJ files in their native format. And, you can also export the model in STEP, DAE, DXF, and more formats.
That's it!