Microsoft Paint was the first app that introduced users to computer graphics. The app has now moved to an advanced stage with its new iteration – Paint 3D, in Windows 11/10. The new app boasts a transformed look and features upgraded tools. The new app also includes a range of brushes, each with enhanced artistic controls that feel natural and are fun to use. Let us in this post see, how to use and create cool 3D scenes with Windows 3D Paint App.
How to use Paint 3D App
When you launch the Paint 3D app, its interface displays-
Tools
3D Objects
Stickers
Text
Canvas
Effects.
Create 3D images with Paint 3D app
To paint an object in 3D simply select the 3D objects (box) icon and select '3D Doodle'.
Next, draw the outline of an object you want to create. Here I am drawing a random image.
When done, a box will surround the object you just finished drawing, with four circle-shaped handles. Out of these four handles, three of the handles will rotate the object in space. The fourth will either let you pull or push the object closer to or away from you.
To adjust the depth of your 3D object, rotate it then pull one side in or out.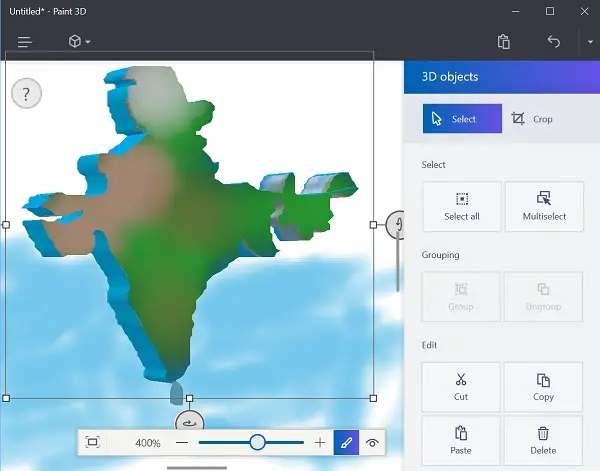 The downside of creating 3D objects in the Paint 3D app is that space is limited and if the object extends horizontally or vertically much, the image of the object gets distorted. So, expect a lot of trial and error to make things just so. Moreover, none of the 3D objects cast shadows, a characteristic feature of 3D designs.
There are a couple of other tab options also like,
The Canvas tab – Allows you to make some tweaks to the Canvas
Text – Allows you to add a line of text to your image
Final Effects tab – Lets you apply different-colored lighting options.
Microsoft has also launched an online community, alongside the Paint 3D app. It allows Paint 3D App users to export their creations and share them with the community, or download 3D objects created by others.
The product seems to be a gentle beginning or the first step for beginner 3D designers as it features no scary intricate toolbars to deter users. The features are limited for now however, we could expect a few more to be added in the near future.
Try the new Paint 3D app today and unleash your imagination.
See this post if you see Paint 3D is currently not available in your account, Error code 0x803F8001 message.