Earlier, Microsoft gave a glimpse of some of its innovative features it was developing and advances it was making for its upcoming Windows Update in the preview builds. Windows 10 Fall Creators Update builds on many of those advances. One such feature is Mixed Reality.
Mixed Reality is a new platform that combines the thrill of virtual reality mixed with augmented reality. The technology is designed to work best with mixed reality motion controllers. These motion controllers attempt to provide users a completely natural, precise interactions. The best part, it does not require you to install any hardware on your walls.
Leading computer manufacturers like Acer, Asus, HP, Lenovo, and Samsung joined hands with the software maker to develop a more accessible head-mounted display (HMD) standard with a few ground rules.

Setup Motion Controllers for Mixed Reality
Motion controllers primarily use Bluetooth to connect to your PC. If your PC doesn't support Bluetooth technology, no problem! You can buy a USB 4.0 Bluetooth micro adapter and connect it to the PC source.
When you connect your Head Mounted Displays for the first time and establish a connection with your PC, you'll be walked through pairing your motion controllers. For some reason, if you wish to pair them later, you can do so. Here's how:
Insert 2 AA batteries into each controller. Don't put the battery cover back on yet, though.
Press and hold the Windows button for 2 seconds to turn on each controller. Once up and running, you'll hear a buzz.
Now it's time to put the controllers in pairing mode. You can find the pairing button is inside the battery compartment. Press and hold it until the controller lights start flashing.
Once done, power on your PC and navigate to Settings  > Devices, choose Bluetooth & other devices and then select Add Bluetooth or 'Other device'  > Bluetooth.
When the controllers appear, select them to pair. (see the image below). You can also use an Xbox controller or a mouse and keyboard.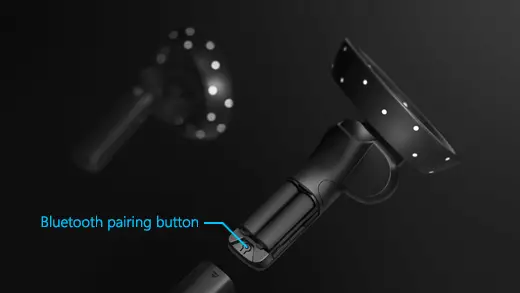 How to use Motion Controllers
Here's how to get around and configure different options in mixed reality with motion controllers. Switch input between mixed reality and your PC by pressing Windows logo key + Y on your PC keyboard.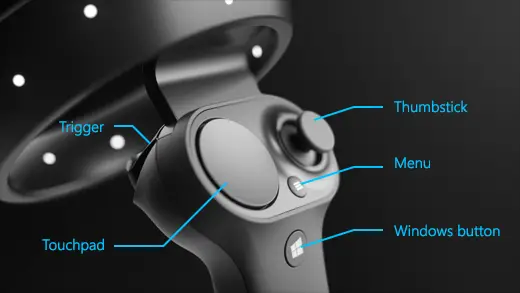 ACTIONS
MOTION CONTROLLER
For opening the Start menu
Press the Windows key button
To select something
Point the controller at a location, then pull the trigger or click the touchpad
To teleport (move from one location to another or where you want to go)
Press the thumbstick forward, then point the controller where you want to go. Release the thumbstick to stop
To Walk
Push the thumbstick straight down and press it in the direction you want to walk.
Rotate
Move the thumbstick left or right.
Move a 3D object
Pinpoint at the object. Then, pull and hold the trigger to grab it. Move it in any direction with the controller, then release the trigger.
Rotate or resize a 3D object
Point both controllers at the object. Next, hold down both triggers and move the controllers together or apart to resize.

To rotate, move one controller towards you and the other one away from you
To configure other actions, refer this Microsoft Support page.
Read next: How to create or remove Boundaries in Windows Mixed Reality.