According to some Microsoft 365 users, their Outlook has some connectivity issues. Even some IT administrators face issues where Outlook stops responding to their actions. In some instances, Outlook doesn't connect or in case it is connected, it disconnects randomly. In this post, we will discuss Outlook connectivity issues and suggest ways to remediate the issue.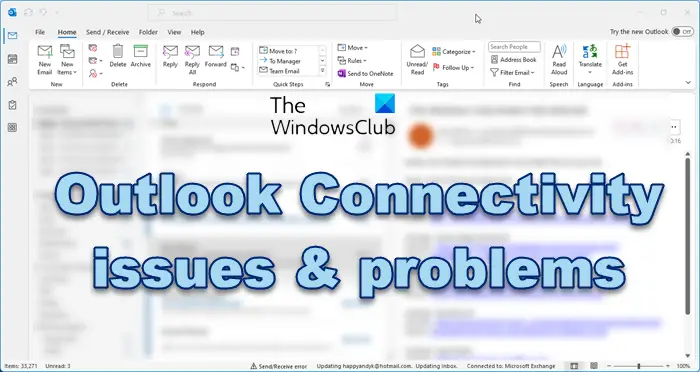 Fix Outlook connectivity issues on Windows 11
If Outlook cannot connect to the server, but the Internet is working, or if Outlook keeps disconnecting, then take these steps to fix Outlook connectivity issues on Windows 11:
Restart Outlook and the router
Workarounds for IT admins
Disable Firewall temporarily and then re-add your account
Update Outlook
Disable Endpoint Detection and Response (EDR) Security Software
Repair Outlook Account
Use Outlook on the Web (OWA)
Let us talk about them in detail.
1] Restart Outlook and the router
First of all, we should restart the Outlook app installed on your system and if that doesn't work, reboot the system. You should also restart your router or modem.
These things might not seem like a big deal to you, but sometimes, all you need is to clear out temporary network glitches. Once you have restarted the system, open Outlook again and see if the issue is resolved.
2] Workarounds for IT admins
If you are an IT admin, there are a few workarounds that you need to try. Following are the things you should do.
Make sure that the users that are complaining about this issue have permission to access Outlook or some other Windows 365 app that they are having issues with.
 If they have access, remove and then add Microsoft 365 licenses for them.
Go to the Workstation and disable IPv6.
You can implement these workarounds and see if the issue is resolved.
Read: Microsoft Teams crashing or freezing during meetings.
3] Disable Firewall temporarily and re-add your account
Sometimes the issue is caused due to security programs interfering with Outlook. In that case, we will disable the Firewall temporarily, remove and re-add your account and then check if Outlook works.
To do the same, first of all, disable the Firewall. Once the Firewall is disabled, go to https://outlook.office.com on a browser and then log in. Hopefully, you will be able to log in successfully. Once you have logged in, open Settings, remove your Work and School account then add it again. Now open the Outlook app, and try login. This will do the job for you.
4] Update Outlook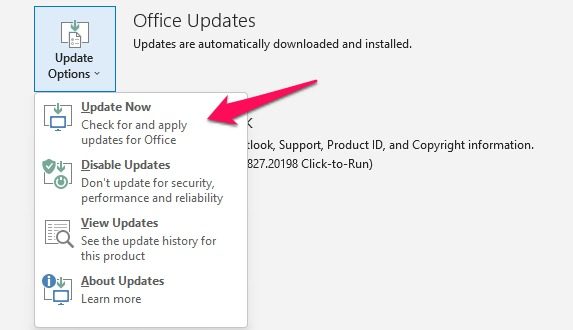 If you are not on the latest version of Outlook, you will most likely have trouble logging in to your account. That is why it is always recommended to keep your up-to-date. To update Outlook, go to File and then go to Account > Update Options > Update Now. It will look for available updates and install them. Once your app is updated, check if the issue is resolved.
Read: Email in Outlook not syncing in Windows
5] Disable Endpoint Detection and Response (EDR) Security Software
Even though this solution is not at all recommended as it makes the system vulnerable to malware and theft, if you really need to access Outlook, you can disable or remove EDR Security Software temporarily and then check if Outlook works.
6] Repair Outlook Account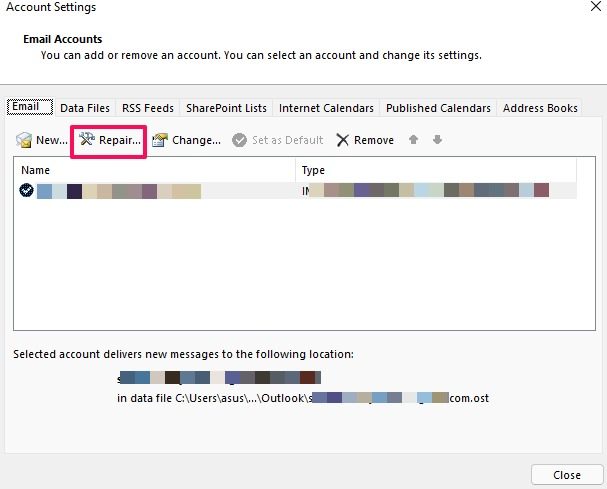 Outlook provides its users the option to repair corrupted accounts. We can easily run this tool and it will scan for the problem and execute the correct solution. Follow the steps given below to do the same.
Open Outlook on the system that's facing the issue.
Go to the File tab > Account Settings Option.
From the drop-down menu, select Account Settings.
Finally, select the faulty account and click on Repair.
Hopefully, this will do the trick for you.
Read: Outlook stuck on Loading Profile or Processing screen
7] Use Outlook on the Web (OWA)
Outlook on the Web (OWA) is an alternative to Outlook that can be used to view and send messages. If you are on IT admin, deploy this to the affected employee. This is not a solution, instead, it is a workaround that you should try if all else fails.
We hope that you can resolve the issue and get Outlook up and running using the solutions mentioned in this post.
Read: Fix Outlook not connecting to Server
How do I fix Outlook on Windows 11?
If the Outlook app is not working on Windows 11, you should run Office or Microsoft 365 repair. To do the same, open Settings and navigate to Apps > Installed apps. Then, you need to look for "Office" or "Microsoft 365". Once found, click on the three vertical dots and select Modify. Finally, select Quick Repair and run the tool. In case that makes no difference, run Online Repair.
Why is my Outlook not connecting to server?
There might be several reasons why Outlook is not connecting to the server, but the most common one is connectivity issues with your internet. Check your wireless or wired connection and make sure it is strong and stable. You can also try restarting Outlook or your device, checking for any updates, or contacting your email service provider.
Why are my Outlook emails not going through?
If you can't send or receive email, check your account, restart Outlook and see. Other suggestion is to update your password if it's been changed recently. Your account might also be temporarily blocked because Microsoft noticed some unusual sign-in activity.
Why is my connection status disconnecting from Outlook?
The main reason behind the Disconnected error in Outlook is a poor internet connection. You should check your internet connection and ensure it is stable. If you experience internet issues, consider performing a speed test on your computer or switching to a more reliable network connection. This should fix the problem and prevent it from recurring.
Also Read: Outlook is not responding, keeps crashing or has stopped working.