Some Windows users when trying to install Windows 11 or Windows 10 in the Virtual Box are encountering an error that says "Something went wrong OOBEKEYBOARD, OOBELOCAL or OOBEREGION". In this article, we will be talking about ways to fix OOBEKEYBOARD, OOBELOCAL, OOBEREGION errors.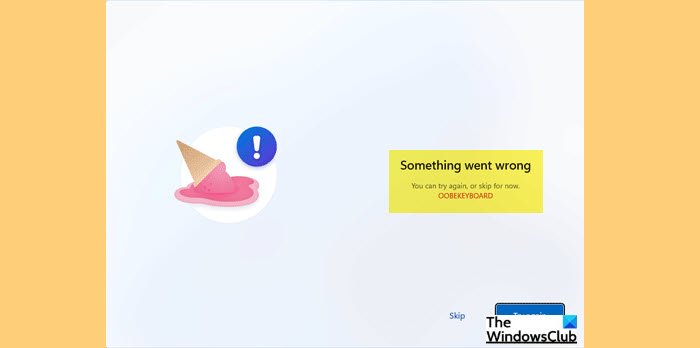 Fix OOBEKEYBOARD, OOBELOCAL, OOBEREGION errors
While installing an OS in the Virtual Machine, users are seeing the following error message during the Out-of-Box Experience setup wizard (OOBE).
Something went wrong.

You can try again, or skip for now.

OOBEKEYBOARD and OOBEREGION
When they click Try again, they see the following error message or the earlier message repeat itself.
Something went wrong.

But you can try again.

OOBELOCAL
Before moving forward, you need to make sure that you are on the latest build of Windows. For that, you can check for updates. The easiest way to do that is via Settings.
So, open Settings and go to Update & Security, and click Check for updates. From there you can download and install the required update. Sometimes, updating alone can fix the issue, but if the issue persists. continue reading.
If you are facing OOBEKEYBOARD, OOBELOCAL, OOBEREGION errors the following is what you need to do.
Basic Solutions
Fix Registry
Use Command Prompt
Let us talk about them in detail.
1] Basic Solutions
Before executing the actual solutions, here are some of the things you should do and see if they can resolve the issue.
Click Try again for 4-5 consecutively. Sometimes, this can fix the issue.
If you are online, turn off your Internet and click Try again.
Force shutdown your system, reopen it, and retry.
If this doesn't work, continue reading.
Related: Something went wrong, OOBESETTINGS message during Windows 10 Setup.
2] Fix Registry
There are some applications that use the oobekeyboard-page.js file. And when you remove or modify those applications they leave their registries. Therefore, you need to remove those registries in order to fix the issue. You may use a free Registry Cleaner like CCleaner to do the same and see if it helps.
Related: Windows OOBE fails with error causing incomplete setup.
3] Use Command Prompt
When you are on the Out-of-the-Box Experience screen, you should hit Shift + F10 to open the Command Prompt. Now, type the following commands and hit Enter.
net user Administrator /active:yes 
net user /add user_name mypassword
net localgroup administrators user_name /add 
cd %windir%\system32\oobe 
msoobe.exe
Note: Replace "user_name" with the name of the user that you want to create and "mypassword" with its password.
Related: Something went wrong but you can try again MSA message during OOBE Setup
That's it!
Similar: OOBEEULA, OOBESETTINGSMULTIPAGE, OOBEAADV10 OOBE errors
How do I fix the Windows Installation error?
There are multiple reasons for Windows Installation errors, and there are multiple error codes as well. So, the best practice for you would be to check out our guide to fix Windows Installation errors. You can use the solutions given here to resolve your issue.