The Error Code 37 is one of the driver issues in Device Manager, which occurs when a certain hardware driver, such as a network driver, fails to install on your PC. This article will cover how to fix Code 37 for Network Driver in Device Manager. If you run into this error, it will be displayed in the Device status box. The network driver is a very important driver, and if it has issues, you will not have a stable network connection. If the network driver code 37 is not addressed, you will have quite a few issues with network adapters affecting Wi-Fi or Ethernet connections. The error may show something like this:
Windows cannot initialize the device driver for this hardware, (Code 37) Network Adapter
Fix Code 37 for Network Driver in Device Manager
To fix Code 37 for Network Driver in Device Manager, you can run the following solutions:
Perform preliminary steps
Update/Reinstall/Rollback Network drivers
Scan for hardware changes
Run Hardware Troubleshooter
Perform an SFC scan
Let us look at these solutions one by one.
1] Perform preliminary steps
Some issues that cause code 37 for network drivers can be resolved by performing simple preliminary solutions.
The error code 37 for network drivers could be caused by temporary issues with your hardware and can be fixed by restarting your PC.
You may check for Windows updates and see if the code 37 error for the network driver is fixed.
2] Update, Reinstall, or Rollback drivers
You can fix the error code 37 for the network driver by updating your  Network driver which may fix any bugs or incompatibilities caused by the older version of the same. If the driver is updated, you can reinstall the drivers and see if the code 37 message is still showing up.
If you updated and reinstalled it and still the issue is not resolved, you can roll back your driver to the previous edition. After the end of each solution here, you need to restart your PC to reflect the new changes. Many users have reported that this method seems to work.
3] Scan for hardware changes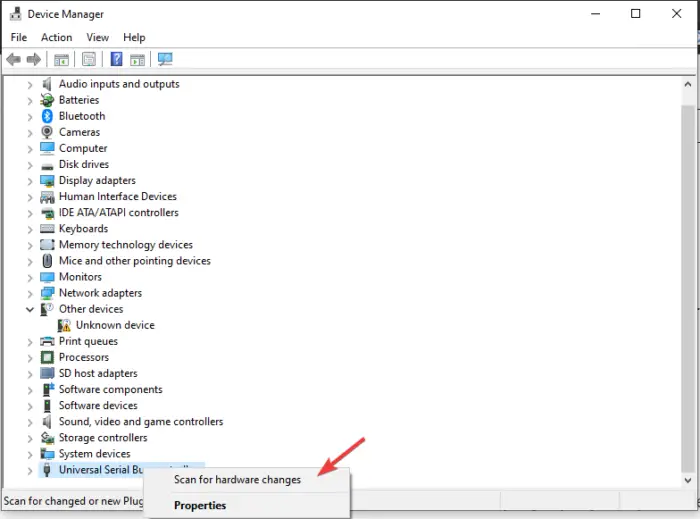 Scanning for the hardware changes allows Windows to find and scan for any missing hardware components that may be causing error code 37. It then reinstalls them and makes them a bit more responsive. This is how you scan for hardware changes:
Open the Run dialog box and type devmgmt.msc. This opens Device Manager.
Locate the Universal Serial Bus and right-click on it, then click Scan for hardware changes.
Wait for the process to end then restart your computer.
4] Run Hardware Troubleshooter
Run Hardware Troubleshooter and see if it helps in any way. You will have to run the Troubleshooter using the command line. To invoke the troubleshooter, all you need do is to launch the command prompt, then type or copy and paste the command below and hit Enter.
msdt.exe -id DeviceDiagnostic
5] Perform an SFC scan
Run the System File Checker. This tool finds and scans any registry keys or system files that may be modified and consequently may cause malfunctioning of the PC.
We hope something here helps you fix code 37 for the network driver in Device
Manager.
Read: Fix This device is disabled (Code 22) error in Windows 11
How do I fix a corrupted driver?
You can fix a corrupted driver by running System File Checker, Running Windows Update or Updating or Rolling back the driver. Corrupted drivers will definitely affect how specific programs and files function on a PC.
What causes the Code 39, Object name not found?
The main cause of Code 39, Object name not being found error are ccorrupted or missing driver files or damaged hardware. Update all your drivers to resolve this issue.
Fix: A driver (service) for this device has been disabled (Code 32).