Some users face the issue that when they try to connect their Bluetooth headphones, mouse, or keyboard on Windows 11/10 computer, they see a Driver error message and their Bluetooth device doesn't work as expected. It may result in bad audio quality or users are not able to switch on their Bluetooth adapter. This can happen because of corrupt or missing drivers or for some other reason. If you are also having such a problem, then some solutions covered in this post might help.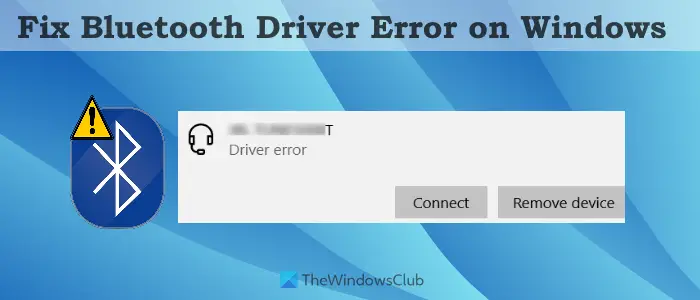 If you have already tried some basic steps like reconnecting the Bluetooth adapter, turning off and on Bluetooth and Bluetooth device, etc., and the problem still persists, then check the solutions added below.
Fix Bluetooth Driver Error on Windows 11/10
Here is a list of solutions that might be helpful to get rid of this Driver error problem for your Bluetooth device:
Run Bluetooth Troubleshooter
Update Bluetooth drivers
Restart Bluetooth Support Service.
Let's check all these solutions.
1] Run Bluetooth Troubleshooter
The built-in Bluetooth troubleshooter of Windows 11/10 OS can help you find and fix various problems by checking Bluetooth capability, turning on Bluetooth, etc. This might work for this problem too. So, you should run the Bluetooth troubleshooter and see if this works. We have covered the steps for running the Bluetooth troubleshooter for Windows 11 and Windows 10 separately.
Windows 11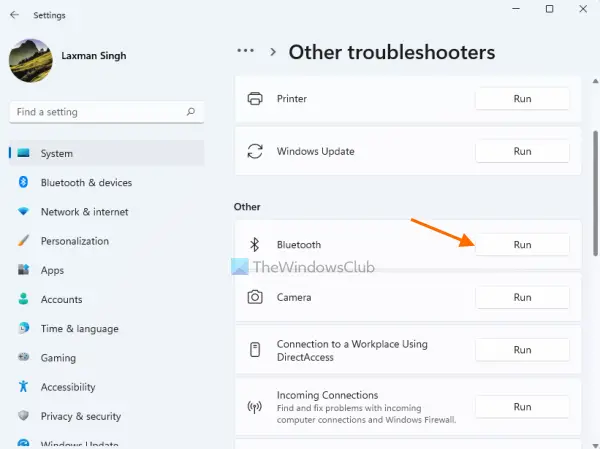 The steps are as follows:
Use Win+I hotkey to open the Settings app
Access the Troubleshoot page present on the bottom right section
Access Other troubleshooters
Press the Run button available for Bluetooth.
Windows 10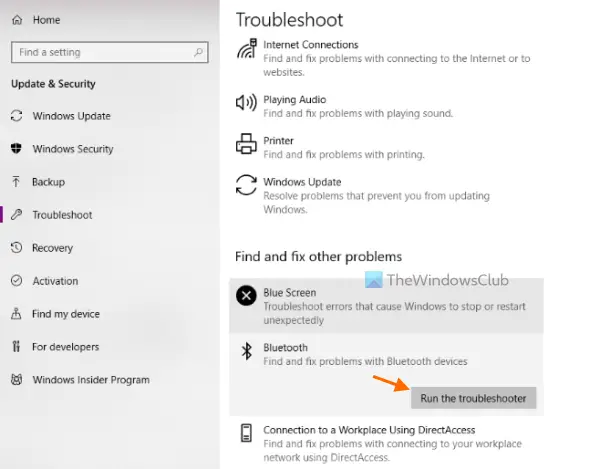 Here are the steps:
Press Win+I hotkey. This will open the Settings app
Access the Update & Security category
Access the Troubleshoot page
Click on the Bluetooth option
Press the Run the troubleshooter button.
The troubleshooter will automatically fix the problem(s) it finds or it will provide the fixes you can apply.
2] Update Bluetooth Drivers
In many cases, outdated, corrupt, or incompatible drivers are most likely the reason that a device doesn't function properly. If that is the case in this problem, then you should update Bluetooth drivers and check if it resolves the issue. There are multiple ways to update a Bluetooth driver:
Using Device Manager: Use this option if you already have a compatible Bluetooth driver downloaded on your Windows 11/10 computer. You need to:

Expand the Bluetooth section
Right-click on your Bluetooth device driver
Click on the Update driver option. A separate box will open
Click on the Browse my computer for drivers option in that box
Press the Browse button
Select the folder where you have stored your Bluetooth driver
Press the OK button
Press the Next button.
Once the Bluetooth driver is installed, restart your computer.
Using Windows Update: Apart from providing the latest updates for Windows OS, Windows Update is also helpful to install drivers and Optional updates, including the Bluetooth drivers. So, access the Optional updates section in the Windows Update category and see if there is an update available for your Bluetooth driver. If yes, download and install it.
Manually download and install Bluetooth driver: Using this option, you can download Bluetooth driver from the manufacturer's website that is compatible with your device and install that driver. Just open the official support page for your device, enter the serial number of the device, and other required details, and then check for the driver and/or a network-related section. There you will find the download link for your Bluetooth driver. Download that driver and install it.
Related: Bluetooth devices not showing, pairing, or connecting
3] Restart Bluetooth Support Service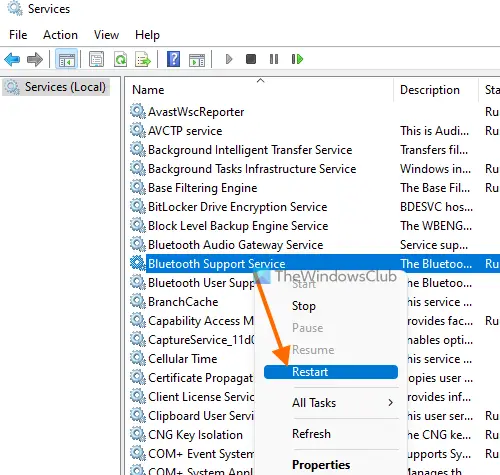 If Bluetooth Support Service is not running or stopped for some reason, then it may cause your Bluetooth device to not operate properly. This might be the reason that you are getting this Driver error for your Bluetooth device. Therefore, you should try to restart the Bluetooth Support Service. Here are the steps:
Type services in Windows 11/10 Search box
Press the Enter key to open the Services window
Right-click on the Bluetooth Support Service
Click on the Restart button.
A Service Control box will open that will automatically restart this service. Once done, that box will be closed automatically.
After restarting Bluetooth Support Service, you should also set its Startup type to Automatic. For that, use these steps:
Double-click on Bluetooth Support Service. A Properties box will open
Access the General tab in that box
Click on the drop-down menu available for the Startup type section
Select the Automatic option in that menu
Press the OK button.
If these solutions don't work, then you should uninstall your Bluetooth device and restart your computer. You can uninstall a device driver using Device Manager (including the Bluetooth driver). Once you do that, Windows will automatically reinstall the Bluetooth driver after the restart and then it might fix the issue.
Why does it say Driver error for Bluetooth?
The Bluetooth Driver error may be caused by an incompatible or corrupt driver installed on your Windows 11/10 computer or there can be some other reason for that. In such a case, you should update your Bluetooth driver or grab the compatible driver for your device and install it. You can also try restarting Bluetooth Support Service or use the Bluetooth troubleshooter to fix it. All these solutions with the necessary steps are covered in this post above.
Why Bluetooth is not working on Windows 10?
The reason why Bluetooth is not working in Windows 11/10 could be anything. Maybe the Bluetooth driver is corrupt or outdated, hardware and software combination is mismatched, multiple Bluetooth devices are conflicting to connect with Bluetooth, etc. In such a case, you can try some fixes such as updating the Bluetooth driver, checking if your Bluetooth device is compatible with your computer, running the Windows 11/10 Bluetooth troubleshooter, etc.
Hope this will help.
Read next: Fix Bluetooth connection problems in Windows 11/10.