Windows Activation helps verify that your OS is genuine and hasn't been used on more devices than the Microsoft Software License Terms allow. In this post, we will provide the most suitable solutions to the error code 0x87e107f9 one of the numerous Windows activation error you may encounter on Windows 11 or Windows 10 PC.
0x87e107f9 Windows Activation Error
If you have encountered 0x87e107f9 Windows 11/10 Activation Error on your device, you can try our recommended solutions below in no particular order to resolve the issue.
Run Microsoft Support and Recovery Assistant (SaRA)
Run Activation Troubleshooter
Activate Windows via Phone
Let's take a look at the description of the process involved concerning each of the listed solutions.
Before you try the solutions below, you can do the following, and after each task see if you can successfully activate Windows without issues:
If you're having trouble activating Windows 11, confirm that your device is up to date and running Windows 11. If not running Windows 11, you can update your device and then try the activation again.
Clear contents of SoftwareDistribution folder. The SoftwareDistribution folder is a vital component for Windows Update, which temporarily stores files needed to install new updates. The safest way to clear/delete contents of SoftwareDistribution folder is to boot into Safe Mode.
Temporarily disable AV/Firewall. Third-party security software installed on your device can interfere with the activation process. If this scenario is applicable to you, you can temporarily disable the AV/Firewall, and once the activation is successful, enable system protection again.
1] Run Microsoft Support and Recovery Assistant (SaRA)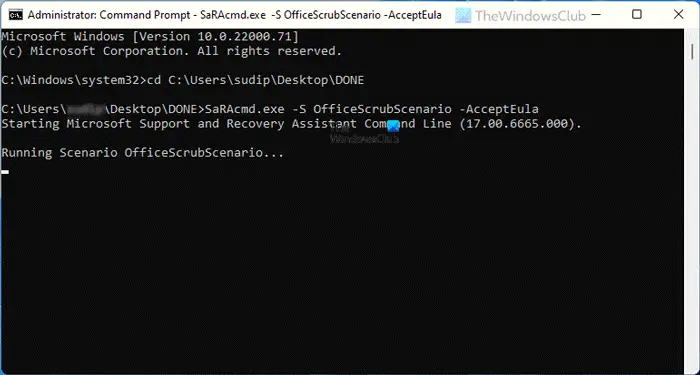 The Microsoft Support and Recovery Assistant tool will try to activate Windows – if it returns an activation error code like the 0x87e107f9 code in view, the tool will display targeted solutions for known error codes. The tool is designed to help PC users resolve issues with Windows 11/10, if:
This tool is intended to help fix Windows activation problems on computers that run Enterprise, Professional, or Server edition of Windows. You can run the command-line version of Microsoft SaRA tool on your device as well.
2] Run Activation Troubleshooter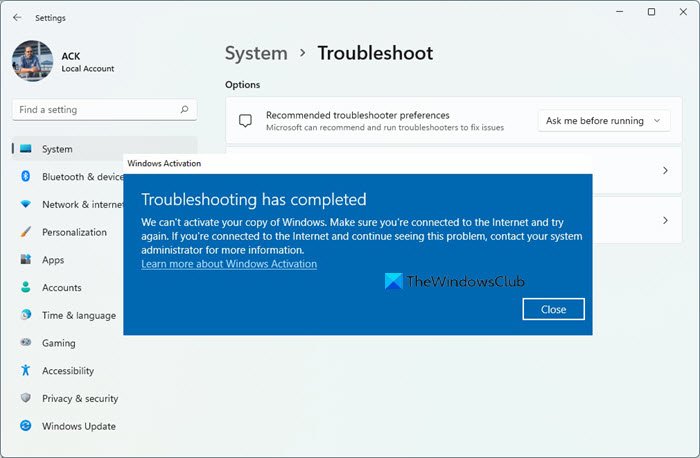 The inbuilt Activation Troubleshooter might help reactivate Windows 11/10 if you recently made a significant hardware change (such as replacing the motherboard) or reinstalling Windows. You must be signed in as an administrator to run this automated tool.
After you run the tool, make sure the error hasn't changed. Sometimes when you run the Activation troubleshooter or try to activate it, the error code and message will change. If the error code has changed, look up the new code and follow the recommended steps.
3] Activate Windows via Phone
Another viable solution to the error in focus is to activate Windows via Phone. This is basically contacting Microsoft Support to help with the activation process.
Do the following:
Select Start > Settings > Update & Security > Activation.
Under Activate Windows Now section, select Activate by Phone.
Select your location (or the location nearest to you) from the drop-down list.
Select Next.
Call one of the available phone numbers listed.
Alternatively, to activate Windows 11/10 by phone, press Windows key + R to open Run box, type slui.exe 4 and hit Enter to open up a dialog that will let you activate your Windows via the telephone.
Hope this post helps you!
Related: Windows Activation Errors 0x87e10bcf, 0x87e10bc6, 0x803f7008
How do I fix SLUI exe error?
To fix slui.exe errors, you can try the following suggestions:
Restore your PC back to the latest restore point, "snapshot", or backup image before the error occurred.
Run SFC (System File Checker) to restore the corrupt or missing slui.exe. mui file.
Perform a Windows Update.
How do I find my Windows license key?
To find Windows Product Key on a computer, do the following:
Press Windows key + X.
Click Command Prompt (Admin)
At the command prompt, type or copy/paste: wmic path SoftwareLicensingService get OA3xOriginalProductKey and hit Enter to reveal the product key. Volume License Product Key Activation.
Is Product ID and Product Key same?
No. The Product ID is not the same as your Product Key. You need a 25 character "Product Key" to activate Windows. The Product ID just identifies which version of Windows you have.