Error 0x80041015 is an Office Activation System Error that may prevent you from opening any Office program. This post will show you how to resolve the error if you see it when starting a Microsoft Office program.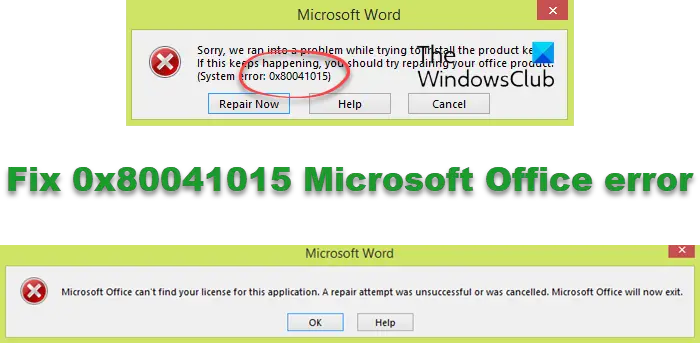 The complete error message reads:
Sorry, we ran into a problem While trying to install the product key.
If this keeps happening, you should try repairing your Office product.
System error: 0x80041015
If I click on Cancel, I get the following message:
Microsoft Office can't find your license for this application. A repair attempt was unsuccessful or was cancelled. Microsoft Office will now exit
This issue can also occur if there is an attempt to add another Office product (such as Microsoft Visio, Microsoft 365, etc.) or to reinstall an Office product on the same computer
Fix 0x80041015 Microsoft Office error
To fix the error code 0x80041015, which you may see while trying to open an Office program or install the Office Product key, it is recommended that you repair Office. But before doing that, we have the following suggestions:
Update Microsoft Office Click-to-Run
Use an Office Activation Troubleshooter
Make sure you do not have multiple Office versions installed
Repair Office
Rebuild Token.dats file.
Let's now see these in detail.
1] Update Microsoft Office Click-to-Run
The Click-to-Run updates are automatically pushed to your computer, but you might have to close your Office programs before the updates can be applied. When the updates are downloaded but blocked from being applied, you will receive a notification, a small pop-up window displayed in the notification area. This post will show you how to Update Microsoft Office Click-to-Run.
2] Use an Office Activation Troubleshooter
You can use Office Activation Troubleshooter, Microsoft Support and Recovery Assistant for Office 365,  or Office Easy Fix Licensing Repair Tool. These Microsoft Office Activation Troubleshooters will help you resolve license issues.
Fix: We're having trouble activating Office error.
3] Make sure you do not have multiple Office versions installed
Microsoft offers a Click-to-Run uninstaller that allows you to select the version of Office you want to uninstall. It is helpful when you have multiple versions of Office on your PC and need to remove them.
Related: Microsoft Office cannot verify the license for this product, You should repair the Office program by using the Control panel.
4] Repair Office
If none of these steps can help you, you should consider repairing Office. It has been known to help most users get over the error code 0x80041015. Here's how to do it:
Press Windows Key + I to open Settings.
Click on Apps > Apps & Features.
Now scroll down, click on the office product you want to repair, and select Modify.
Click Online Repair and follow the instructions on-screen.
Having done this, try to activate Office and see if it works, and the error goes away.
5] Rebuild Token.dats file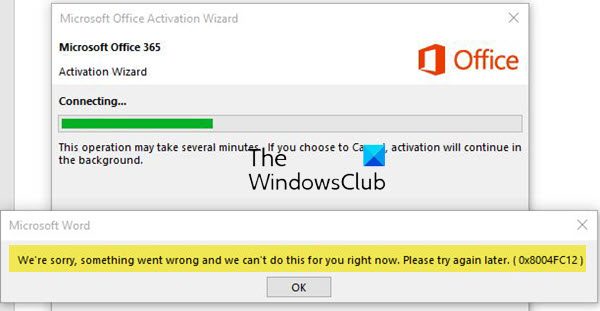 Some folks have mentioned receiving Office Activation Error 0x8004FC12 when trying to activate Office even after repairing Office. In this case, we suggest you create a system restore point first and then rebuild the Tokens.dat file. Tokens.dat is a digitally signed file that stores most Windows or Office installation files.
If nothing helps, try reinstalling Office or contacting Microsoft Support.
More suggestions here: How to troubleshoot Office Activation problems and errors?
How do I fix Microsoft Office error code?
To fix error codes in Microsoft Office, consider repairing Office online and updating it to its latest version. If that doesn't help, check your Office 365 subscription status.
Read: How to check the License Type and Activation Status of Microsoft Office
How do I fix a corrupted MS Office file?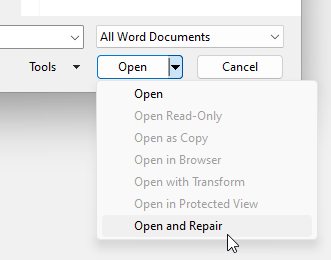 To repair corrupted Office files, click File > Open > Browse and then go to the location or folder where the document is saved. Click the file and the arrow next to Open, and select Open and Repair.
Read next: What happens if Microsoft Office is not activated or unlicensed?