If Fallout 4 crashes on startup on the Title screen on your Windows PC then this post will help you resolve the issue. Fallout 4 is the fourth main game in the Fallout series and was released for Microsoft Windows, PlayStation 4, and Xbox One.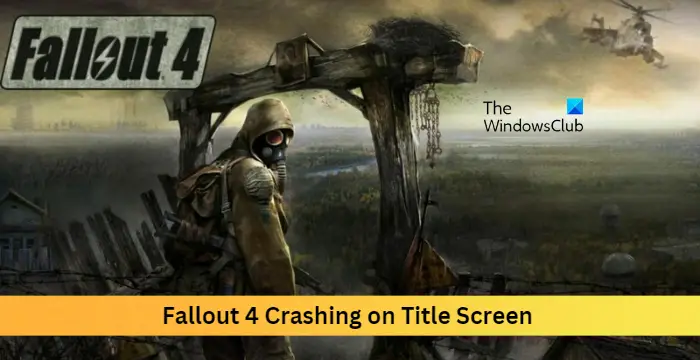 Fix Fallout 4 crashing on startup
If Fallout 4 is crashing on startup on the Title screen on your Windows PC, follow these suggestions:
Check System Compatibility
Verify the Integrity of Game Files
Run Fallout 4 as an Admin
Update Graphics Drivers
Modify DNS Settings
Troubleshoot in Clean Boot State
Update Fallout 4
Now let us see these in detail.
1] Check System Compatibility
Before getting started with different troubleshooting methods, check if your device meets the minimum requirements. It's possible your device doesn't meet the minimum requirements to run Fallout 4. The minimum requirements to run Fallout 4 are:
OS: Windows 7/8/10/11 (64-bit OS required)
Processor: Intel Core i5-2300 2.8 GHz/AMD Phenom II X4 945 3.0 GHz or equivalent
Memory: 8 GB RAM
Graphics: NVIDIA GTX 550 Ti 2GB/AMD Radeon HD 7870 2GB or equivalent
Storage: 30 GB available space
2] Verify the Integrity of Game Files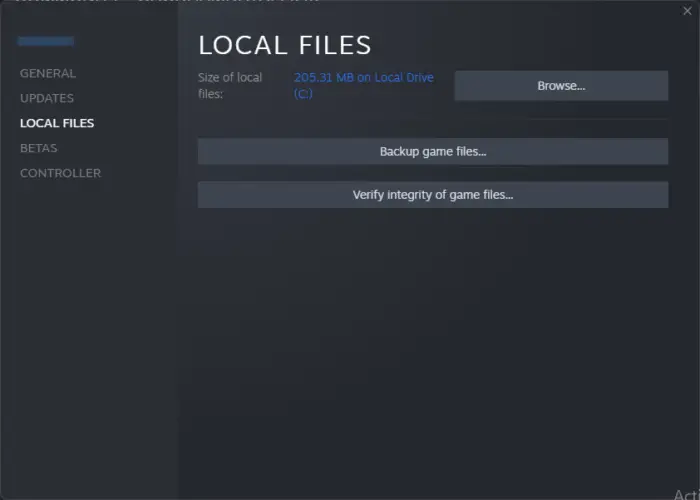 Sometimes game files can get corrupted due to a bug or a recent update. This could also be the reason why this issue is troubling you. Verify the integrity of game files on your PC using the Steam client and check if the issue is fixed. Here is how it's done:
Open Steam and click on Library.
Right-click on Fallout 4 from the list.
Select Properties > Local Files
Then click on Verify Integrity of Game Files.
3] Run Fallout 4 as an Admin
Running the game as an administrator makes sure the game doesn't crash due to a lack of permissions. Here's how to do it:
Right-click on the Fallout 4.exe shortcut file on your device.
Click on Properties.
Navigate to the Compatibility tab.
Check the option Run this program as an administrator.
Click on OK to save changes.
4] Update Graphics Drivers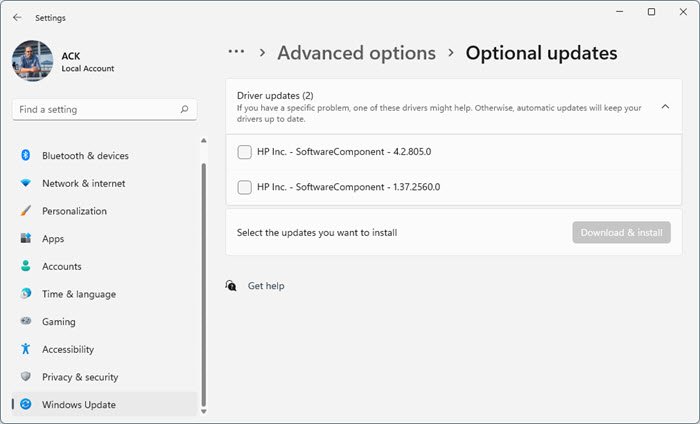 To run games efficiently, a designated amount of graphics memory is essential. Outdated graphics drivers may cause fallout 4 to crash on startup. Here is how you can update the graphics drivers.
NV Updater will keep NVIDIA Graphic Card Driver updated. You could also visit your computer manufacturer's website to download and install the drivers. Some of you may want to use free Driver Update software or tools like AMD Driver Autodetect, Intel Driver Update Utility, or Dell Update utility to update your device drivers.
5] Modify DNS Settings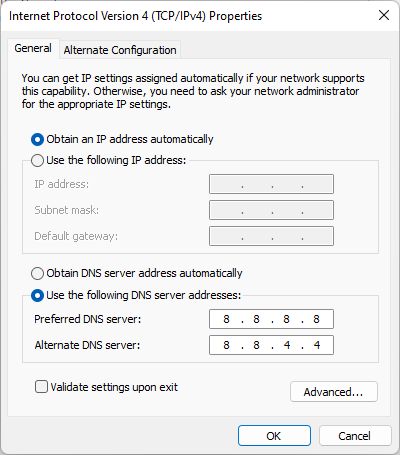 Fallout 4 crashing on the title screen could be a server-related error; modifying the DNS settings can help fix it. Here's how:
Open Control Panel, navigate to Network and Sharing Center, and click on Change Adapter Settings
Right-click on your Wi-Fi connection and select Properties
Select Internet Protocol Version 4 (TCP/IPv4).
Click on the Properties button and enter the following values:

Primary DNS Value: 8.8.8.8
Secondary DNS Value: 8.8.4.4

Click OK and exit.
6] Troubleshoot in Clean Boot State
Third-party applications installed on your device can be responsible for Fallout 4 crashing on the title screen. Perform a Clean Boot of your PC to restrict all third-party applications.
If the error doesn't appear in the Clean Boot State, you may need to manually enable one process after another and see who the culprit is. Once you've identified it, disable or uninstall the software.
7] Update Fallout 4
If none of the above methods could help you, update Fallout 4. Bugs and errors can occur if games aren't updated to their latest version. Here's how you can update Fallout 4 on Steam:
Open Steam > Library and right-click on Fallout 4.
Select Properties > Updates > Always keep this game updated.
The Steam client will automatically install new updates if this option is enabled.
Fix: Fallout 4 Mods not working or showing up in load order
Why does my Fallout 4 crash on startup?
Fallout 4 keeps crashing on startup due to a corrupted save and a bad mod being added to your game. To fix this, you need to disable installed mods and start a new game to see if the issue persists. However, if the issue doesn't occur in the new game, the issue is most likely related to a bad mod.
Why isn't Fallout 4 opening?
There could be various reasons why Fallout 4 is not opening on your computer. For example, there could be a system compatibility issue, lack of administrator permission, faulty graphics driver, etc. That is why it is recommended to follow the aforementioned tips and tricks to get rid of this problem.