The virtual emulator, DS4 is a great way to use your PlayStation and Xbox controllers with your PC. However, a lot of users have reported that when trying to do the same, they see an error message meaning DS4 Windows could not open exclusively on Windows 10/11 computers. In this post, we are going to talk about this issue and see what you need to do to resolve it. Following is the exact error message users are seeing.
Warning: Could not open DS4 0C:EE:E6:FB:D3:76 exclusively. You must quit other applications like Steam, Uplay before activating the 'Hide DS4 Controller' option."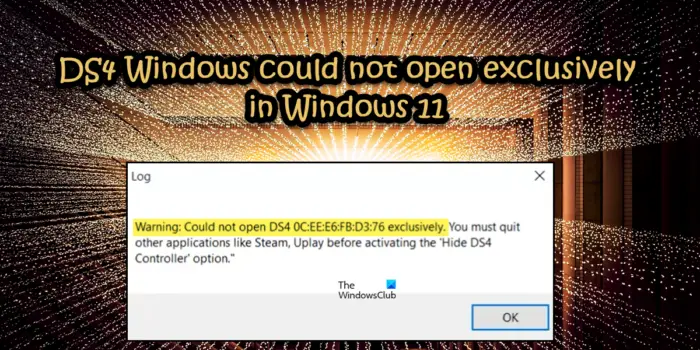 Fix DS4 Windows could not open exclusively in Windows 11
If DS4 Windows could not open exclusively in Windows 11/10, try the following solutions:
Close all the background tasks
Update your drivers
Edit Registries
Update DS4Windows
Stop NvContainerLocalSystem
Troubleshoot in Clean Boot
Reinstall the app
Let us talk about them in detail.
1] Close all the backgrounds tasks
As you can read from the error message, one of the reasons why you are seeing this error message is the fact that there are some apps running in the background. So, just close all the apps that are running in the background, not only, launch Task Manager, right-click on the redundant tasks, and select End Task. If this doesn't work, let us go to the actual troubleshooting guide.
2] Update your drivers
Let us start by updating all your drivers, especially your Bluetooth drivers. You may experience the issue because of incompatibility which is caused because of outdated drivers. Following are the methods to update your drivers.
Hopefully, this will do the job for you.
3] Edit Registries
The issue can be resolved by editing the registries related to the affected device. But first of all, open Device Manager, expand Network adapters, right-click on the WiFi adapter, and select Properties. Then go to the Details tab, change Property to Hardware Ids, copy the first three strings and paste it somewhere.
You should then open Registry Editor by searching it out of the Start Menu or by Win + R, type Regedit, and click Ok. A UAC prompt will appear, click Ok to confirm your actions. Then go to the following locations.
HKEY_LOCAL_MACHINE\SYSTEM\CurrentControlSet\Services\HidGuardian\Parameters
Right-click on the affected device, select Modify and paste the copied string. Make sure to paste the copied string one at a time.
Finally, reboot your computer. Hopefully, this will do the job for you.
4] Update DS4Windows
Maybe there is a bug that is stopping the user from accessing the DS4Windows app. Since we are not developers (generally speaking), we can not alter the source code to get rid of the bug, what we can do is update DS4Windows and see if there is an update available that will fix the issue.
To do the same, we are going to use DS4Updated, which is a utility that gets installed on your computer during the installation process of DS4Windows. To do the same, open File Explorer by Win + E, and go to the location where you have installed DS4. Now, look for the DS4Updated application from the list of files. Lauch the application and let it search for the update and install them. Once you are done installing the update, launch DS4Windows and check if the issue persists. Hopefully, this will do the job for you.
5] Stop NvContainerLocalSystem
If you are using an Nvidia Graphics card, there is a high chance that the NvContainerLocalSystem service is interrupting your application and causing this issue. If you don't have the card in question, you can skip this solution.
Launch Services from the Start Menu, look for NvContainerLocalSystem, right-click on it and select Stop. Now, launch the DS4Windows and try enabling the Hide DS4 Controller option. If this worked for you, just start the service we just stopped and you will be good to go.
6] Troubleshoot in Clean Boot
NvContainerLocalSystem is not the only process interfering with DS4Windows. To find out which other app is the troublemaker, perform Clean Boot and enable processes one by one. Once you know the culprit, just remove it and your issue will be resolved.
7] Reinstall the app
If nothing worked, your last resort is reinstalling the app. First of all, go ahead and uninstall the app from your computer. Once the uninstallation process is complete, go ahead download a fresh copy of the DS4Windows and install it in a different location. Once you are done with it, launch the app and see if the issue is resolved.
Hopefully, you will be able to resolve the issue using the solutions mentioned in this article.
Also Read: Xbox Cloud Gaming Controller not working 
Does DS4 Windows work for Windows 11?
Yes, DS4Windows work for both Windows 11 and 10. It is a virtual emulator that allows you to use your Xbox or PlayStation controller with your computer. The application makes connecting PS4 and Xbox 360 controllers very simple. This obviously allows you to play a lot more games that were designed to work with a controller and not with your keyboard and mouse. So, if you have a Windows PC and want to use PS4 and Xbox 360 controllers with it, DS4 is a great option.
Read: 
Why won't my DS4 Windows won't open?
DS4Windows might not open on your computer if there is some kind of corruption in the app. Also, if there is any kind of misconfiguration with the app or the services that work alongside it, there is a high chance that DS4Windows will crash on your computer. To fix this, try executing the solutions mentioned in this post. Hopefully, you will be able to get DS4Windows to launch on your system.
Also Read: USB Gamepad is not recognized or working in Windows.