DNS (Domain Name System) connects your computer to the Internet server, acting as an essential link between the two. Your computer's Internet connection is recognized by a default IP address, which is fetched directly from your Internet provider. Now, what happens when you use the same DNS time and again, your IP address gets tracked easily, followed by your browsing history, websites you surf, and much more than you can imagine. This is one reason why you may want to change your DNS.
Quickly change DNS Server
ChrisPC DNS Switch is one such software that uses some connectivity tools which make it convenient for you to change your DNS in a much easier and faster way. It allows you to select a particular DNS best which suits your browsing habits, from a group of DNS servers.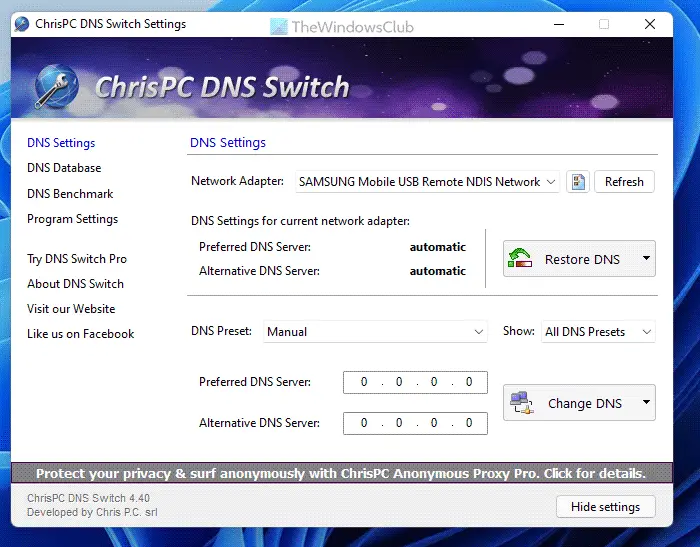 ChrisPC DNS features
The most important feature of this software is its promptness and spontaneity with which you can opt for a DNS server of your choice in just a single click and similarly restore your previous DNS in another click.
Efficient Graphic User Interface
With a simple and efficient GUI, the software makes it convenient for the user to select their particular network adapter/card and then accordingly change their corresponding DNS with the one selected from the preset list of custom DNS. ChrisPC DNS Switch offers many diverse features in order to maintain a DNS database.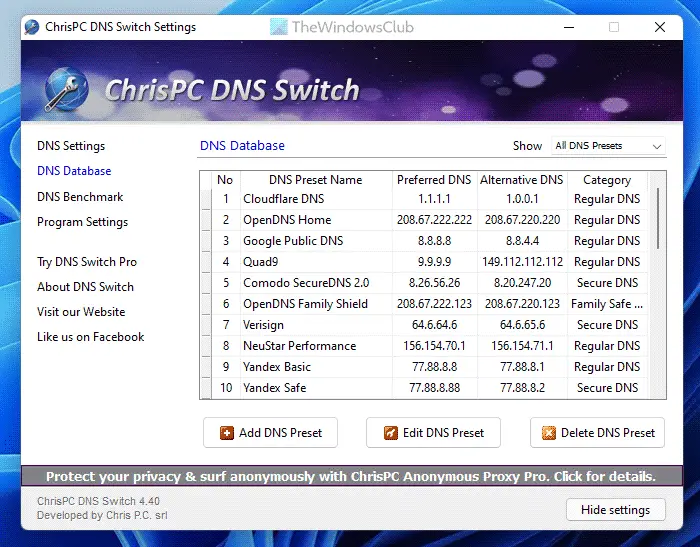 Anonymous browsing
If you are frustrated by the ads which follow you on every page you visit on the Internet and want to surf the Internet anonymously, this software is there for your rescue. Simply select any server from the Anonymous DNS preset group list generated for you and you are good to go. You may even want to go for a DNS server from the Secure DNS list, which will filter out the websites containing potential viruses or malware. They include Comodo Secure DNS, OpenDNS, Google DNS, etc.
Family Safe DNS
ChrisPC also has a feature wherein you can make your kids' Internet surfing safe and healthy. By switching to a Family Safe DNS server you can easily keep your children away from harmful websites with any kind of adult or violent material and encourage healthy Internet browsing habits for your children.
What makes this software even more accessible is the pop-up menu option from the system tray, so that you can quickly switch your DNS without having to launch the software time and again. The software is compatible with Microsoft Windows 10/8/7 and its minimum memory requirement is 128 MB RAM.
ChrisPC DNS Switch free download
You can download ChrisPC DNS Switch here.
Using the correct DNS provider may help you increase your browsing speed.
How do I set my DNS to automatically change?
To change your DNS automatically, you can use the ChrisPC DNS Switch app on your computer. It is compatible with Windows 11, Windows 10, and some other older versions. You can easily modify your DNS settings on your computer as per your requirements so that you can continue browsing any website without any restrictions.
What happens when you switch DNS?
When you change the DNS on your computer, your PC starts using the new route for all incoming and outgoing traffic. At times, a regional block might be lifted off by changing the DNS on your computer. However, if you change the DNS settings on your router, all the connected devices will start using the new route for all traffic.