In this age of malware attacks and phishing attempts, you need more security than simply an antivirus and a firewall. In our attempt to find good software that counters malware attacks and provides better privacy on the Internet, we have already covered The Onion Router (TOR) – for secure browsing and SpotFlux – for private free VPN. This review of OpenDNS is another in the series and checks out the features of OpenDNS, a cloud-based service that not only provides faster Internet browsing but also offers security against phishing attempts.
Using the OpenDNS parental control program, you can also control what content your kids can see when they log into the Internet using any of their devices. And since it is a cloud and DNS-based service, you need not configure these content settings for each device. You can set them up, and OpenDNS will apply it to all the devices used – by your kids – to access the Internet.
OpenDNS Setup
Before setting up OpenDNS, you might want to create an account with OpenDNS so that you can use the OpenDNS parental controls program. The parental control allows you to block different categories of websites from being displayed on your computer network.
The registration process is simple and fast as you have to enter one of your existing email IDs and a password to secure the account. The first step after creating the account is to set up your computer to use the DNS address provided by OpenDNS. You can opt to change the settings in the router or through your computer, depending upon how you connect to the computer.
The OpenDNS webpage gives you three options as soon as you register with the service: Computer, Router, and DNS Server. When you select one of these, it walks you through the process of setting up the new DNS server addresses. If you already know how to change the DNS server settings, the DNS for OpenDNS servers are 208.67.222.222 and 208.67.220.220.
OpenDNS Home Review
Browsing Speed
After switching to OpenDNS, I noticed that I had a faster Internet. The time taken to resolve URLs was much less than the other DNS service I already used. Since the time used in resolving URLs is low, you experience an overall faster Internet.
When you switch to OpenDNS, you need to point your router or computer to the cloud-based service. You need not install any software or additional hardware for using the OpenDNS domain name resolving service. You may need IP Updater only if you are on dynamic IP and wish to use parental control features (see parental controls below).
OpenDNS says that it has 12 data centers across the globe and claims it has not seen a single downtime since it started operating. This, it says, is because of the DNS queries dropping to other name servers automatically in case one of their data centers malfunctions.
According to OpenDNS, they scale their service when your bandwidth usage exceeds and thus do not prove to be a bottleneck when it comes to browsing.
It is not wise to compare OpenDNS with SpotFlux, but still, for your knowledge, SpotFlux provides anonymous browsing by changing your actual IP, while OpenDNS requires your IP to be registered with it for its parental control program. You can use SpotFlux if you are more concerned about your privacy plus security and OpenDNS if you want parental controls in addition to security.
Security
OpenDNS employs one of the best anti-phishing solutions known as Phishtank. The Phishtank contains information about phishing websites. It is a place where users can add and confirm reports of phishing websites. Since Internet users maintain Phishtank, you can expect the data to be the most current, and hence, you can trust OpenDNS to protect you from phishing websites.
OpenDNS employs similar methods to prevent botnets and malware-infected sites from contacting you. Since OpenDNS is responsible for resolving URLs of websites, if it finds any request for a website it knows is infected, it will block the request, thereby protecting you from infections. In other words, it stops malicious domains from resolving at the DNS level to protect you from infections.
Parental Control Program
Here is a drawback if you are using a network that employs Dynamic IP. I call it a drawback because you must download and install an IP updater software from OpenDNS.com before setting up your network to use the complete OpenDNS protection. For static IPs, all you need to do is add your IP address to your OpenDNS account (Dashboard). In either case, you can give it a friendly name to identify the network on the dashboard and in the IP updating software.
Once you are done adding your network to your OpenDNS dashboard, you can go ahead and set up web filtering. Here is a look at what I got soon after adding my network to OpenDNS.
Upon selecting the options and customizing them, you must click Apply to apply the settings to the entire network. Remember that since it is the Domain Name System your network is using, all devices on that network will have to abide by the filtering rules you have set up.
You can further enhance security by blocking individual sites. The option to block websites is given right below the above dashboard, which allows you to set up content filtering.

You can display a custom message to your kids when they encounter a blocked website. Just click on Customization on the left panel and scroll down a little to reach Block Page. Under this option, you can set up the page that appears when any user of your network encounters a blocked web page. You can use this custom page to educate kids on why you blocked the website.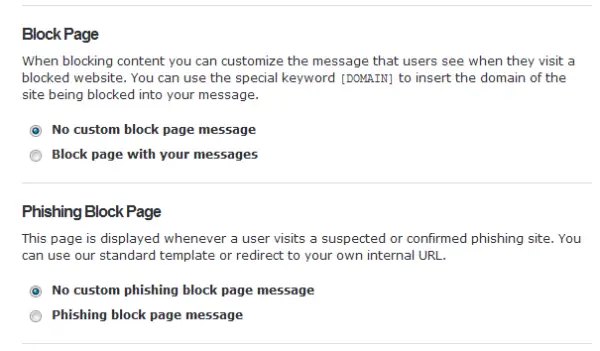 By default, the data collection (the websites that the users of your network have been visiting) is turned off. It is useful to turn it on so that you can keep an eye on what all websites your kids are visiting. To turn it on, click on Logs in the left panel on the OpenDNS dashboard and in the right panel, click to tick the box against Enable Stats and Logs. You can later view the data by clicking on the Data tab on the top of the OpenDNS dashboard.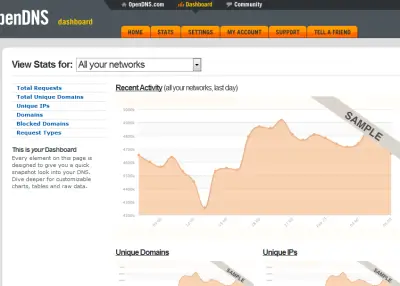 Overall, this parental control feature of OpenDNS is highly customizable and hence, recommended by me. We talked about a few free parental control programs for Windows some time back. You can use OpenDNS in addition to one of those programs as it will not interfere with any of them. On a scale of 1 to 5, where 5 is best, this review of OpenDNS and its parental control programs gives it a rating of 4. If you have been using OpenDNS, I would like to know your experience. Please use the comment box below to add to the review.
Get OpenDNS Home Free
You must visit opendns.com here to sign up for the free Home version.
It offers free protection for 1 network that includes speedy RFC-compliant DNS resolution.
UPDATE: Cisco owns OpenDNS. OpenDNS is now Cisco Umbrella.
Note that you need to change your DNS settings to the ones mentioned in this article and opt out of installing the IP Updater, and create an account with OpenDNS in case you do not wish to use  OpenDNS parental control program. You will still be enjoying protection from Phishing sites.
Here is a list of some good free and Public DNS Servers that may interest you.
These links may also interest you: