While you are on the Internet, there are many things happening that you don't know. There are people and companies tracking you to know your interests. There are agencies collecting data about you and your computers. There may be hackers trying to access the data you are sending or receiving over the Internet.
SpotFlux review
Earlier, we talked about how TOR stops hackers from following you. This article is a review of SpotFlux, a free VPN software that creates an encrypted connection to SpotFlux cloud and allows you to transfer your data safely using the connection. Not only it saves your data from being accessed by hackers, but it also keeps ad networks at bay too. This means fewer annoying ads and hence less bandwidth consumption. SpotFlux also prevents Internet agencies from tracking you on the Internet.
All this is achieved by creating an encrypted connection where your IP address and DNS is changed so that people do not know who you are and where you are located. The encrypted connection also provides for security of data and protection from targeted adverts. Another advantage of using SpotFlux is that it keeps on scanning the incoming traffic for malware and destroys them if found.
In the next few paragraphs, I will be talking about my experience with SpotFlux. Before that, I sum up the benefits of using SpotFlux in four points:
Encrypted, Secure Connection To Internet via SpotFlux Cloud
Scan and Remove Malware in Incoming Connections
Random IP and DNS addresses prevent you from being tracked
Prevention of targeted advertising makes your browsing experience better.
After downloading and installing SpotFlux, it added a new component to my computer. It was a virtual Network Adapter and was listed under Network Adaptors in Device Manager (Windows Key + Prnt Scr).
You can also see a new network connection in your list of networks. To view the connection details in Windows 7, click on the network icon in the System Tray and select Open Networking and Sharing Center. In the window that appears, click Manage Network Adaptors.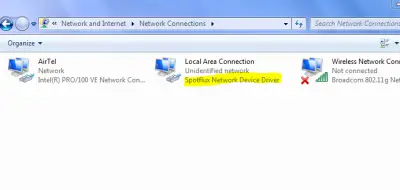 However, to my surprise, Windows did not detect any active Internet connection on this new network (See image below). I opened up the properties of this new network and everything was set to Automatic Configuration under both IPv4 and IPv6.
When I turned off SpotFlux, the new connection showed "Network Cable Unplugged". This confirmed that the new connection will be operational only when SpotFlux is turned on, and an encrypted connection is created between your computer and SpotFlux servers.
Upon proper installation of SpotFlux, you will be asked if you wish to run the program. Confirm that and you will see a dialog that takes around a minute to establish a secure connection between your computer and the SpotFlux servers. You can see the SpotFlux icon in Windows System Tray. The only options you get upon clicking the icon are: Disconnect, Open Main Window and Quit.
Disconnect will disable the secure connection but will not quit SpotFlux.
Open Main Window will open the window where you can enable or disable the secure connection and change the settings (run at startup, warn before closing and stuff like that).
Quit will first disable the secure connection and then quit SpotFlux.
Get A New Identity
Upon installing SpotFlux, I was skeptical about if it is really working. I checked out Internet Explorer and Google Chrome for add-ons and extensions. There were none. Then it occurred to me that I should check out the IP address and DNS. I used whatismyipaddress.com to check my IP address. Following are images of my location before and after enabling SpotFlux. You can see my location set to be US when SpotFlux was enabled and reverted back to Hyderabad upon turning off SpotFlux.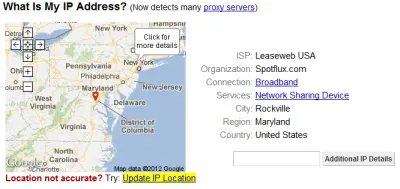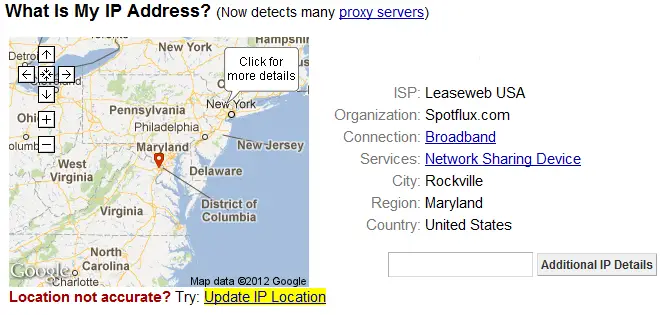 NOTE: You can use IPCONFIG /ALL command in the Command Window to view the DNS. To open the Command Window, press Windows Key + R. In the Run dialog box that appears, type CMD and press Enter. You will get the Command window where you can type IPCONFIG /ALL to view your current DNS.
This means that you can bypass any restrictions in place by your ISP. Also, your ISP and other agencies cannot track you on the Internet as you belong to a different country altogether. Now the only thing that needs to be seen is ad-blocking.
For the websites I visited earlier, I had to close popup windows manually. With SpotFlux enabled, the same websites failed to produce any popup window or popup banner – especially Flash-based. The common kinds of popups are blocked by the latest browsers themselves. To confirm if it is the SpotFlux that is blocking popups, visit one of those websites that run Flash ads. Most of the blogs on blogspot.com run such popups. Also, the B-grade websites offering free music and movies (not torrents) present you with such popup ads.
There are some websites such as popupcheck.com and popuptest.com that run popup blocker tests but in my case, I found my browsers (without SpotFlux) to be capable of blocking them. You may want to try them out as well.
SpotFlux – Drawbacks
Since your DNS is changed, your Google, Facebook, and certain other services will say they don't recognize the computer you are using and may ask you to perform additional steps for login. Some sites, such as Facebook, give you the option to save the 'new device' while others will keep on asking you to perform additional info every time you log in.
The other drawback is session timeouts. Browsing with SpotFlux enabled may cause delays due to which, timeouts may happen. However, this is a rare condition and given the type of security you enjoy with SpotFlux, it is bearable.
If you have been using SpotFlux or plan to do so, please let us know your thoughts on the free VPN  – that is the perfect word to describe SpotFlux.
 CyberGhost Secure VPN is another anonymity tool for Windows that completely hides and protects your identity online.
Also read: