Kodi is an extremely amazing open-source streaming app for home entertainment. It helps to stream the content on a different platform. The home entertainment media software can literally turn any digital devices like smartphones, computer, or a tablet to a streaming setup box and would give the users, the benefit to take media anywhere with Kodi.
This free streaming software was earlier called as Xbox Media Center (XBMC) and was originally used for the Microsoft Xbox. It is now run by an independent XBMC foundation and recently renamed as Kodi. This service allows users to run all types of content like videos, music, TV shows, and even LIVE TV on any device like Android smartphones, iOS, Android TV boxes, Amazon Firestick/Firetv, Roku, Linux, Windows PC, and even Raspberry Pi.
While there are plenty of streaming app like Chromecast, Apple TV and others which are confined to a curated app store, Kodi for Windows is undoubtedly one of the best software which allows users to customize the software by downloading a wide range of add-ons, builds, and applications without any boundaries, and at the same time it is not held back by licensing. Installing the addons gives the user the benefit to streaming any type of content, anywhere, without any restrictions.
However, using Kodi add-ons may lead you into legal trouble if you try to stream copyrighted material. In the dubious network, users are always vulnerable to security threats by hackers and other anonymous identities through Kodi add-ons. As we are aware of how our Internet Service Providers and government are constantly monitoring our web browser data, your ISP can lodge a complaint against you if you are found streaming a copyrighted material or your ISP may even block access to specific content streams leading to Kodi error.
Best free VPN for Kodi
To keep the spy away from you, and protect your privacy while streaming, Kodi users are suggested to use a VPN  or Virtual Private Network that would put you out of ISP's prying sight. By using a reliable VPN, Kodi users can even stream geographically restricted content, securely, anywhere without the barrier.
It is important to note that, the services offered by free VPN is never the same as the paid VPN when it comes to security, and it is recommended to use paid VPN for high security. The free VPN may sometimes be slow, and even pose restrictions in bandwidth. VPN services are mostly available with a paid subscription. However, there are few free VPN connections that would suffice for a minor task. In this article, we round up some of the best free VPN  for Kodi to securely stream content over the network.
TunnelBear
Windscribe
Hide.Me
SurfEasy
ProtonVPN
CyberGhost VPN.
1] TunnelBear
TunnelBear is one of the reliable VPN  packed with valuable features. It offers an easy to use interface and high-speed connection for surfing the web while keeping your identity intact. It doesn't keep logs of your IP address to maintain online privacy. It is easy to set up and is available for free with a 500MB data limit per month. Users can also upgrade to a paid package to get the benefit of the premium features.
2] Windscribe
Windscribe is a free VPN that lets the user browse the web privately. It uses encryption to protect your identity and browsing activity. It doesn't track users' IP addresses and  DNS information. Windscribe lets users unblock geo-restricted content by masking your IP address in order to provide unrestricted access.
3] Hide.Me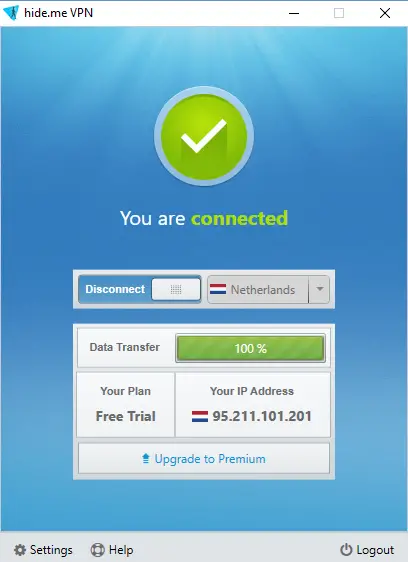 Hide.Me is a secure, fastest, and reliable VPN service that offers advanced security by encrypting your browsing data and identity. It offers VPN services for free along with premium plans. It is undoubtedly one of the safest VPN services which you can use to surf the web anywhere. It hides the users IP and location to achieve absolute privacy. With the help of Hide.Me, you can access any channel through Kodi without limitations.
4] SurfEasy
SurfEasy is a no-log VPN for any kind of devices like Windows, Android smartphones, iOS, Android TV boxes, Amazon Firestick/Firetv, Roku, Linux, Windows PC. The free VPN service contains no ad and hides your personal data. It has a dedicated server that maintains the download speed as fast as possible. The SurfEasy's auto-protect feature prevents users' data leaks and automatically protects the user as soon as your device is connected to an unprotected open network. Their Starter Plan is free for up to 5 devices with 500MB free data. They allow you to earn more data by doing a few tasks like sharing on social media, inviting friends, etc.
5] ProtonVPN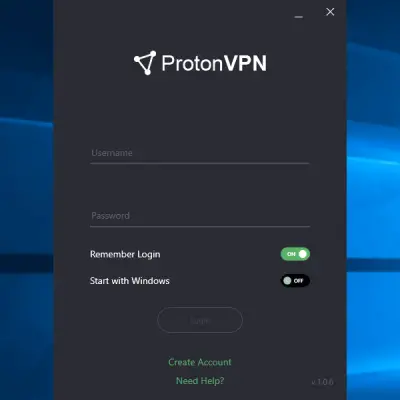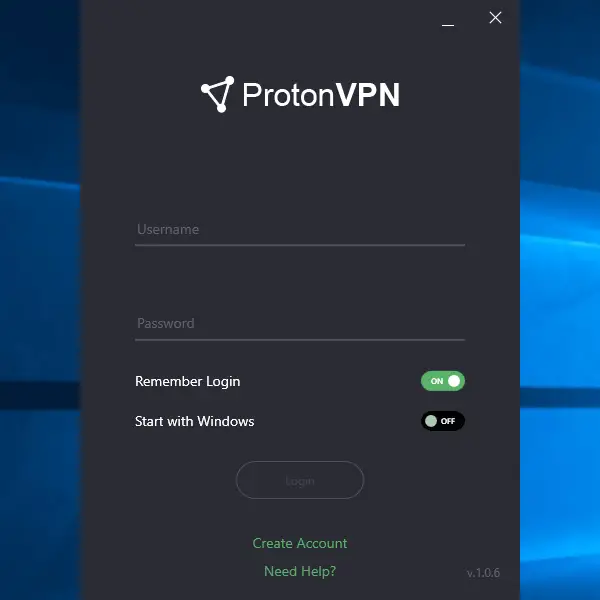 ProtonVPN is a Swiss-based VPN project that offers complete security with the help of a secure core network to hide user's IP addresses. It uses ciphers with perfect forward secrecy which keeps your encrypted data intact even in case your encryption key is compromised. The ProtonVPN is available in both free as well as paid plans. The free version of ProtonVPN offers a decent speed connection for surfing the internet while keeping your identity intact. It contains no ads and safeguards your browsing history. To experience the faster speed and advanced features, it is recommended to upgrade to a paid plan.
6] CyberGhost VPN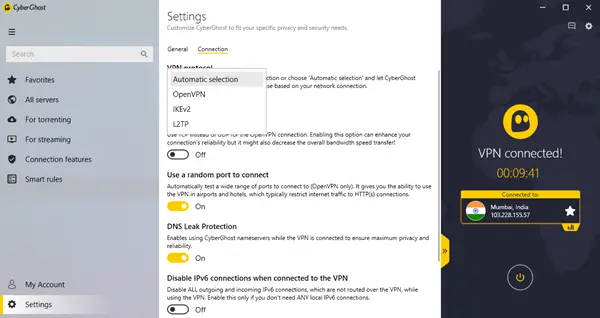 Available in free as well as premium versions, CyberGhost is one of the best free VPN solutions for your Windows PC. It is an easy-to-use personal VPN service which hides all your common internet activities and your identity from hackers. CyberGhost Secure VPN also lets you spoof your IP address and stay safe.  Other salient features of CyberGhost Secure VPN Free include access to free servers, 1GB traffic/month, limited availability, bandwidth limited to 2 Mbps, and a forced disconnection after 6 hours.
Looking for more? Take a look at these free VPN software for Windows PC.