A VPN software is handy when you need to browse the web without leaving Digital Footprints or browse region-restricted content without any barrier. We have already taken a look at several free VPN software for Windows – and today, we will look at a newly launched VPN app called ProtonVPN. It is being developed by the same people, who launched ProtonMail a few months back. ProtonVPN is a simple yet very secure VPN app for all. Let's take a look at the features of ProtonVPN.
ProtonVPN review
ProtonVPN comes with some basic yet well-integrated functionalities. The user interface looks pretty awesome. It shows all the information on one screen. Apart from the free version, it offers paid options too. But if you are a regular internet user, who browses some basic websites or access internet banking accounts, the free edition of ProtonVPN should be good enough for you.
This software offers the following features:
One-click connect: You are just one click away from connecting to a ProtonVPN server. That means you can connect to any of the three servers by just clicking once. It will choose the best connection, based on speed.
Profile Management: You can create a profile with a custom name, server, country, etc. This way you can connect to a particular server whenever you want.
Detailed usage report: You can check how much data you have been used along with season time, download bandwidth, upload bandwidth, download speed, and upload speed.
Once you have downloaded, installed and launched this program, you will get to see the following window first-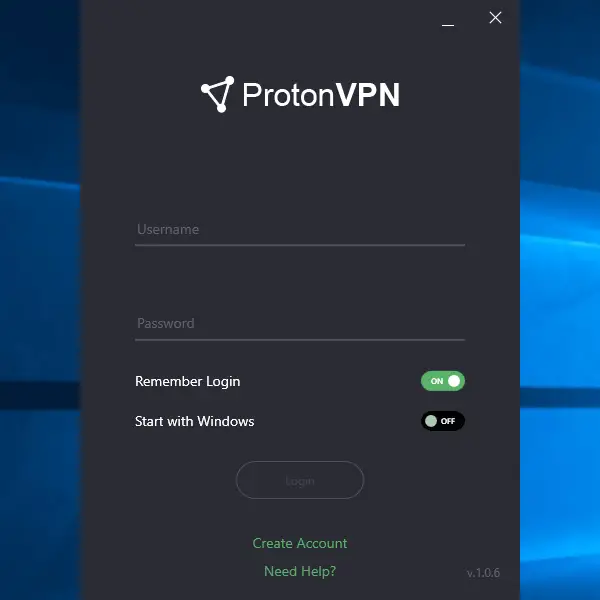 Here you need to enter your username and password and create your ProtonVPN account. Once you do that, you will see the following window-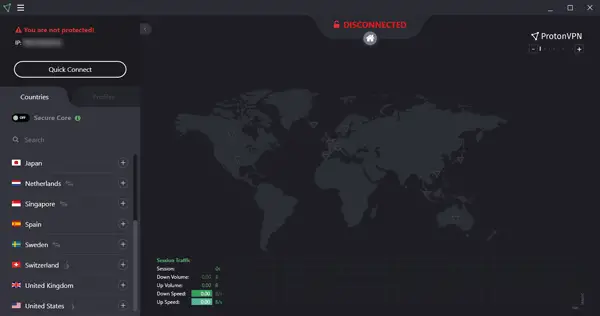 Here you can choose the country, location, and server using which you want to connect to the web. It takes on an average 30 seconds to get connected.
If you want to create a profile, switch to Profiles and hit the Create new Profile button. Here you will be able to customize your profile according to your preferences.
This VPN software does not have many options to play with. And in fact, not much is required, either. All you need to do is, use the Auto-connect option located at Settings > General. This option will connect the VPN automatically after starting your computer.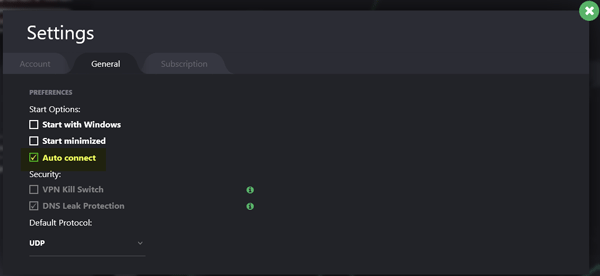 One important feature that the VPN software offers is the Kill Switch. This feature will hide your true IP address even if the VPN connection is dropped by chance – and that is a must-have feature for any good VPN in our opinion.
ProtonVPN does not log or track your internet activity. Moreover, it also integrates well with the Tor anonymity network. And being a Switzerland-based company, it is protected by the strongest privacy laws. Switzerland is also outside of EU and US jurisdiction and is not a member of the fourteen eyes surveillance network.
The free version has some limitations. It offers access to only three country locations. In other words, you can have only three different servers to connect to. Moreover, you can connect only one device being a free account user. It is presently not limited by any bandwidth usage, but its speed would be slower than the paid account.
Apart from using regular antivirus software, we believe that it is now time to use a VPN software also for Security & Privacy. If you want to check out ProtonVPN, you can visit its official website.