XBMC media center, now called KODI, is a free and open-source cross-platform digital media center and was also known as Xbox Media Center. There are lots of free media centers out there, of which, we have had a look at Media Portal – but if you think you want a media center with some interesting features and a really good interface, then KODI could be the perfect option for you.
The developers of XBMC call themselves 'Team XBMC, ' and they have let known that the only reason they wrote the code for XBMC because they love Xbox. As the name suggests, XBMC was created for Xbox but was later ported to Windows, Linux, and Mac.
KODI Features
The features of KODI are completely different from some of the Media Centers out there. KODI offers a user-configurable interface and an add-ons manager. It is designed to perform all the functions that a Home Theatre PC does.
Here is its feature list in brief:
Addons Market
Add-ons Manager
Available Plug-in and Scripts
Many Skins available
Automatically download metadata information
Web Scrapers
Remote Streaming
Cool Web interfaces for remote streaming
Application Launcher
Playback and Handling
Very high-quality and easy to use GUI
Good formats support
Video Library
Music Library
Weather Forecast
Digital image display in detail
Completely customizable
Good Language Support.
Multimedia Support
KODI supports a large variety of popular audio and video formats and you will have never any problems in the supported content of KODI. KODI can play CDs and DVDs directly from the disk or image file and even files inside ZIP and RAR archives. It can even scan all of your media and create a personalized library complete with box covers, descriptions, and fanart automatically. There are playlist and slideshow functions, a weather forecast feature and many audio visualizations.
Kodi Hardware Requirements
Kodi has a real high graphical interface, so to run this program, your machine needs to match the following system requirements:
GPU Graphics Hardware controller
OpenGL ES 2.0 or Direct3D (DirectX) 9.0
Dual Core 2Ghz CPU for Full HD 1080p Viewing quality
Kodi Download
Once you have downloaded and installed KODI, your computer will become a fully functional multimedia jukebox.
KODI app for Windows 10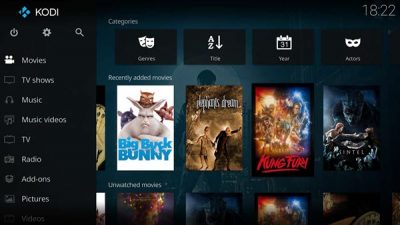 KODI app for Windows 10 uses a 10-foot user interface designed to be a media player for the living-room, using a remote control as the primary input device. Its graphical user interface (GUI) allows the user to easily browse and view videos, photos, podcasts, and music from a hard drive, optical disc, local network, and the internet using only a few buttons. KODI app is available free from the Windows Store.