If you receive a Your PC needs to be repaired, The operating system couldn't be loaded because a critical system driver is missing or contains errors, Error code 0xc0000098 (bfadi.sys) message on your Windows 11/10/8/7 computer, then this post may help you. One of our Twitter followers received this error on his Windows and informed us about it.
Your PC needs to be repaired, Error code 0xc0000098
The operating system couldn't be loaded because a critical system driver is missing or contains errors
This error is received when a critical system file like bfadi.sys is missing or has become corrupted. It could also happen when the Boot Configuration file BCD is missing some required information or has become corrupted. You can even see this message when you are upgrading to a higher version of Windows. The error codes mentioned could vary from 0xc0000225, 0xc0000098, 0xc000000f, 0xc0000034, 0xc000014C, etc. You can use the error code to determine why your computer will not work.
For instance, here are what some of the error codes stand for:
Fix Your PC needs to be repaired, Error 0xc0000098 on Windows 11/10
The error message will usually include the suggestion that you will need to use the recovery tools on your installation media like DVD or USB to repair and recover your Windows installation.
To fix such errors, make sure you disconnect all external devices before you commence. Then you will have to insert your installation DVD or connect your USB to your laptop, restart your computer, boot from the CD, DVD, or USB drive, and select Repair your computer.
Next, select Troubleshoot. Select the Reset This PC option. This should normally resolve your issue. A Refresh This PC usually fixes this problem.
Read: The drive where Windows is installed is locked.
If this does not help, restart the same process but this time select the Advanced options. This post will show you more details about the Advanced Startup Options.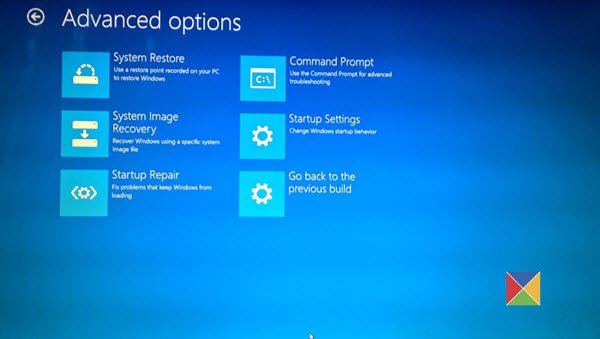 Here you will see:
System Restore
System Image Recovery
Startup Repair
Command Prompt:
Startup Settings
Go back to the previous build.
Select Command Prompt. Using the CMD you can access the more advanced built-in Windows tools.
Here are a few things you can try, depending on the error code you receive. See which applies to your system and carry them out:
On UEFI supported systems, you may try the following. Type the following two commands one after the other and hit Enter.
Diskpart
List volume
You now have to select the volume that is labeled ESP. ESP or EFI System Partition is a partition on a hard disk or solid-state drive which adheres to UEFI or Unified Extensible Firmware Interface. In my case, it is Volume 2.
Select volume 2
Now we need to assign a letter to it. Let's select 'z'.
Assign letter=z
Now exit diskpart by using the following command.
Exit
Next, type the following command and hit Enter:
bcdboot C:\windows /s z: /f UEFI
/f when used with the /s command, specifies the firmware type of the target system partition, and the options are – BIOS, UEFI and ALL. We used UEFI to generate boot files for UEFI-supported systems. Get more information on this at TechNet.
Restart your computer and see if any of these suggestions have helped you resolve the issue.
Read: The operating system couldn't be loaded because a critical system driver is missing or contains errors 0xc0000221 or 0xc00000ba
How to rebuild BCD file in Windows 10?
The process to rebuild BCD is the same for both Windows 10 and Windows 11 computers. When the BCD file gets corrupted, you will not be able to boot into Windows. Therefore, to rebuild the BCD file, you have to enter Windows Recovery Environment. After entering Windows RE, you can launch the Command Prompt and execute the required commands to repair BCD.
How do I boot from the disk in Windows 11?
You need to boot from a disk if the Windows OS installed on your computer's hard disk is corrupted. Usually, a pen drive is used for this purpose. In order to repair or reinstall Windows, you need an installation media created on a USB stick. To boot from a disk, you have to change the boot order in your system BIOS.
This post will help you if you receive a Your PC did not start correctly message.
Related reads: