This error on a Windows 11/10/8/7 computer will not even let you turn on your system and will appear as soon as it starts to boot the operating system. The error reads –The Boot Configuration Data for your PC is missing or contains errors, Error code 0xc0000185. Alternatively, you could also see the message – The operating system couldn't be loaded because a required file is missing or contains errors.
If you face this issue, then this post may be able to help you.
Error Code 0xc0000185, Boot Configuration Data is missing or contains errors
We will be taking a look at the following fixes to get rid of this error:
Rebuild the Boot Configuration Data.
Use Automatic Startup Repair
Use System Restore.
Reset Windows 11/10.
Get hardware checked physically.
Since your computer will not boot, you will have to either try to get into Advanced Startup Options screen, boot Windows in Safe Mode or use a bootable Windows media to boot your computer.
1] Rebuild the Boot Configuration Data
If you can access Advanced Startup Options, then open the Command Prompt and use it to rebuild BCD.
If you cannot, then you will need to make a bootable Windows USB drive and then boot your computer using it. Then when you get the Welcome Screen to click on Next, and then click on Repair your computer on the bottom left portion of the window.
Next click on Troubleshoot. After that, select Advanced Options. And then, Command Prompt.
Now, once you have got the Command Prompt window open, enter the following commands one by one in the sequence –
bootrec /FixMbr
bootrec /FixBoot
bootrec /ScanOS
bootrec /RebuildBcd
Finally, close the Command Prompt window, reboot your computer and see if it helped.
Fix: 0xc0000242 Boot BCD error
2] Use Automatic Startup Repair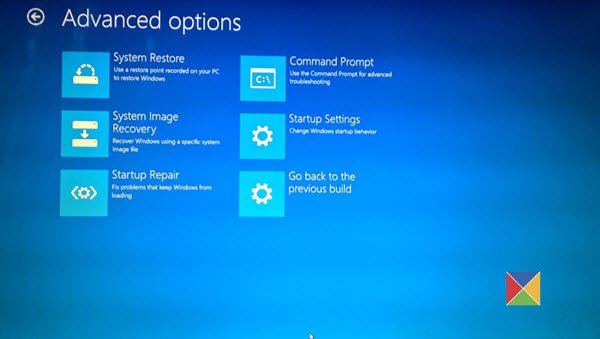 Enter Advanced Startup Options screen, and then use Startup Repair.
3] Use System Restore
In the Advanced Startup Options screen, you will also see a System Restore option. You could try this too.
4] Reset Windows 11/10
If nothing helps, you may need to Reset your PC. Use an installation media to restore, reset or reinstall Windows.
5] Check the Hardware Physically
Try to physically disconnect any external device connected to your computer and check if that fixes the issue. You can also check out if your Hard drive is working properly because it holds the potential for triggering the issue mentioned above. If you cannot do it, it is best to get your hardware checked from a PC support technician.
This post shows how to fix Recovery Error code 0xc000000e, Your PC needs to be repaired, A required device isn't connected or cannot be accessed.
Related reads: