Blue Boot and Recovery errors are among the common issues with Windows. It often comes with different error codes and doesn't allow you to sign into your computer. One such error is Boot BCD Error 0xc0000242. The error comes with a message:
Recovery:
Your PC needs to be repaired.
Error code 0xc0000242
You will need to use Recovery tools.
This post will share how to fix the BCD Error 0xc0000242 on Windows 11/10 PC.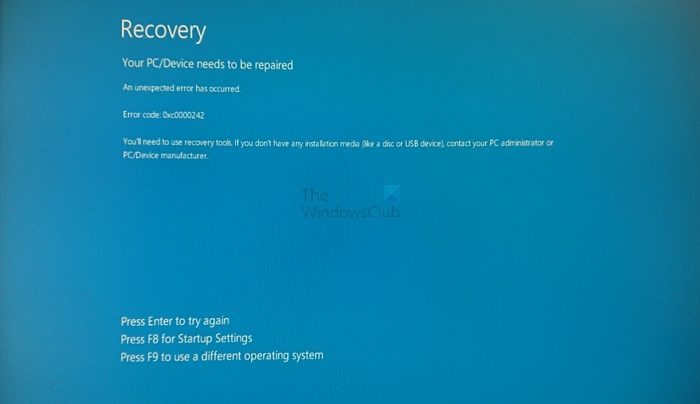 What is BCD Error 0xc0000242 in Windows?
The BCD Error 0xc0000242 code refers to a Windows state where Windows fails to boot up normally. This happens due to the unavailability of Boot Configuration Data or BCD. BCD files contain boot applications and boot application settings. In case the file becomes corrupted or goes missing from your computer, it will not boot.
Fix Boot BCD error 0xc0000242 on Windows 11/10
There are a few ways you can resolve the Boot BCD error 0xc0000242 and it requires you to use Windows in-built Recovery Tools or a Windows Installation Media.
Use the Automatic Startup Repair Tool
Rebuild the BCD Manually
Use installation media to Repair your computer
Perform a Clean Install of Windows
Press Enter to restart your computer and see. If you can access your PC temporarily, back up your essential files. You can quickly move them to OneDrive. If you cannot then you will have to access the Advanced Startup Options screen to carry out some suggestions.
1] Use the Windows Automatic Repair Tool
While booting your computer press F8 to reach the Advanced Startup Options screen.
If this does not work for you will need the Windows installation media. It can be created by downloading the Windows Media Creation tool and using a USB drive. Once you have the installation media, follow these steps:
Start your PC, and go to BIOS or UEFI by pressing the DEL or F2 Key
Change the boot order to a USB Drive instead of an HDD or SSD.
Save the changes, insert the Windows installation media drive into your PC, and restart your PC.
When the PC boots from the USB, it will be a Windows Installation. However, you will get an option of —Repair Windows—just before installation. Choose that.
It will then take you to Advanced Recovery.
Next, go to Advanced Options > Automatic Repair or Startup Repair
Now let Windows do its job and follow the onscreen steps.
Once done, reboot your computer and see if you still get the Boot BCD Error 0xc0000242 on Windows.
2] Rebuild the BCD Manually
As Windows cannot read the BCD file, you can eliminate the error by rebuilding the BCD using Boot Configuration Data Editor. It will not affect your PC's data; only make changes to the boot configuration file. To get started with this, you will again need your Windows media installation disk and then follow the below steps:
Insert your Windows media installation drive and boot up your computer.
Go to the Repair Windows page.
Then navigate to Troubleshoot > Advanced options.
Over here, click on Command Prompt.
Now over here, run the following command: bootrec /rebuildcd
After running the command, the bootrec command scans all Windows installation disks and rebuilds the BCD file. Once done, reboot your PC, and you can log in to your computer.
3] Use installation media to Repair your computer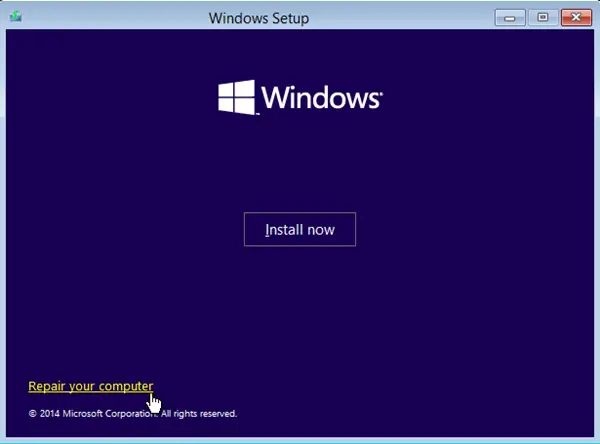 Before considering a fresh install, Repair Windows computer using the Installation Media and see if that helps.
3] Perform a Clean Install of Windows
Finally, if nothing works out for you, you must perform a clean install of Windows. However, this would mean all your data inside the C: drive would be deleted. To go ahead with the method, follow the below steps:
First, create a Windows bootable drive if you don't have one already using the Windows Media Creation tool.
Next, plug in your bootable drive to your PC and boot up your computer.
Finally, follow the onscreen steps to install Windows on your computer, and you are all set.
So that was a roundup on how to fix Boot BCD Error 0xc0000242 on Windows. Windows Automatic Startup Repair and rebuilding the BCD manually would help you fix the issue. If not, then reinstalling your Windows is the only solution.
Some similar Boot BCD Errors: 0xc0000185 | 0xc0000098 | 0xc0000454 | 0xc000000e | 0xc000014C | 0xc000000d | 0xc000000F | 0xc0000034.
How to prevent future occurrences of Boot BCD Errors?
If you have successfully recovered your PC from a Boot BCD Error code, you can regularly maintain your PC, install updates and patches, and avoid installing doubtful software. Also, make sure to install drivers from OEM's website only. Also to avoid data losses, you must take regular backups of your computer.
Read: Dual Boot Repair Tool will repair Boot Configuration Data for Windows.