If you receive Device Manager Error Code, Windows has stopped this device because it has reported problems (Code 43) on your Windows 11/10, using Intel, Radeon or AMD Graphics Cards (GPU), then see this post will help you fix the issue. You may have received this for an Intel or AMD Graphics Cards (GPU) as well.
What is Code 43 problem in USB?
We generally connect various peripheral devices to our Windows computer. These devices could be USB drives, printers, external mouse, keyboards, etc. Many times, you might have faced a problem in installing and using some devices. Recently we came across such an issue with a USB drive. In this case, whenever we tried to plug in the USB drive, Windows couldn't recognize it, and thus we couldn't use this drive for any operation.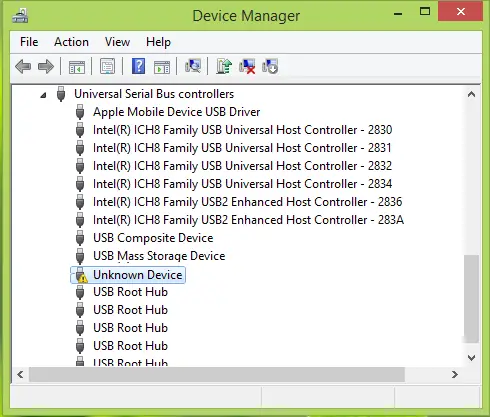 As you can see in the above screenshot, there is an exclamation mark against the Unknown Device. Thus we further investigated this device and opened its Properties by double-clicking Unknown Device. The Device Status here says:
Windows has stopped this device because it has reported problems (Code 43)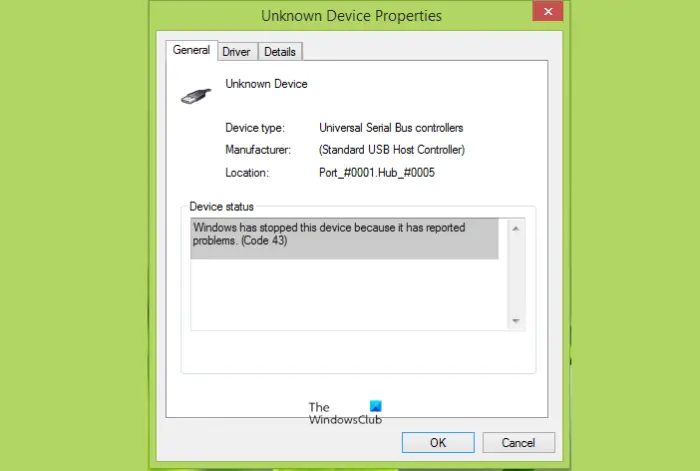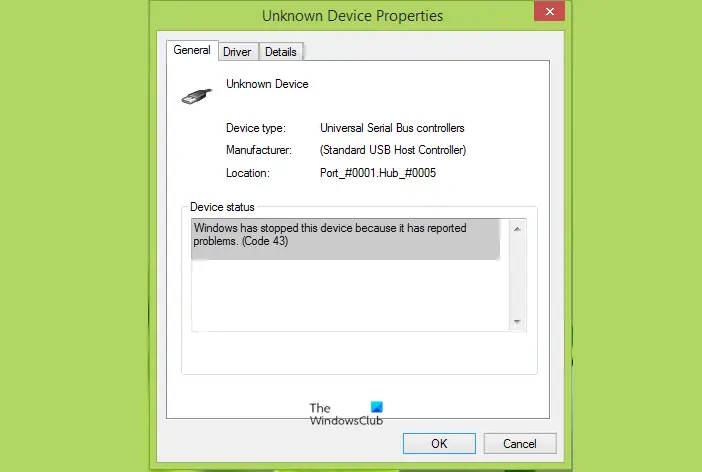 You may face this error code with any of the devices you plug into your system. Speaking technically about the situation, the device driver here notifies Windows that the device has failed. This could also happen if the device hardware fails or if the device driver itself fails. In either case, the result is that you're not able to use the device at all.
A few things you could try before you proceed with troubleshooting is:
Restart the computer and see if the problem goes away
Disconnect all other USB devices
Unplug & plug the device back
Run the Hardware Troubleshooter
Update your device drivers
Reinstall the device driver
Roll back the device driver.
Let us take a look at them in detail:
1] Restart the computer
Restart the computer and see if the problem goes away
2] Disconnect all other USB devices
Disconnect all other USB devices and see if that helps,
3] Unplug & plug the device back
Unplug all your external devices and then plug the device back and see if that works.
4] Run the Hardware Troubleshooter
Run the Hardware Troubleshooter as well as the USB Troubleshooter. That has been known to help many.
5] Reinstall the device driver
If it doesn't help, try to uninstall and reinstall the device and see if it helps:
Press Windows Key + R and type devmgmt.msc in the Run dialog box to open Device Manager.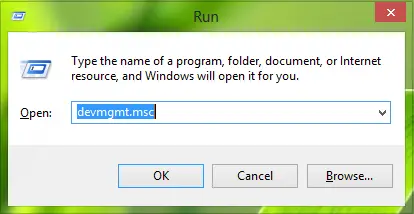 In the Device Manager window, locate the malfunctioned device and right-click on it, select Uninstall.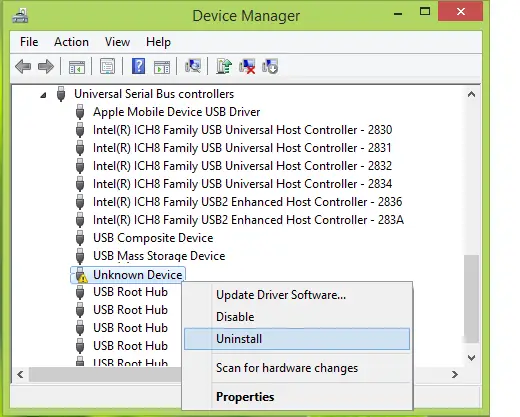 After uninstalling Unknown Device in the previous step, right-click your computer name and select Scan for hardware changes.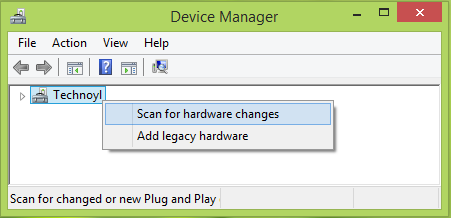 In this way, finally, the malfunctioned device gets recognized by Windows and you can double click to view its Properties where you found the Device Status that This device is working properly.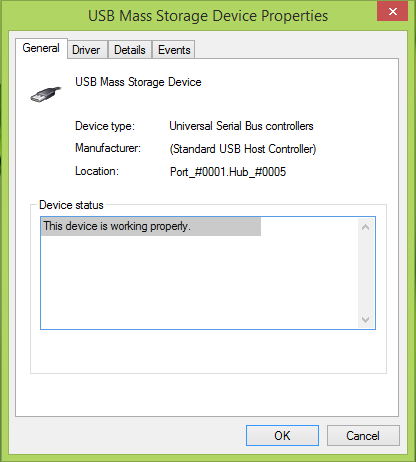 6] Update the device driver
Windows 10 Updates now offer drivers by the OEMs when it passes through its compatibility test. It is possible that the latest version of Windows 10 and the driver are not compatible with each other. You can either manually update your device drivers by downloading from the OEMs website or check with Windows Update.
Press WIN + X + M or right-click the Start button, and then select Device Manager.
Expand the list of devices, and look for a device that has a yellow exclamation next to it. This signifies that the device has an issue.
Right-click the device and select Properties.
Select Driver, and then select Update Driver.
Select Search automatically for updated driver software.
This will force Windows Update service to look for the latest driver. If a driver update is available, it will install automatically. Select Close when it finishes installing. You may have to restart your Windows 11/10 PC in some cases.
Read: How to Uninstall, Disable, Roll Back, Update Device Drivers.
7] Roll back the device driver
While the latest drivers are rolled out to make sure to keep issues at bay with every Windows 10 Upgrade, sometimes it doesn't work. If you have an update that was recently installed or you had manually update the driver software using the OEM Software, the only way out is to roll back to the previous version of the driver which was working.
Go to  Device Manager.
Find the device which was causing the problem. It will be marked with a yellow exclamation point next to it.
Then tap and hold or right-click the device and select Properties.
Select Driver, and then select Roll Back Driver.
If this doesn't work, we suggest you use System Restore feature to get back to the state where it was working fine. Windows usually creates a restore point whenever it installs something.
How do you fix NVIDIA Graphics Driver Error Code 43?
If you face this issue Update your graphics card driver from NVIDIA.COM web site, Make sure your system is updated with the latest SBIOS and Windows updates, Check to make sure your system power supply meets the minimum recommended power requirement for your card, Make sure the PCIe supplemental power connector is plugged into the card or Replace the graphics card as it may be defective.
Let us know if this helped!