At times, you may find a small icon appearing in the lower-right hand corner of your Windows computer screen, flashing a Potentially Unprotected warning or a Computer at risk warning. You may wonder why this problem shows up, even when you have set Windows Defender program on your Windows computer, as per the recommended settings. In this post, we will see what PC status – Potentially unprotected message and Attention Computer at risk message means, and how to address these issues.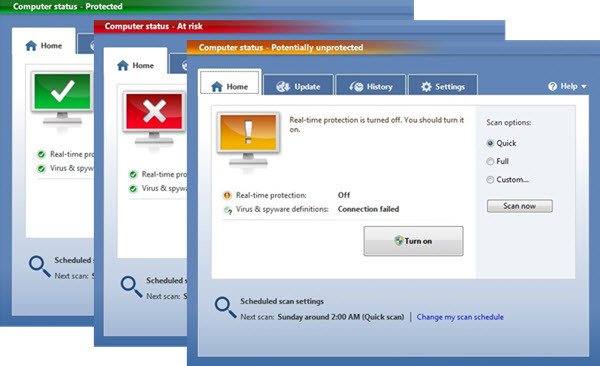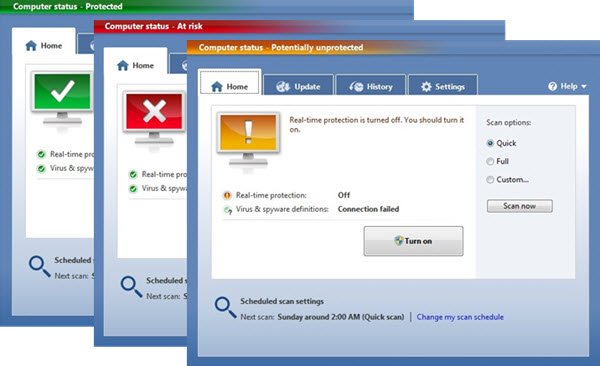 Windows Defender PC status Potentially unprotected
Windows Defender will warn you if a scan has not been carried out for a while or if the program has not been updated. When a Potentially unprotected message is displayed, the icon turns yellow. You may need to turn on real-time protection, run a system scan, or address a medium-severity or low-severity threat.
If a third-party program has accidentally deleted one or more log files that Windows Defender uses to verify if a scan has been done or not, then too it will flash this warning. This situation usually arises when programs like CCleaner have been used to clean out PC junk files. If you face this issue, then here are a few things you need to do:
1] Update Windows Defender definitions.
2] Ensure that Real-time protection is turned on.
3] If you use CCleaner, uncheck the option to clean Windows Defender files. You will see this setting under Cleaner> Applications tab > Scroll down to 'Utilities' > Uncheck the entry for 'Windows Defender'. This is essential since CCleaner deletes the scan logs of Windows defender, as a result, Microsoft built-in antivirus maintains that a scan has not been performed for long and therefore triggers a warning. File removal bears no effect on the antimalware protection provided byMSE. It is just that the warning pops up unnecessarily. Similarly, if you use any other junk file cleaner, you may want to uncheck the Windows Defender checkbox.
3] Scan your computer using Windows Defender. This will re-populate the log files.
For your information, the others staus messages of Windows Defender are:
PC Status: Attention! Computer at risk
If you see a red icon with message Computer at risk, it means that your computer is indeed facing a threat, and that you need to take the recommended action to let Windows Defender clean the malware.
See how you can make Windows Defender protect you against Potentially Unwanted Programs too.
Computer status – Protected
If you see a Computer status – Protected message with a green icon, it means that the security status of your Windows computer is good.
Hope this helps.
See this post if your Windows Defender is turned off or not working.