While upgrading Windows, if you see Windows Upgrade or Installation error 0x800F0923, know that it is because a driver or other software on your PC isn't compatible with the upgrade to Windows 11/10. Here is the working fix that will help you resolve the problem.
Fix Windows Update failure 0x800F0923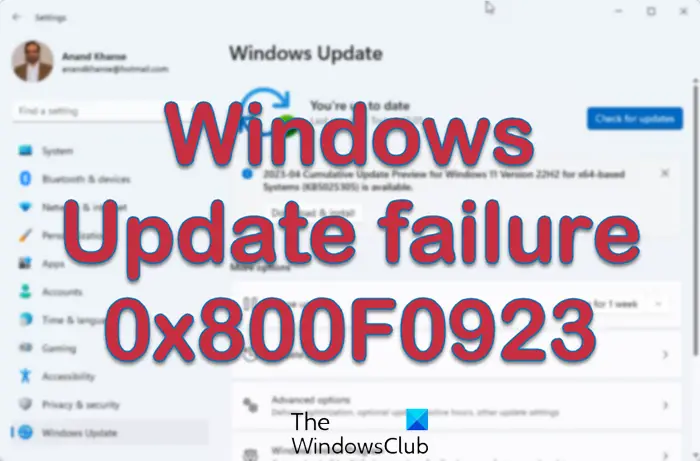 Follow these suggestions to fix Windows Update Error 0x800F0923 on your Windows 11/10 computer:
1] Incompatible driver
When running Windows Upgrade Assistant, if you get a warning that drivers are incompatible, make sure you find a fix for them or else, you are bound to see this error. There are multiple ways to update the device drivers:
Open Device Manager > Right-click on the hardware > Properties > Update Driver. This will use Windows update to find recent drivers.
You can try uninstalling the device, and let Windows find the hardware, and download the updates.
Visit the OEM website, and see if there is a new version of drivers available for your hardware.
In case the new drivers are not working, you can also try installing the old version and see if it works.
2] Uninstall recently installed software
Some software are not compatible when upgrading Windows, and this stalls their progress. If you have recently installed any software, try uninstalling them.
3] Disable antivirus
It is always a good idea to disable the Anti-Virus and Security software whenever an update is not going smoothly.  You can either disable such software or completely uninstall them till you fix the Update issues.
4] Try to update in Clean Boot State
Boot into Clean Boot State and run Windows Updates. It is very likely that this could work. This will help you stay connected to the internet, and download and install the updates with minimum conflict issues.
5] Run Windows Update Troubleshooter
Run this inbuilt Windows Update troubleshooter to fix the most common Update problems on Windows.
6] Run Microsoft's online troubleshooter
You can also fix Windows Update Errors using Microsoft's online troubleshooter. It will scan your PC for issues and fix the problems.
6] Contact Microsoft
If nothing seems to work, you can always contact Microsoft Support Team by following this link – partner.support.services.microsoft.com/en-us/contactus/.
Let us know if anything here helped you solve the issue.