Windows Update failed to install error 0xca00a000 shows up when either Windows has missed installing one of the cumulative updates or when there is an issue with the driver, which is not letting Windows Update move ahead.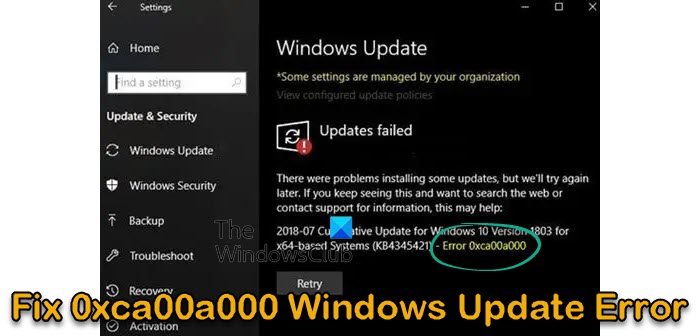 Many a time, when the system files are modified with incorrect permission, this may happen. You will need to fix the trusted installer permission along with resolving the driver issue. Follow these tips to resolve this install error.
Fix 0xca00a000 Windows Update failed to install error
To fix Windows Update error 0xca00a000 on Windows 11/10, follow these suggestions:
1] Run Windows Module Installer
The Windows Module Installer is a built-in Windows OS service.  You have to make sure that it is Started and its Startup type is set to Automatic. You may do it via the Services Manager or by executing the following command in an elevated CMD–
SC config trustedinstaller start=auto
Once successfully executed, you should see [SC] ChangeServiceConfig SUCCESS displayed within the Command Prompt console.
See if this helps.
2] Install updates manually

It is possible that your Windows OS has missed installing a particular update, and is failing to go ahead. You can manually install the update by downloading it from the Microsoft Update Catalog website. Also, make sure that you haven't turned off Windows Update or delayed it.
3] Delete Files from Software Distribution Folder
You can clear the contents of the SoftwareDistribution folder, and let it start from fresh. Files are downloaded in a dedicated folder C:\Windows\SoftwareDistribution. Delete all the files in it after pausing Windows Update Service. Second, try restarting the computer multiple times to see if the update process automatically starts.
4] Hide the Update
You may choose to hide this Update if you wish and prevent it from installing.
5] Run Windows Update Troubleshooter
Run this inbuilt Windows Update troubleshooter to fix most common Update problems on Windows 11/10.
6] Run Microsoft's online troubleshooter
You can also fix Windows Update Errors using Microsoft's online troubleshooter. It will scan your PC for issues, and fix the problems.
7] Contact Microsoft:
If nothing seems to work, you can always contact Microsoft Support Team.
Let us know if anything here helped you solve the Windows Update error 0xca00a000.