While we at TheWindowsClub bring you some of the best guides on how you can use Windows in your daily life. If you are looking for a visual experience of different parts of Windows, Microsoft has got you covered. These visual guides to Windows 10 can help you understand and also use it effectively. You can download this Windows 10 Guide for beginners – but before that let's take a look at what it has to offer for everyone.
Windows 10 Guides for beginners from Microsoft
These Windows 10 Guides are divided into 8 sub-guides. It includes topics like Store, Windows Defender, Photos App, and more. While it tells you straightaway how to use it, the guide is only for beginners. and if you are looking for something advanced, you can always follow us.  Let's take a look at it briefly.
1] Microsoft Store
This guide educates you about the UI layout, what each tile means, how you can install apps, find new content, and recommend apps i.e top games, apps featured and so on. You will have to use a Microsoft account to download apps, buy games and so on. Click here.
2] Windows Defender
The Defender is the inbuilt antivirus, anti-ransomware solution in Windows 10. The tutorial offers how you can configure and use it and make sure your computer is safe. Click here.
3] Maps App
Even though Maps is not a very popular app from Microsoft, but this guide shares some of the lesser-known features to help you find, and navigate while driving. Click here.
4] Photos App
Photos app has got a major overhaul recently, and it allows you to create 3D images, and edit the images with some basic tools so you don't need to use any third-party app for all those basic needs. Click here.
5] Movies & TV App
This is another basic app Windows offers you to watch Movies on your Windows 10 PC which you can either buy or play local movies. Click here.
6] Desktop at work
This guide takes you through different parts of Desktop including Start menu, Cortana, Taskbar and Action Center. You will learn how to manage tiles, clear notifications from action center, manage icons on the system tray and so on. Click here.
7] Connect to a network printer
Connecting printer is important, especially when it's over the network. If you have a printer that works over LAN or WiFi, this guide lets you connect, and print through it. Click here.
8] Bring your own device
This guide is useful if you carry your device to work or school. You will need to use an account from your work or school, and it gets access to organizational resources and connect to their network. Also, this will make sure the device follows the rules and group policies applied by the admin. Click here.
While parts of the guide are still getting updated, and you may find a few features rather old compared to the recent version, but if you are a beginner, it should work fine for you to get started.
Quick Start Guide to Windows 10 from Microsoft
Microsoft has released a guide on Windows 10, which is extremely useful if you new to Windows 10 or have just migrated from Windows 7 after the End of Support. If you fall into this category, then there is a lot that has changed, and you should not miss the guide. Microsoft has covered the fundamental topics to help get you up and running on Windows 10 without much hassle.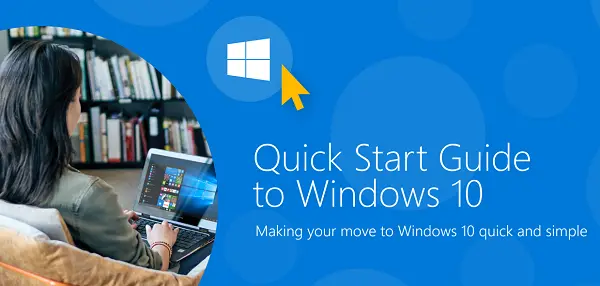 Microsoft has covered the following topics in this guide.
Understanding your Desktop
Setup and Personalization
Apps and Programs
Tips and Tricks
Security, Privacy and scam protection
Accessibility
Windows Updates and Upgrades
Additional Resources.
I went through the eBook and being a long term Windows 10 users; I can see how well the guide has been designed. Each section has been explained in such a way that users will be able to understand it.
Take the example of the Start Menu guide, which is going to be new for Windows 7 users.  Each area is marked with numbers and explained well with details. It makes it easy for a new user to understand. The guide also has links to several videos if they wish to see a visual of step by step guide.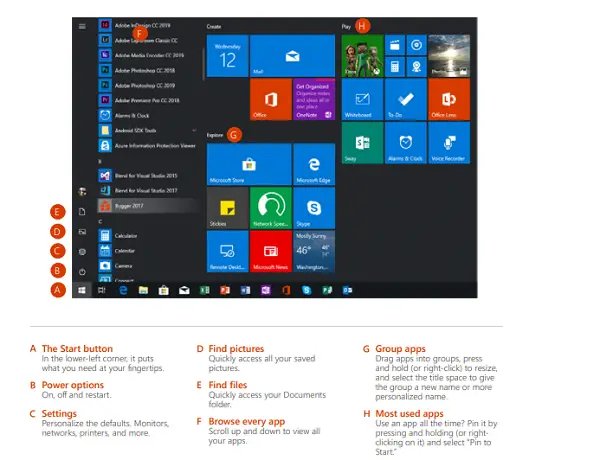 I will talk about some of my favorite topics here.
Security and Privacy
Microsoft has taken a lot of effort for both Security and Privacy. Microsoft Security Essentials has upgraded itself to Windows Security. It can safeguard against Ransomware. You can also choose how data should be shared. Permissions allow you to configure authorization for hardware devices such as Camera and Microphone.
Windows Updates and Upgrades
One of the best features which Windows 7 users will enjoy is Windows Updates. It is less annoying, and users have more control. You can choose to set it to download manually and update it when you wish to or pause it and decide what to do when there is a feature update. Apart from this, Windows 10 has been only receiving Feature Updates twice a year past 5+ years. Microsoft seems to have stopped releasing a new version of Windows and instead of updating the same Windows with new features. Businesses will have to worry less about compatibility and migration in the future.
Tips and tricks
Just like how Windows 7 has its set of tips and tricks, there are tons of them for Windows 10.  Microsoft has talked about Keyboard Shortcuts to speed up day to day usage, Windows Explorer, option to boot into Advanced Recovery mode from within Windows, the option to install or move Windows 10 Apps to another Drive, and more.
They have done significant work when it comes to accessibility as well. Ease of access dictation for easy device navigation is one of them, which makes it easy for anyone with special needs.
Moving from Windows 7 to Windows 10
Lastly, Microsoft has touched on this topic as well. They have explained Windows 7 end of support, System requirement of Windows 10, Upgrade or Buy, and how to move to a new Windows 10 PC.
Windows 10 Guide for Employees from Microsoft
If you've upgraded to new computers at your workplace and they came with Windows 10, or if you've entirely changed your work environment to use Windows 10, some of your employees might face some difficulties while switching or upgrading to the latest Windows 10 OS. To help you and your employees get used to Windows 10, Microsoft has designed and released a guide called 'Getting to know Windows 10 – for Employees'. This guide is available in Presentation format and is a nice quick guide that can get your employees started. The guide is brought to you by Microsoft IT Showcase.
Getting to know Windows 10 Guide for Employees
The guide starts with a brief introductory slide discussing the features of the all-new Windows 10. Then the new start menu with all its features is explained in multiple slides.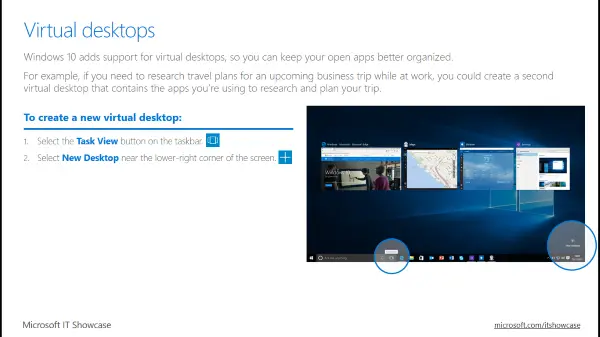 Moving on, features like Task View and Virtual Desktops are also discussed briefly. The following features are touched upon:
Security Features: People upgrade their computers to Windows because of the latest security technology included in the updates. So, this guide also covers some of the latest security advancements in Windows 10. It introduces Windows Defender Security Centre and guides upon how to run it.
Windows Hello: It is the latest addition to Windows. Windows Hello lets you sign-in to your computer using a fingerprint sensor or faces recognition. You can also pair a companion device like a smart band or a smartphone. The tap-to-pay feature is also available but not supported in all countries. The guide also covers some other advanced security features in the following slides.
Cortana: Cortana was another most emphasized feature on Windows 10. The guide covers some basic details about Cortana and how can it help people at work. The slides also include a shortlist of things you can say to Cortana and can you utilize her notebook.
Microsoft Edge: Edge being the latest addition, most users are unaware of its features. The guide comprehensively covers Microsoft Edge and its features. The guide also makes a point on the security features and discusses how Edge can collaborate with Microsoft Office 365.
Office 365: If you are an enterprise user, probably you are going to get Windows 10 to Office 365. And this guide does cover Office 365 and how to use it with Windows 10. Using this guide, you can also get started with OneDrive for Business. A few features from Office 365 and OneDrive features are covered in this part.
Other features: The last part of the presentation introduces some other new features like the new Settings app. And the new Windows Ink. You can learn more about other applications like the new Sticky Notes and Paint 3D.
The last few slides are about the latest Microsoft Devices. You get to know about devices from the Surface Family. And how to use them in different modes that are available. And the guide also talks also about Windows Mobile features such as Continuum.
The guide is pretty amazing, and it will surely help some people get started with their new computer.
Download this guide, created by Microsoft by clicking here: Getting_to_know_Windows_10_for_employees.
Starting to use Windows 10 Guide from Lenovo
If you are planning to buy a Windows 10 PC and are worried about unpacking the latest operating system, stop worrying because Lenovo has a detailed user manual for its users. The Chinese computer Lenovo today released a PDF guide 'Starting to use Windows 10' which includes detailed instructions and guidelines to use Windows 10.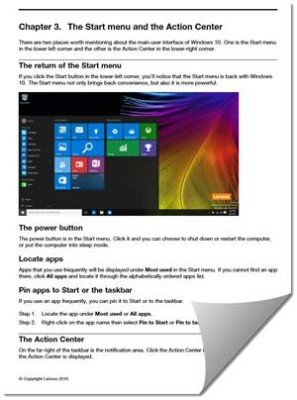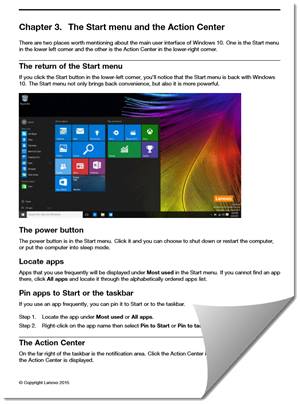 Windows 10 Guide
Windows 10, which is scheduled to release on July 29 is coming with many functionality changes and the PDF guide released by Lenovo will be a real help for the new users to learn the new tweaks and tricks in the operating system.
The 23-page PDF guide has 6 chapters which are divided into different categories explaining the basic features of Windows 10. The guide has detailed instructions right from the "Unpack" Windows (OOBE or Out-of-Box Experience) to Microsoft account settings, System Backup, One Drive features, and Windows Store.
Chapter 1 includes the instructions on the unpacking and Activation of Windows which includes details about using or install security software and making a system backup.
Chapter 2 explains about creating a Microsoft account, using it and adding a new user account in your Windows 10 PC.
Chapter 3 of this user guide has detailed information about the Start Menu and Action Center which explains the Power button, locating apps and pinning them to the taskbar. The Action Center is also well explained with the screenshots and step-by-step to enable the Tablet or Airplane Mode.
Moving ahead, Chapter 4 shows a comprehensive write-up about the OneDrive online storage provided by Microsoft.
Chapter 5 is all about the Windows Store and instructions on installing an app on your computer.
Chapter 6 which is the last chapter in the guide gives instructions about Restoring Windows.
Lenovo's whole purpose in releasing this guide is to help the users understand the new operating system and its new aspects. Download the PDF Guide if you want to learn about these Windows 10 basics.
Now read: How to use Windows 10 PC – Basic tutorial & tips for beginners.