Earlier one Hard Drive would be good enough to store your data, files, songs, videos, etc. – but now with the increase in downloading activity and the tendency to save photographs and home videos on your Windows 11 or Windows 10 computer, Hard Disk space can fall short. That is why many then choose to attach a second Hard Drive to their PC. But a common problem some face is that your Windows does not recognize the second drive that you have installed. If your Hard Drive is not showing up or are facing such an issue, perhaps something here in this post may help you.
Windows does not recognize second Hard Drive
1] Check if the Hard Drive is damaged
This is probably the first task you should perform. Otherwise, you will end up wasting your precious time on this matter. If your hard drive is quite old and it has attracted a thick layer of dust or is damaged it might not work as usual. Therefore, before installing it on your computer, check it.
2] Take a look at connection setup
To use a hard drive with your computer, you need to connect two different power cords. One SATA cable will be between the motherboard and hard drive. The second SATA cable will be between the hard disk and SMPS or any other source, where it can get the Power from. If you make any mistake, your computer won't be able to detect the hard drive. Also, you should plug in the SATA cable on the right port on the motherboard.
3] Use Hardware and Devices Troubleshooter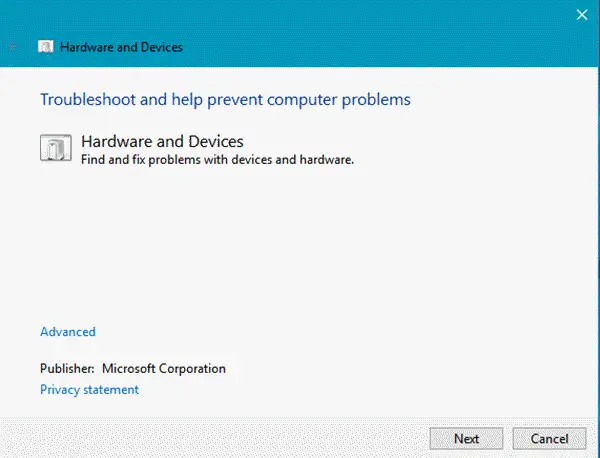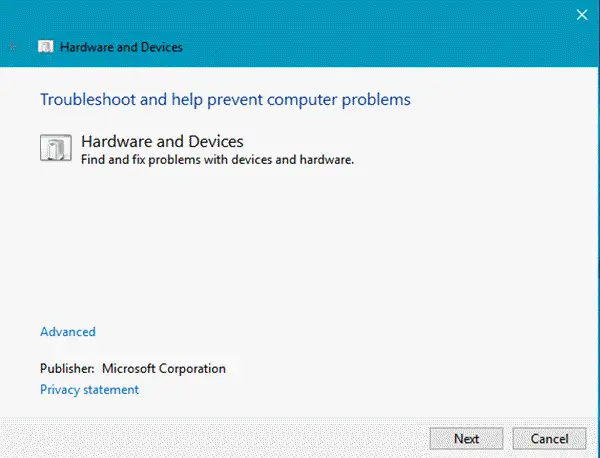 Troubleshooting is an inbuilt Windows feature that is listed in the Control Panel. You can run the Hardware and Devices Troubleshooter and see if it can fix the problem.
Read: NVMe SSD not detected in Windows
4] Scan for hardware changes
Open Device Manager. To do so, open the Win+X menu and click on it. Next, right-click on Disk drives and select Scan for hardware changes.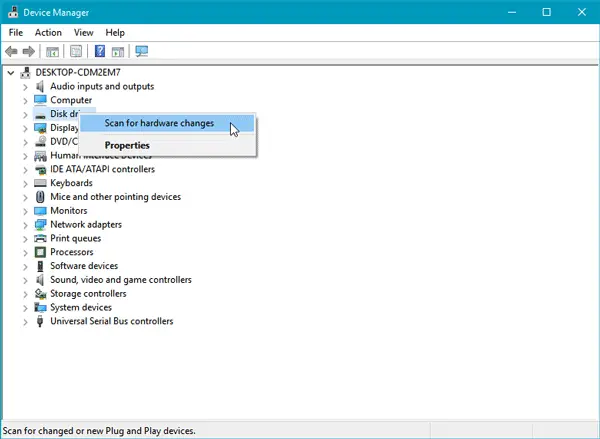 It should help.
5] Check Device Status
Run devmgmt.msc to open the Device Manager. Expand Disk Drive. Right-click on all the ones listed there, select Properties and check the Device Status. It should say – The device is working properly. If it is not, then Update driver software to update the device drivers. Or you could select Uninstall and then after a restart, connect the Hard Drive and select Scan for hardware changes here.
Fix: Hard Drive Not installed problem.
6] Install proper device driver
If you are using different hard disk manufacturers, you might want to check if you have installed the correct device driver. If you might want to also update your existing Device Driver to its latest available version.
Read: SSD not showing up in Disk Management or BIOS in Windows.
7] Initialize Disk
If in your Disk Management console you see an Unknown Disk or a Not Initialized Disk shown, then right-click on it and select Initialize Disk. Follow the on-screen instructions to their completion. Did this help?
Hope the suggestions here help you.
See this post if your USB 3.0 External Hard Drive is not recognized.