Every device has a unique address that can be identified on the internet. When you visit a website or your email account, many things are recorded, including the IP address, also known as the Internet Protocol address. If you are wondering what your IP address is and how you can find it, then this post will help you know about it.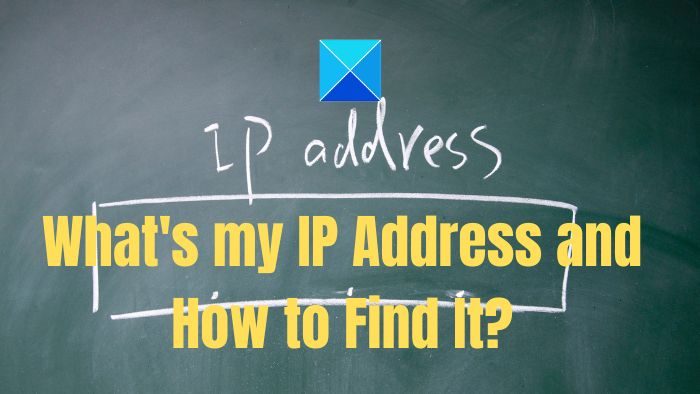 What is an IP address?
The IP address is an address from and to which data is sent and received. It allows your device to communicate with other devices on the internet. A numerical or alphanumerical label is attached to each device and services two main functions.
First is identifying the host or network interface, and second is providing the host's location in the network. It can change over time or be static and depends on the scope of the device and how the router or server assigns it.
Most of the time, you don't need to know your IP address, but when you need to configure something specific or troubleshoot network issues, access certain websites, and protect your online privacy, you need to know it.
READ: How to find the IP address of a website using Command Prompt
How to find your IP address on a computer?
There are two ways to find the IP address. You can also go to Google.com and type my IP, and Google will list it for you.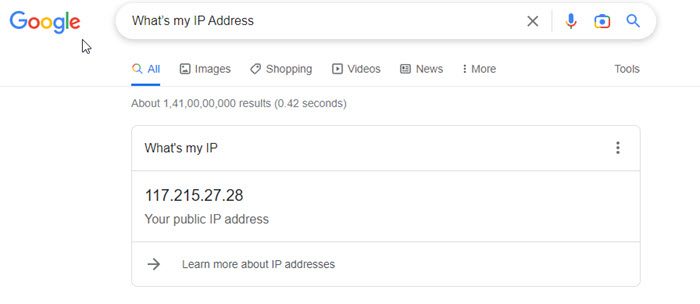 You can also visit sites such as WhatIsMyIP.com or IPChicken.com. When you open any of these sites, it will reveal your public IP address.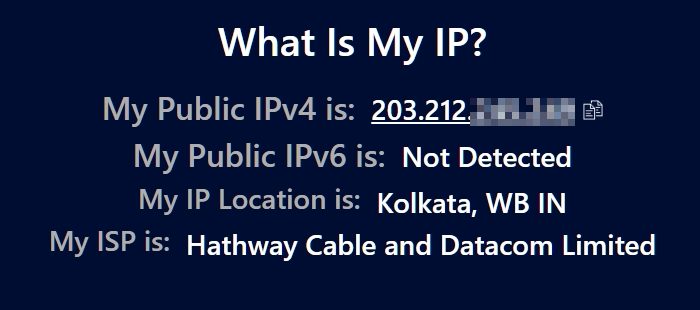 The second way is to go through your computer's network settings. Open Windows Settings and go to Network & Internet. Select your WiFi Network or Ethernet adapter and then properties. Your IP address will be listed under the IPv4 address or IPv6 address, depending on how it is configured.
You can also notice IP assignment status, which can be Dynamic or Static. If it's dynamic, it will be marked as Automatic (DHCP). The IP may change every time you restart your PC.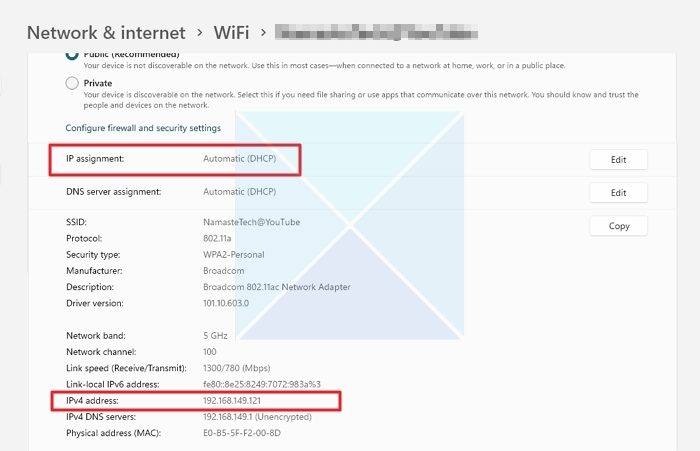 On a Mac, go to System Preferences, then Network, and select the connection you are using. Your IP address will be listed under "Status."
How to find the IP address using Terminal?
If the above steps are too many, you can use Windows Terminal or Command Prompt to find the IP address quickly. This will be your local IP and not the internet IP.
Press Win + X, followed by A, to open Windows Terminal
Type ipconfig and press the Enter key.
Look for a Wireless LAN adapter, Wi-Fi or Ethernet, and then the IPv4 or IPv6.
That is your address.
Related: How to get Public IP address using PowerShell
Why is the IP address different?
The IP address you see through the online sites is your router's, while the one in your settings is the local IP behind the router. Hence they are different, and it's always a good idea to mask your IP address using tools discussed in the post.
Read: How to find the Router IP address on Windows
How to find your IP address on a mobile device?
While the online method remains the same as the computer, it differs when you check using the internal settings.
On an iPhone or iPad, go to Settings, then Wi-Fi, and click on the network you are currently using. Your IP address will be listed under IP Address.
On an Android device, go to Settings > Wi-Fi > click on the network you are currently using. Your IP address will be listed under IP Address.
What information can be revealed by your IP address?
IP addresses provide general information about a connected device, such as its location (city or region) and internet service provider (ISP). Also, it can reveal what type of device is being used (computer, mobile phone, tablet, etc.), what operating system is being used, and what browser is being used.
It's essential to note that IP addresses reveal incomplete and inaccurate information. For instance, an IP address assigned to a large organization with multiple locations can give inaccurate geographic information. Furthermore, it is possible to mask or change your IP address using a virtual private network (VPN) or other tools, making tracking or identifying a specific device more difficult.
Read: What can someone do with your IP address?
How to protect your privacy online?
There are many ways to protect your privacy onlinet. Starting with a VPN, be strict about the personal information you share on websites, use a privacy-focused browser or extension or an InPrivate mode, and so on. No one-shot solution to secure privacy exists, but you must check everywhere. The list includes privacy on your PC, social media, public Wi-Fi, and how you share your data.
Read: How to find the IP Address of WiFi Printer in Windows
How to hide your IP address?
These three methods are the easiest way to secure your privacy and IP address.
Using a VPN
It is the easiest way to hide your online presence on the internet and access any restricted data. All you need to ensure is that you pick the right VPN, and many VPNs are available. Make sure to choose a VPN which publically discloses its no-logging policy.
Using a proxy server
A proxy server is an intermediary server that acts as a gateway between a client (a web browser) and another server. So any request you send goes through it. However, it differed from VPN regarding security, encryption, and protection against eavesdropping and other forms of surveillance. It is better to use a VPN.
Using the Tor browser
If you want a relatively simple solution, you can choose Tor Browser. It is a free and open-source web browser designed to protect your online privacy by routing your internet traffic through the Tor network. It offers anonymity, encryption, zero browsing history, access to blocked websites, etc. However, be aware, that the browser is known to get slow with time with so much going on the background.
Conclusion
Knowing the IP address, even though unnecessary, is good to be aware of. Even more important is how you choose to hide it and ensure your privacy is maintained. In this post, we have shared how you can find your IP address on your computer and mobile device and hide it using various methods.