Typically, whenever we set up a new device, we configure Windows settings. However, they need to be modified from time to time. Interestingly, Windows 10 now makes it easier than before while adding more options for privacy. These options have become important since the revelations that organizations like Facebook, Google, Microsoft, etc. are using user data for advertisements and other reasons.
Manage Windows 10 Privacy Permission Settings
One reason managing Privacy on a Windows system is important is that by default, all privacy options are set such that user information is shared with Microsoft, and few are aware of this fact. Unless you turn them Off manually, the company would have all access to this information.
Where are the Windows permissions located?
Click on Start and then the gear-like symbol to open the Settings page.
Select Privacy, and it shows a list of Windows permissions on the list on the left. Let us take a look at all the categories.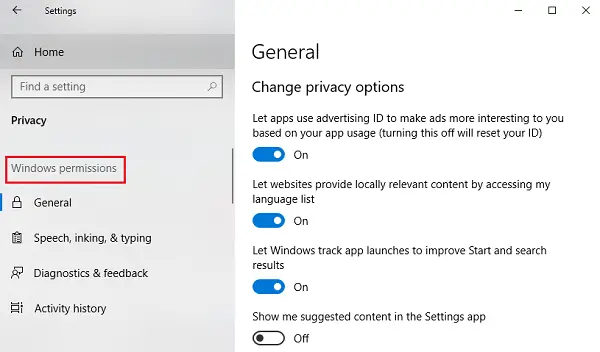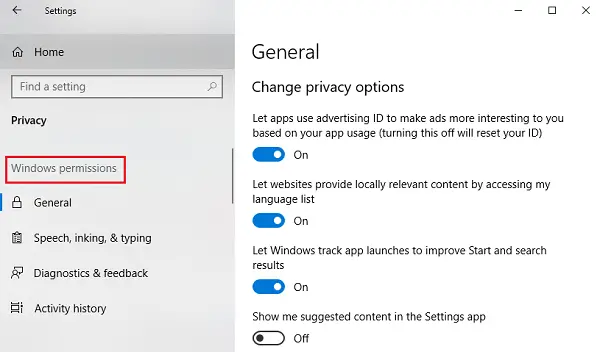 1] General permissions
These are general privacy options. You can turn them On or Off.
Let apps use advertising ID to make ads more interesting to you based on your app usage: Microsoft assigned a unique advertising ID to every Windows store user and tracks the user's activities. This helps them decide upon relevant ads for the user based on his/her preferences. Turning this option Off will reset the ID.
Let websites provide locally relevant content by accessing my language list: Many websites use multiple languages for their web pages, which could be swapped manually. This setting helps websites decide upon the default language considering your location.
Let Windows track app launches to improve Start and search results: This helps track the apps the user uses frequently and displays them on priority when the user clicks on the Start button or tries to search for relevant keywords.
Show me suggested content in the Settings app: Microsoft could make suggestions through Settings, either as new content or apps which we might find interesting.
2] Speech, inking, & typing
Windows allows us to use our voice to interact with Cortana or Windows store. It also records our typing history and creates a personalized dictionary to present typing suggestions (autocorrect). If this service is turned Off, the user won't be able to interact with Cortana, and the personalized dictionary would get cleared. However, services like Windows Speech Recognition which do not depend on the cloud would work.
3] Diagnostic & feedback
One of the most important considerations after the data leak revelations was to restrict companies from accessing your data. Here's how Windows users could protect their data.
Diagnostic data: If you select the Diagnostic data to Basic, it would only share information about your device's settings and capabilities with Microsoft so they could judge whether it's working fine or not. However, if the Diagnostic data is set to Full, along with the device's basic data, it shares information like the websites the user has browsed, the app usage, etc. Please note that Diagnostics and feedback is set to Full by default.
Improve inking & typing recognition: It is the same inking and typing data that was saved on the system as discussed in an earlier option. However, this option allows (or disallows) the data to be shared with Microsoft servers.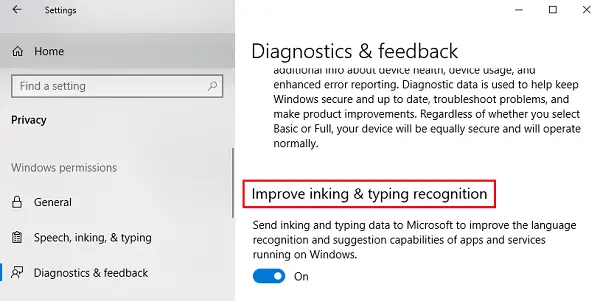 Tailored experiences: The Tailored Experiences option is where Microsoft offers you ads, tips, recommendations, etc. This is based on the diagnostics data that you have shared with the company. If you dislike ads, just switch this option to Off.
Diagnostic data viewer: This option helps create an offline copy of your diagnostic data so you could check it. However, this could need up to 1GB of your system's space.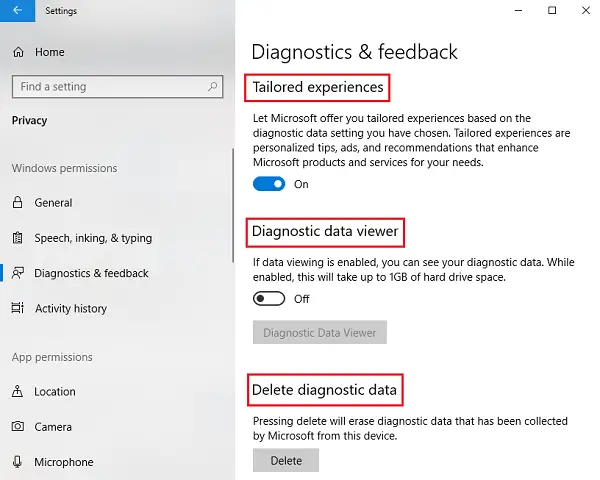 Delete diagnostic data: This helps to delete all the diagnostic data collected to date, making it one of the most important function to protect privacy.
4] Activity history
Activity history saves information of what the user was doing with apps, documents and in general. It has two options: to let Windows collect the user's activities from the PC and to let Windows sync my activities from the PC to the cloud.
Show activities from accounts: It shows the list of accounts logged on to the PC. This information is shared with Microsoft. Turning this option Off hides the activities of those accounts from the user's Timeline.
Clear activity history: It clears the activity history from all accounts on the system in one go.
Manage my Microsoft Account activity data: If you have a Microsoft account (or perhaps you might be logged on to your system), this option could help protect data for the same. Please read this reference for more information about using the Microsoft web-based Privacy Dashboard.