Microsoft has included an option in Settings app for Windows 11/10 to allow the apps on your PC to use your Trusted Devices. In this context, any device that you frequently connect to your system can be marked down as a trusted device. It can be any hardware that you connect to your Windows PC or comes along with your PC, tablet or phone. Any external storage device like Pen Drive, SSD etc., Xbox gaming console, TVs or Projector that you have connected to your PC can be counted in as trusted devices.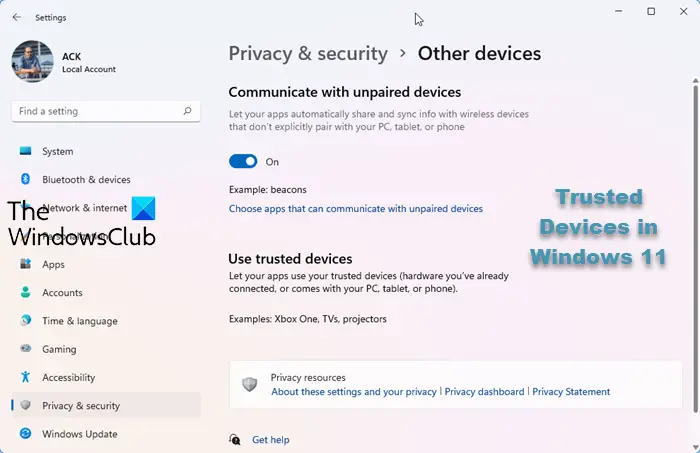 Let apps use Trusted Devices in Windows 11/10
You can use an inbuilt privacy setting in Windows 11 or Windows 10 which helps control which apps can use and communicate with the devices that you have connected. Follow the below steps to configure this privacy setting:
1.  In Windows 10, launch Settings app by hitting the key combination Windows Key + I.
2. Click on Privacy (Location, Camera), as shown in the above image.
3. On the left pane of Privacy settings window, scroll down to the bottom and click on Other devices.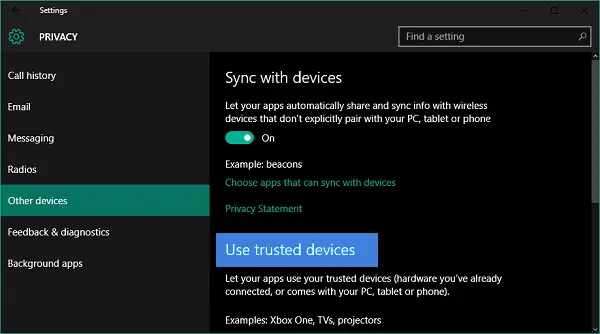 4. Now, on the right side of the window, you can see a section titled Use trusted devices, as shown in the above image.
5. Under this section, you can see the list of devices that are connected to your PC. In my case, it is just one.
6. If you want the apps on your PC to use these devices, switch the toggle named Let apps use my <device name> to the On position. Here, the device name is the name of your device that you usually connect with, to your PC.
7. In addition to this, you can also configure which apps can use these devices. To do so, switch On the toggle in front of the desired apps.
In this way, you can configure your Trusted Device to be used by apps on your Windows PC.
Also, it is important to note that you can access the apps' site for more info on how your apps and devices work and how could they substantially impact your privacy.