AI-powered tools are in high demand these days as they tend to increase your productivity to a large extent. Copiloting among them is a widely used application and is already in use by big names. For example, Microsoft 365 Copilot, GitHub Copilot by GitHub & OpenAI, and now MaxAI.me (previously known as UseChatGPT.AI) are some of the names that are doing pretty well in this category.
While we already know how to use Microsoft Copilot in Word, not everyone knows about what is the MaxAI.me Copilot extension and what can it do. In this post, we will talk about it in detail and more.
What is the MaxAI.me Copilot Extension?
UseChatGPT Copilot extension or now known as MaxAI.me is a free extension especially designed for Google Chrome. It generates results using the power of different AI chatbots including ChatGPT, Bard, Bing Chat, and Claude. The entire purpose of this tool is to boost your online productivity for regular tasks like writing, rewriting, summarizing, translating, etc.
Once it's added to Chrome and you click on the extension on the toolbar, it opens a digital terminal on the right side of the web page. It looks a lot similar to the workspace application, Notion. MaxAI.me is a free tool that aims to improve the speed and efficiency of your online task. It essentially automates the entire process of AI writing straight on your page, thus, eliminating the need to use an AI writing tool separately. This makes it a great contender for the best AI writing tools for content writing as well.
What can the MaxAI.me Colipilot Extension do?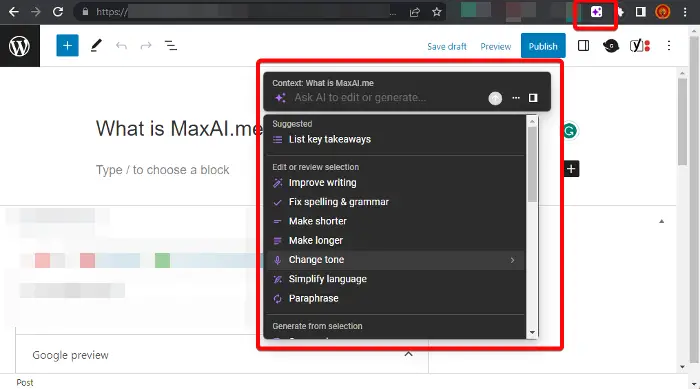 Having said that this free AI copilot for the web can do a lot more than just writing.
For example, it provides suggestions on how to improve your original text with correct spelling, grammar, length of text, clarity, and more.
MaxAI.me can rewrite or paraphrase the sentences with your preferred writing tone and also simplifies the language used. The tool can summarize long articles with the key points, thus, reducing your time to proofread the entire text.
Looking for personalized replies? This simple yet intelligent chatbot allows you to effortlessly respond to your emails, and Whatsapp messages, or communicate on social media platforms.
When overwhelmed with complex content, this AI extension is a perfect way to generate simplified explanations. Overall, it saves your time on lengthy texts, thus, boosting your productivity.
MaxAI.me copilot extension also works as a great translator by converting texts into your preferred languages.
It eliminates the use of an AI writing tool that needs you to log in, use it, and then copy-paste the text to your page. Also, with over 400,000 users already and as a free alternative to Microsoft Copilot, this free AI copilot is worth consideration.
How to install and operate MaxAI.me or UseChatGPT?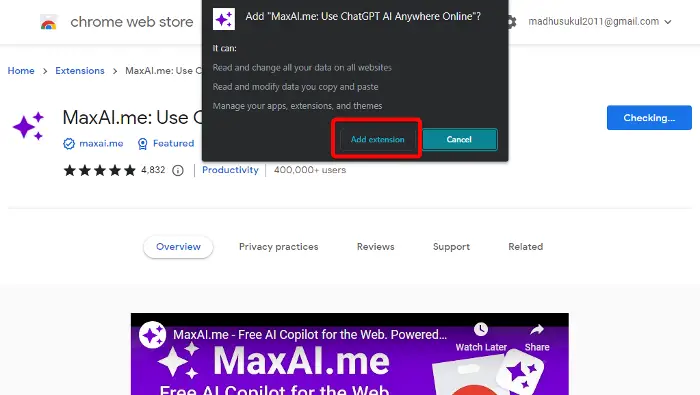 Installing the UseChatGPT copilot extension is as easy as adding any other extension on Chrome. Simply, launch your Chrome browser > go to Chrome web store > search for MaxAI.me > Add to Chrome > Add extension. Chrome will now check for it and install the extension.
To add it to your Chrome toolbar, click on the Extension icon and click on the Pin button. Now, the home page for MaxAI.me will open a new tab. Here, sign in with your Google email id. You will be now redirected to its interface with instructions on how to set up the MaxAI.me Copilot extension. You can either choose to see the video under the process or simply press the keyboard shortcut Alt + J to open/close the extension sidebar.
Now open the page where you are writing, place the cursor at the end of your text, and click on the extension/press Alt + J. This will open the editing options, for instance, Improve writing, Fix spelling or grammar, Summarize, List key takeaways, etc. You can choose from these options to save time on writing.
Or, you click on the tiny window icon on its top right to switch to the sidebar. it will open a digital terminal on the right side of the screen. Type in your query in the Ask AI box and hit Generate. If you are satisfied with the response, you can copy and paste the text into your online platform and hit Continue for more. Or press Regenerate for a different response.
What are the benefits of MaxAI.me?
At this moment, the MaxAI.me Copilot extension is a boon to those who want to reduce their online research time for your website blog or task and improve productivity. The primary benefit is that you can generate responses right on your dashboard without switching to another tab. It's free, easily accessible, and offers more than 150 one-click ChatGPT prompts designed for a wide range of activities.
Its collaboration with all the latest AI tools allows you to choose from a list of options. For example, you can choose to generate your answers from ChatGPI, Bard, Bing, OpenAi API, Claude, and more. However, you must already have an account with these tools.
Moreover, if you are a coder, it can provide code suggestions and complete code snippets in a matter of seconds. If the codes are written by you, the tool can detect any errors or issues in the code snippets, thus, preventing any bugs or improving the overall quality. As a bonus, MaxAI.me can also help you learn new programming concepts and also supports multiple programming languages.
You can download it from maxai.me.
Read: How to use ChatGPT – Beginners Guide
What are the cons of using the MaxAI.me extension?
While this AI copilot can be a great addition to the Chrome browser extensions to improve your productivity for free, it still has a lot of scope for improvement. To begin with, it's currently limited to only the Chrome browser, making it a bit unappealing. While you can add this extension to Edge, it does not work.
Moreover, the unlimited free use of the AI feature is limited to one week, after which there is a daily cap. Also, contrary to the other AI tools where the usage limit is based on your account limit, MaxAI.me allows you to extend your free use period to up to 24 weeks without a daily limit by inviting friends.
To top it all, unlike ChatGPT which saves your work in chat sequences so that you can use your work later, the tool does not maintain a record of the responses.
Having said that, MaxAI.me is still a very useful copilot extension to improve your productivity for free. Since it has been launched just recently, it still has a long way to go. It's still under development, so we hope to see a lot more improvement soon.
Read: Best free ChatGPT extensions for Google Chrome
How do I use the ChatGPT AI extension in Chrome?
If switching tabs to use the AI tool is getting tedious, you can install the ChatGPT extension in Google Chrome. All you need is an account with ChatGPT and the web extension is completely free. You can use the ChatGPT extension to generate answers to your queries directly on Google and on other search engines.
Are ChatGPT extensions safe?
Thanks to the immense popularity of ChatGPT AI in such a short term, there are now fake extensions for Google that are making rounds. From stealing user data to gaining control of your Facebook account, these fake extensions, like ChatGPT for Google, etc., are the new security threats affecting many users. Therefore, make sure that you check the publisher, and verify the permissions before you install the ChatGPt extension for Google. At the same time, make sure that you use powerful anti-malware software for your online safety.