Content writing or copywriting is a must nowadays for every business or person to make some presence on the internet. Without some kind of words, you cannot make noise. Content writing has been one of the good revenue sources for many people like us. Without some form of content, no website, or social media post can get good visibility. Everyone needs some form of content. Now, with the advancement of artificial intelligence, it has now been easier for businesses to get their content writing done in no time. There are many great ai tools that can help you write content and edit your content for a better one. In this guide, we show you some of the best AI tools for Content Writing or Copywriting available on the internet.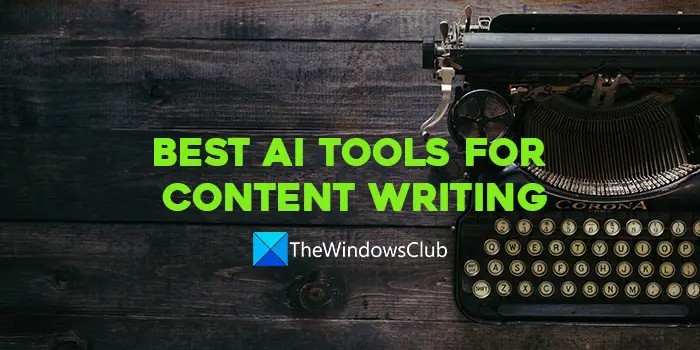 Best AI tools for Content Writing
If you are looking for AI tools that can help you write content, and copywriting uses, you can use any of the following tools to generate human-like content.
ChatGPT
Writesonic
Copy.ai
Jasper
Peppertype.ai
Creator.ai
Contents
CoWriter
articleforge
Typli
Just for your information, all content on TheWindowsClub.com is written by humans for humans, and we do not use any AI tools to write content.
1] ChatGPT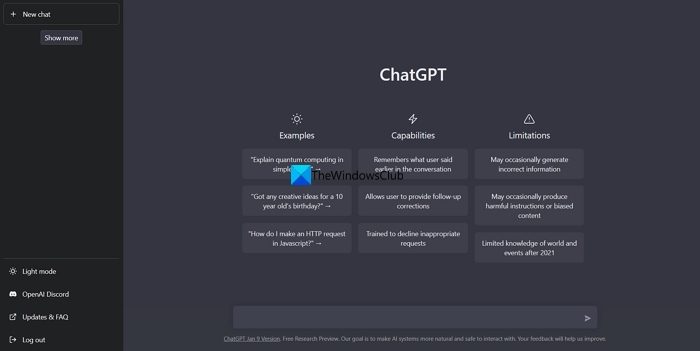 One of the obvious choices for an AI tool that can help you write content is ChatGPT. Using ChatGPT you can generate content as well as content ideas. It also helps you understand a topic better and write content easily based on that understanding. If there is an assignment that needs to be done which involves a lot of reading, ChatGPT can help you summarize it and do your assignment in a short time. The downside of ChatGPT is that it only gets you answers or content that happened up to 2021 only. It is trained with data until that point. For getting info on new events and writing on them, you need to input the new data so that it can understand and generate content. Also, as many people are using it for various purposes, you might see errors like ChatGPT is at capacity right now.
TIP: AI Text Classifier tool can detect ChatGPT-generated content
2] Writesonic
Writesonic is another good tool that is available to generate or help you in writing content or writing copy. You can use Writesonic to write articles for blogs, paraphrase existing writings, expand texts, summarize articles, write product descriptions, and write for social media like Facebook ads, Google Ads, Landing pages, etc. You can also use it to generate article ideas. Unlike, ChatGPT, Writesonic is updated to the time and can generate content based on recent happenings. You can use Writesonic for free as well as in premium tiers. In the free tier, you get ChatSonic, a bot like ChatGPT with 25+ languages, and 100+ AI templates. You can even get API access, Sonic Editor to edit articles, Browser extensions, AI article writing, and a 1-click WordPress export feature in the free tier.
3] Copy.ai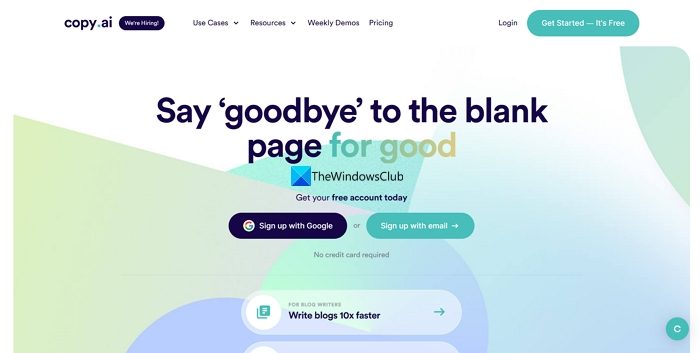 Copy AI is a copywriting-focused AI tool that you can use to write emails, social media content, and blogs for your business. You can use Copy AI for your business purposes and generate more leads. It has the ability to help you write product descriptions, Instagram captions, and all other social media content to make you visible to the world. Copy AI is updated regularly with the latest happenings and your content won't be limited to a certain period of time. Copy AI too have free and premium plans. You can use the Free plan, to begin with, and can upgrade to a paid plan if you find it useful in generating content. Unlike WriteSonic, you won't get many languages in the Free plan on Copy AI.
4] Jasper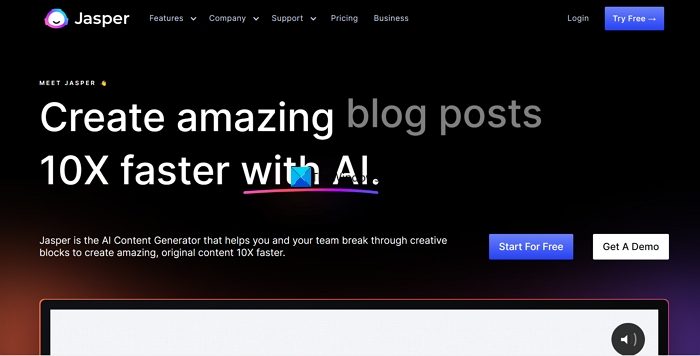 Jasper AI is one of the good tools available to write many kinds of content 10x faster. You can generate months of social media content in minutes with the use of Jasper. It can help you generate ideas, come up with clever Instagram captions, write entertaining LinkedIn articles, and write catchy video scripts that can go viral on YouTube and TikTok. Jasper also has a Chrome extension that can help you write directly on the social media platform of your choice. Using Jasper AI you can create content in 26 languages, and collaborate with your team. You can try Jasper AI for free and can upgrade to a paid plan if you think it is helping your business.
5] Peppertype.ai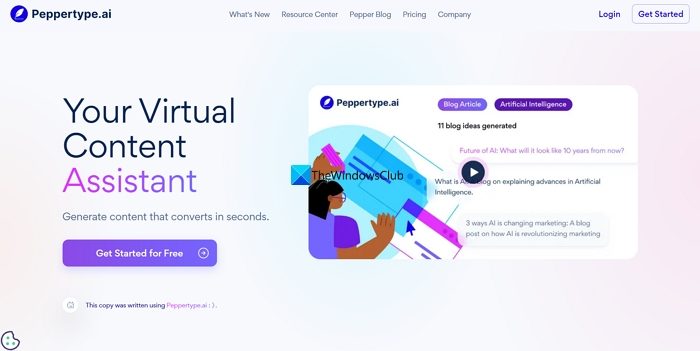 Peppertype is a content-generating AI tool that can help you generate content that converts in seconds. Using Peppertype, you can write emails in seconds, long-form content, and landing pages, and repurpose your old content. You can even train Peppertype to adapt to your taste and writing style. You can try Peppertype for free and can upgrade to a paid plan that suits your needs later.
6] Creator.ai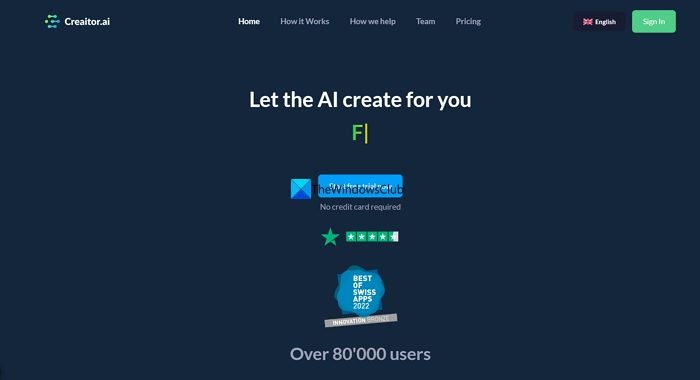 Creator AI is a good AI tool that can help you write content and get you out of writer's block. It has an AI assistant that has several presets that can suit your content needs. All you need to do is describe the name of your product and a short description of it to generate a product description on Creator AI. Using Creator AI you can save time you spend on writing product descriptions. All you need is a product and an idea of how your content should be. Creator AI is available for trial without any credit card and if you like it you can buy its paid plan to generate more content and product descriptions that click.
7] Contents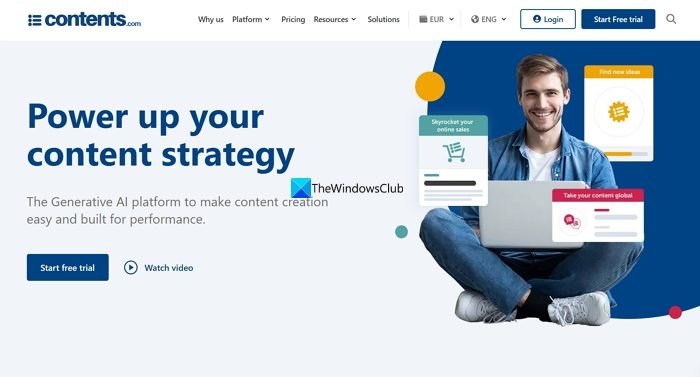 Contents has a unique statement for the users, unlike other AI tools. The creators say Contents generate content that is ready for great performance as per your expectations. You can enhance your creativity using Contents and its powerful tools. Contents is regularly updated with industry trends and can help you in brainstorming content that helps you. You can even use Contents to translate or generate text from audio. Contents is available for free use and paid plans that can help many domains like publishers, bloggers, web agencies, online retailers, content marketing teams, etc.
8] CoWriter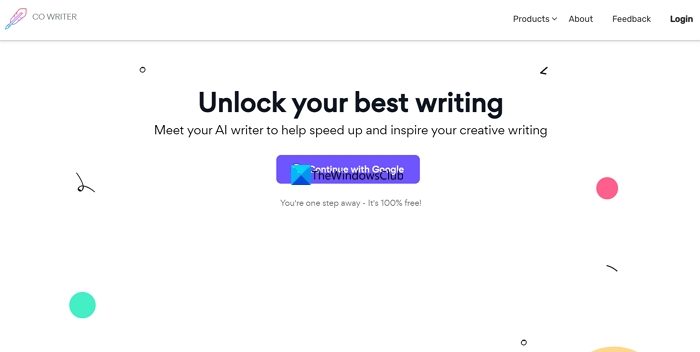 CoWriter is a 100% free AI tool that can help you write content. It helps you unlock your best writing. You can use CoWriter to write content for your professional uses, marketing purposes, email writing, and personal uses like letters or invitations. You don't need to pay a penny to use CoWriter. All you need to do is just sign up using your Google account and use the AI tool for free to write content.
Read: Best AI tools for Video Editing
9] articleforge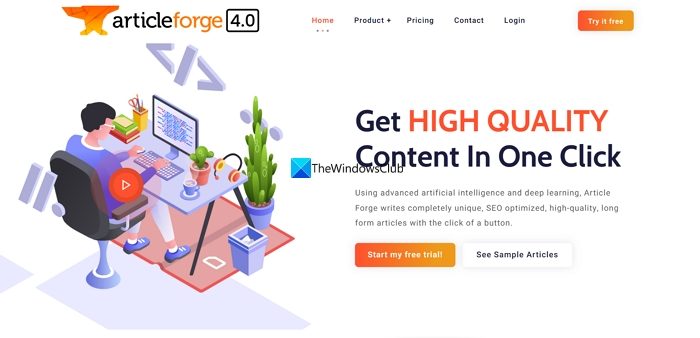 articleforge thrives on its "Get high-quality content in one click". It uses advanced artificial intelligence and deep learning to write completely unique, SEO-optimized, and high-quality long-form articles with just a click. It is touted to be the first fully automatic AI article writer. It can even help you research keywords for your content and SEO strategies. You can try articleforge for free and if you like its work, you can buy a paid plan as per your need.
Read: Best Virtual AI Chat Companions and Friends
10] Typli
Typli is another AI tool that can help you generate high-quality, SEO-optimized long-form content for your blog. It can produce accurate content without any conflicts in the content with reality. You can use it to help write content and save time. Once you are done with the content, you can export your content as a Doc or PDF.
These are the different AI tools that can help you write copy for your business or write content for your blogs.
Read: Best free AI Image Generators you need to check out
How to use AI for content writing?
You can use AI tools like ChatGPT, CoWriter and many more tools to help you generate content as per your need. You need to input what type of content you need and get the content as output. All you need is to have clarity on what content you need. Once the content is generated, you can improvise it and make it even better with your skills.
Yes, there are many AI writing tools that can do a better job. If you try to use AI tools to generate content for blogs that you earn money on, there are huge chances that Google discourages its organic traffic because of the AI-generated content. You need to be careful about that.
Related read: Best Free Artificial Intelligence software for Windows.