Artificial Intelligence is one of the hottest topics in the world of technology. In this article, we are planning to make your PC a bit more artificially intelligent. AI (Artificial Intelligence) is an advanced computer program that takes advantage of insight and data patterns to mimic humans. It is now a common thing that can be seen in almost all aspects of our life. It adds more charm to your device by letting you have several advanced features.
This set of features include Automation, speech and audio recognition, machine learning, etc. One of the most common features is the voice assistant, Cortana, Siri, and google assistant are the most common ones. Another AI feature that we use is Computational Photography, it lets your smartphone split out some gorgeous-looking images, that sometimes look similar to a DSLR but without those huge sensors.
AI Software helps you to build a smart application from scratch to simplify your work. Most professional AI software are paid, however, in this article, we present you with some of the best  free AI Software for Windows 10
Best Artificial Intelligence (AI) software for Windows 11/10
We have jotted down some AI software for Windows 11/10. They are:
Braina Lite
Apache Prediction Lite
Open NN
Cortana
TensorFlow
Let us talk about them in detail.
1] Braina Lite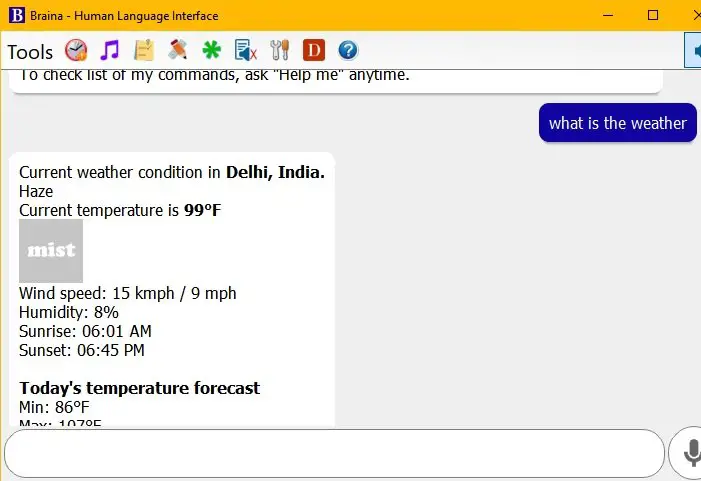 For Windows 10, Braina lite is a must to check out. Its intuitive virtual assistance is the best out there to attain work faster.
Braina is software that has the best voice recognition, human language interface, and more than 100 languages for you to convert your speech into text. You wanna communicate with your Windows, then Braina Lite is the one because of its advanced voice commands features.
If you want to open a file, folder, or anything from your PC contact Braina. The best part about Braina is its voice recognition, so, if you are a person of fewer words and do not want to repeat umpteenth times, then go for Braina. Braina has two versions but the lite version is what we recommend as it is free and can be a good starting point for you to enter the AI world. You can download Braina lite from here.
2] Apache Prediction Lite
Apache Prediction Lite is a futuristic AI software that is not just an AI software but also an open-source Machine Learning server.
Due to it being an Open Server, it is more secure, and more stable, on top of that, a developer can create advanced engines for machine learning tasks.
It is a high-tech AI software that can let you modify, implement, and download the Apache PredictionIO code into your Windows machine, therefore, it is a great deal for developers. You can download the free version of Apache Prediction from here.
3] OpenNN
A free open-source AI software, OpenNN solely works on C++ programming. It has a great machine learning algorithm and a fast processing speed. It helps you with classification, regression, association, forecasting, etc.
It is brilliant AI software and it can also work as a free neural network library, so, if you are looking for these features, go give it a try. It has one thing that can force you into using that is its high performance.
It is considered to perform well in offering technology evaluating, proof of concept, implementing, and designing. It has a virtual assistant that consists of a digital assistant, along with speech recognition and several languages for you to ensure flexibility. You can download OpenNN from here.
Read: Guide to OpenAI and its Products and Services
4] Cortana
Cortana is an in-built Windows AI software that can also be accessed on Android, Xbox OS, and iOS. It is a virtual assistant that will set up any reminder and appointment or place an order on your command.
It has a wide selection of languages. You can use any language such as English, German, Japanese, Spanish, Portuguese, Hindi, French, Italian, Urdu, and Chinese, etc.
Cortana uses Bing as its search engine and has many featured skills just for you. It has voice input and voice recognition to save your time. It is a cost-free AI software, however, it has its own restriction as you can only access Fitbit scenarios and Open Table in the US.
5] TensorFlow
TensorFlow is an open-source AI software. It is a great tool for learning and developing Machine Learning models. TensorFlow allows easy deployment of computation across a wide variety of platforms.
If you are a developer then check out TensorFlow as it has a Predictive Modeling application and can be helpful in understanding perception, prediction, creation, and classification.
When it comes to voice recognition, text-based applications, voice detection, image recognition, and time-series data then it can be a one-stop shop for you.
If you have a large enterprise then TensorFlow's time series algorithm is the ideal one for you and as it is used in many products and companies such as Dropbox, eBay, Uber, Twitter, and Intel for gaining and other AI stuff. You can download TensorFlow from here.
That's it.
Is there an AI in Windows 11?
Windows 11 comes with the Cortana app (virtual assistant based on AI) that you can use. Apart from that, Microsoft has integrated Bing Chat support and provides an option to open it from Windows 11 Search box in Microsoft Edge. You can also open Bing Chat directly in the Edge browser. The Bing Chat is AI-powered and based on ChatGPT 4 model (known as Prometheus). You can select a conversation style (Balanced, Precise, or Creative) to begin the conversation and get answers.
Which AI app is free?
If you are looking for a free virtual assistant Android app with artificial intelligence support, then Google Assistant is a good app to use. It keeps your information secure, private, and safe and supports dozens of languages. Apart from this, Amazon Alexa, Replika: My AI Friend (to create a personal AI companion and talk about anything), SoundHound Chat AI App (with ChatGPT), etc., are some interesting apps that you can give a try.
Read Next: How to set up Google Assistant on PC.