Saved a password in your browser and now forgotten that? Here is a solution to this problem. Nirsoft WebBrowserPassView is a free password recovery tool that lets you easily browse and view the saved passwords from different browsers. At times, this tool is really very useful.
Recover forgotten passwords from Web Browsers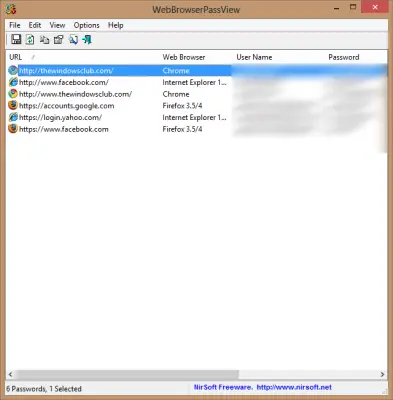 WebBrowserPassView for Windows PC
This freeware looks for passwords in five different browsers that are Edge, Chrome, Firefox, Opera, IE. Once it has scanned all the browsers, it will display a spreadsheet type of detailed report. In the report you can easily see the source, I mean the browser from where it has collected the password information. You can even view the URL and see the password strength. Obviously, you can also see the username and password.
Once you've selected and password, you can copy it to the clipboard by clicking on Copy Password from the Edit menu. You can even use the Find command, if you've got a long list of saved passwords.
The most appreciable feature is the HTML report. You can create a full-fledged HTML report about the data collected by the software. The HTML report can be easily sent as an attachment or published on a website. You can create a full HTML report or you can simply create a report for selected items only.
You can also save or export a record as a text file so that you can copy, edit or modify and send according to your needs.
You can even edit some advanced features of each browser. For Firefox, you can enter the master password if you have a master password enabled on your Firefox. You can manually choose the Firefox profile or the installation folder. To customize Chrome, you can manually choose the user data folder and you can also choose a custom wand.dat file for Opera. This customization feature lets you run the software even if you have different settings for different browsers.
The tool is very simple and easiest to operate. Click here to download WebBrowserPassView.
Need to recover from some other lost or forgotten passwords? Check these posts: