We have already covered the password recovery tool for the Opera browser. PasswordFox is yet another password recovery tool – but for Mozilla Firefox. It allows you to view the user names and passwords stored by Mozilla Firefox. It is a very handy utility to have around and can be a great life-saver should you forget or lose the passwords stored in your Firefox browser.
Firefox Password Recovery Tool
Some changes that have been introduced in recent version, latest version of PasswordFox includes:
Memory leak fixation that occurred on every refresh
 Support for Firefox 4 (Beta)
/installfolder command-line parameter problem fixation
'Firefox Version' column addition
By default, the program displays the passwords stored in your current profile. One can easily select to view the passwords of any other Firefox profile also. For every password that is entered, the following information is displayed:
Record Index
Web Site
User Name
Password
User Name Field
Password Field
Sign-ons filename.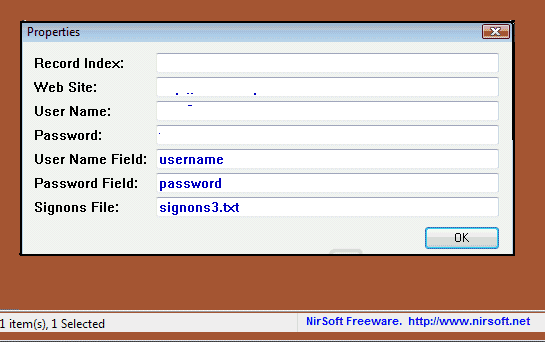 It is essential to install the Firefox browser on your system for enabling PasswordFox to capture the password list. To activate the program simply run the 'PasswordFox.exe' executable file. Once activated the main window will display the entire password list for the last used profile.
Thus, PasswordFox can prove to be a useful tool to back up your login information. However, it is important to keep in mind though the list is exported as a text or HTML file it is not encrypted and therefore should be stored securely.
PasswordFox download
PasswordFox is freeware and can be downloaded here. PasswordFox works on all the versions of Windows Operating systems. Always use the program to unlock your own Firefox password and avoid using this program for finding out others' passwords.
Some antivirus and anti-spyware programs flag PasswordFox as being infected by virus and spyware – a case of false positives, I suppose!
These links may also interest you: