Losing saved logins and passwords can be a problem especially if you don't have a backup of it. It mainly occurs when someone, accidentally deletes a file in which all your personal information is stored. At other times, an update to the browser triggers this change – even if you have configured your browser to save the passwords. Firefox has become the latest victim of this trend. Many Firefox users found after recently updating their browser, its Password Manager failed to display the logins and passwords stored in the browser. If you do not wish to rebuild the entire list again, read further to know how to recover lost passwords in Firefox.
Recover lost passwords in Firefox browser
If you notice that after updating your Firefox browser saved logins and passwords are no longer visible in 'saved logins' dialog window, try this:
Access Firefox profile folder
Rename the logins.json.corrupt file
Use Password Restore for AVG Internet Security
Firefox supports the saving of passwords and logins in an attempt to improve the sign-in process on websites.
1] Access Firefox profile folder
Firefox saves the data in the file logins.json located inside the Firefox profile folder. So, launch the Firefox browser and type 'about:support'.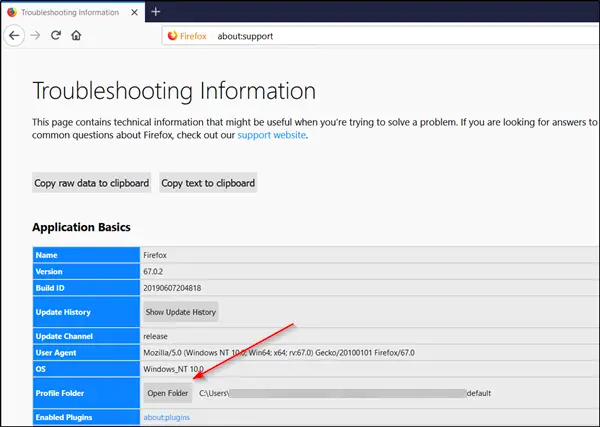 Find the 'Open folder' link to open the profile folder.
2] Rename the logins.json.corrupt file
Close Firefox and see if the file named as logins.json.corrupt is visible to you.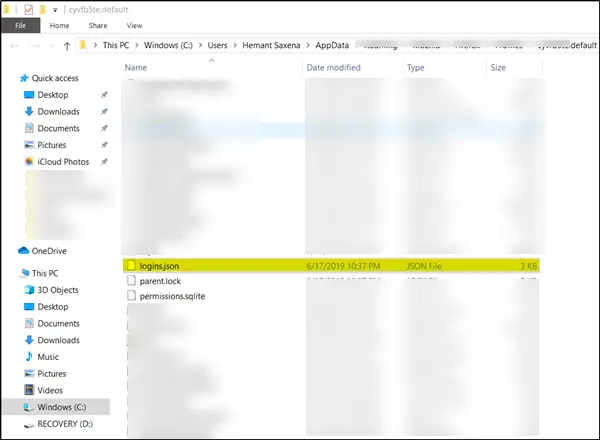 If yes, rename the file to logins.json. This will fix the problem for you.
Start Firefox. You should be able to see the saved passwords again.
3] Use Password Restore for AVG Internet Security
The Password Protection feature of AVG security software may cause logins and passwords stored in Firefox to disappear after updates to Firefox. This extension restores saved passwords and logins without hassles.
However, to make this extension work ensure your AVG Internet Security software is up to date, then install this extension.
When done, the extension accesses your passwords and recovers them instantly.
Get AVG Internet Security Firefox add-on.
I hope this helps.

TIP: PasswordFox is a Firefox Password Recovery Tool to recover forgotten passwords