If when you run the Windows USB Troubleshooter, you see an error message The USB Controller is in a failed state or is not currently installed then this post offers some troubleshooting suggestions that may help you. After a laptop is updated, especially a Windows 10 laptop, or even sometimes during troubleshooting it, a few applications may stop working, while some might even get uninstalled. USBs often malfunction or are not recognized by the system.
USB Controller is in a failed state or is not currently installed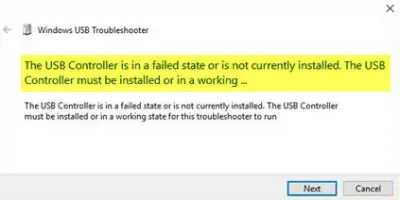 Sometimes, Notebook users face this problem too. The device does appear in the Device Manager option, but usually under the 'Other Devices' menu, along with an exclamation mark, signifying that it's not currently functioning. This message will also prevent the troubleshooter from functioning properly, and installing the device manually is usually not an option. The reasons behind this could be multiple – from malfunctioning hardware to problematic USB devices. When Windows does not recognize the USB Controller and says it is in a failed state, or not installed, these are some of the solutions you can try:
1] Reboot PC
Rebooting it is obviously the first thing you need to try – as this has been known to solve such problems.
2] Updating USB drivers
You should update the driver even if your USB is not malfunctioning. You can install the latest edition of the USB driver for your system. Please check the manufacturer's website or guidelines for updating the driver according to your system.
In some cases, the drivers might not be compatible with the version of the operating system. In such a situation, you could run the driver software in Compatibility Mode.
3] Uninstall 3.0 Flash Drive

Try uninstalling 3.0 Flash Drive from the BIOS/ UEFI settings. And see, if the 2.0 edition helps. You can then enable the 3.0 version later once the troubleshooting is done.
4] Use the Device Manager

You should always use a Device Manager to scan for major hardware changes.
Select 'Windows' + R and then type devmgmt.msc in Run. You then need to hit 'OK', and that will take you to Device Manager. In the Device Manager, click View and then go to Show Hidden Devices.
This will bring you a pop-up list of the devices you need to see, and you will find the Unknown USB Device option. Right Click on it, and then click Uninstall
For best results, uninstall all USB devices, and then reboot the system. When Windows starts again, chances are it will let you inquire about your USB preferences, and let you install the drivers back – or else you could use the Scan for Hardware changes option.
5] Disable Selective Suspend
Sometimes, these solutions do not help, in cases of extensive problems. Interestingly, in Windows 10, there is a Selective Suspend feature, which suspends a specific port, without affecting the other ports. This feature is also a very handy laptop essential as it saves a lot of power.
In case, none of the above options work for you, disable the Selective Suspend feature, which will not allow your computer to suspend any USB devices. You will find the setting in Advanced Power Options.
6] Run Hardware Troubleshooter

Microsoft's built-in troubleshooters are able to automatically detect if a device is not working in alignment with the system. Here's what you can do:
Go to Control Panel and then choose Troubleshooting, and then View All. This will take you to a list of possible issues, and you need to choose what the exact problem you're facing.
Select the Hardware & Devices Troubleshooter, click Advanced and choose Apply Repairs Automatically, and then click Next. The troubleshooter will detect the issues, and you can identify them from among the list.
You can also access the Troubleshooters from the Windows Settings Troubleshooters page.
We hope it solves your issue.
How do I reinstall a USB controller?
To reinstall a USB controller, follow these steps:
Open the Device Manager
Expand the Universal Serial Bus controllers section
Right-click on a device and select the Uninstall device option
Press the Uninstall button in the confirmation box.
Repeat the above steps to uninstall any other USB controller device and restart your computer. After this, Windows will automatically re-install all those USB controller devices.
How do I fix USB malfunction in Windows 11/10?
If your plug in your USB device and it is not recognized and you see The last USB device you connected to this computer malfunctioned error instead, then disconnect other USB devices and try again. You can also scan for hardware changes in Device Manager, turn off USB selective suspend setting, uninstall the external hard disk drive, and then connect it again.
That's all.