USB 3.0 was a major breakthrough in the data transfer market. Marked by blue-colored USB ports, the USB 3.0 provided users with speeds up to 10 times of USB 2.0 (5 GBPS) thanks to which large media files and programs could be transferred in minutes.
USB 3.0 supports backward compatibility, which means all devices which run on USB 2.0 should run well with USB 3.0. However, many users have reported the following error while trying to connect devices to USB 3.0 slots USB Composite Device is an older USB device and might not work in USB 3.0.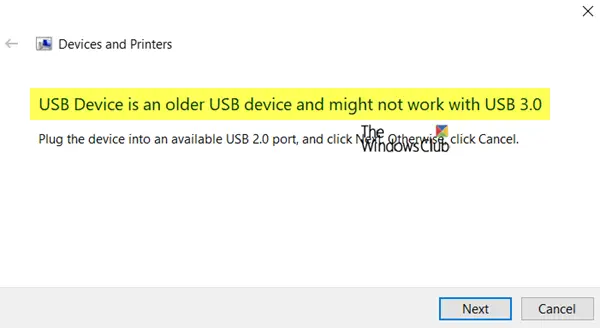 USB Composite Device is an older USB device and might not work with USB 3.0
This problem is more noticeable with Printers. The cause is usually incompatible drivers. Try changing the USB port and if that doesn't work either, proceed with the following solutions to resolve the problem:
Run Hardware Troubleshooter
Update or reinstall USB drivers
Uninstall and reinstall Printer drivers.
1] Run Hardware Troubleshooter
The Hardware and Device Troubleshooter checks settings related to hardware and corrects them if possible.
To use this troubleshooter, click on the Start button and then select Settings >> Updates & Security >> Troubleshoot.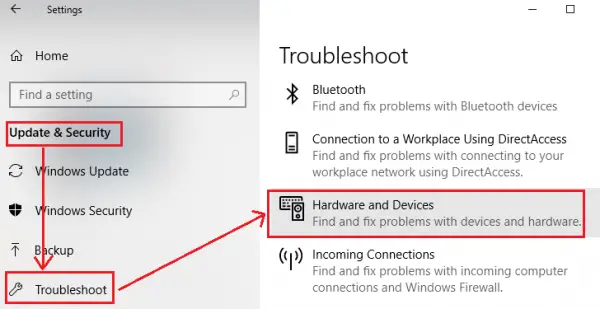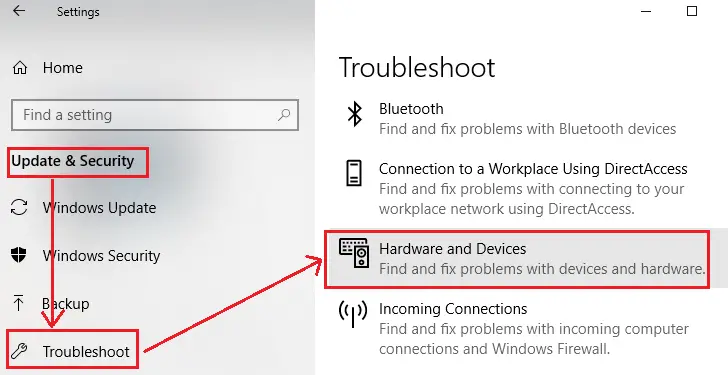 Select the Hardware and Devices Troubleshooter and run it. Restart the system once you are done.
2] Update or reinstall USB drivers
To update your device driver. press Win+R to open the Run window and type the command devmgmt.msc. Press Enter to open the Device Manager.
Locate the Universal Serial Bus Controller drivers and expand the list. Right-click and select Update driver for each of the USB drivers.
3] Uninstall and reinstall Printer drivers
Since you are unable to connect your printer to the computer, the new drivers would need to be downloaded from the manufacturer's website. Install them on the system and check if the printer works fine after that.
This solution remains the same for other hardware devices which show the same error while trying to connect to the computer.
Hope this helps.
Does USB 3.0 work with older computers?
Yes of course. USB 3.0 is backward compatible and so it can work with older USB versions (say USB 2.0 or USB 1.1) and computers. But, the transfer speed will not increase (if you connect a USB 2.0 drive to USB 3.0 port) and it will run at the speed of USB 2.0 technology.
Why do 2.0 USB devices not work in 3.0 USB ports?
If the USB controller drivers are outdated, Legacy USB disabled or if the USB controllers do not have the correct configuration, then USB 2 devices will not work.