If you receive an error message There are no more files when you try to save any file on a local hard drive on your Windows computer; then this post may be able to help you. This can happen with any file including text, document, image, etc. However, it mainly happens with files which are associated with Photoshop, Adobe Acrobat X, Microsoft Office, etc.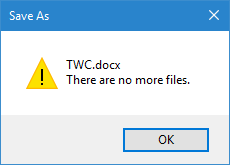 There are no more files
If this issue started recently, see if a System Restore helps. If not, here are a few things you could try.
1] Stop ADSM Service
According to some this issue occurs due to the presence of ASUS Data Security Manager on your system. So if you have an ASUS computer and you face this issue, you may disable the ADSM Service and see if that helps. To do so, you need to open Services. To do so, search for "services.msc" in the Taskbar search box and hit Enter. Locate the ADSM service and click on the Stop button. You may double-click on it and select the option to Disable it too. If the aforementioned solution is working for you, you need to uninstall this app. You can use any software uninstaller or the Control Panel to uninstall this software.
2] Disable Startups

We suggest that you perform a Clean Boot and see. Once there, select the Hide All Microsoft Services check box and then click Disable all. If this problem does not occur you may need to troubleshoot manually by disabling one startup after the other – since this means that some third-party app or Service is responsible for this issue.
If you are using Windows 10, open Task Manager and switch to Startup tab. Select each program one by one and hit the Disable button.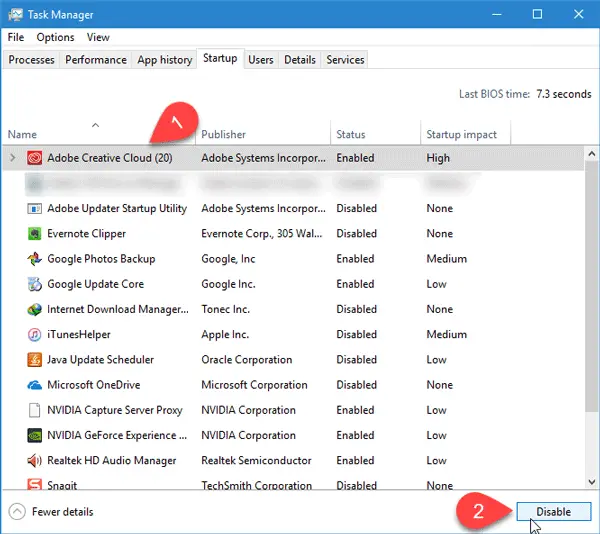 Then, press Win + R > type msconfig > switch to Services tab > click on Disable all button to remove all the services. This will disable all non-critical Microsoft services and all the 3rd-party Services.
Restart your machine and check whether you can save any file or not. If you can, you need to repeat the process – but this time, you have to select one program at a time to find out the app that is causing issues.
3] Run System File Checker
This is a common problem solver on Windows, and you can use the same to fix this problem as well. For that, open Command Prompt with administrator privilege. Following that, enter this command to run System File Checker.
sfc /scannow
It will take some time to finish the task. Once the process is over, restart your computer and see.
4] Scan Disk for errors
Run Disk Error checking by executing the following chkdsk command in Command Prompt (Administrator) and see if that helps.
chkdsk

 /f

All the best!
See this post if you receive The system cannot find the file specified message.