If Task Manager freezes or crashes and closes immediately on Windows 10, then one of these suggestions is sure to help you. The Windows Task Manager is an advanced program or tool that lets you monitor applications, processes, and services running on your PC. You can find how your system's resources are used, you can end programs/processes that are troubling you. Windows 11/10 without a Task Manager is unimaginable.
Some of the users are reporting that the Task Manager on their computer is crashing when they are trying to use it. This might put a lot of stress on system resources if any program is using a dominant part.
Task Manager crashes on Windows 11/10
You can fix the issue of the task manager crashing on Windows 11/10 with the following methods.
Scan for any Virus and Malware
Run SFC and DISM Scan
Troubleshoot in Clean Boot State
Use the Reset this PC option.
Let's see each method in detail and fix the issue.
1] Scan for any Virus and Malware
Sometimes a virus or malware can spoil the performance of programs on computers. We have to make sure that we install trusted software, download trusted files, and use secured USBs. Most of the time antivirus or anti-malware programs we use on our computer detect them and deletes them. There are situations where we disable antivirus or anti-malware to run something. Those situations may cost us. Try running the antivirus or anti-malware to fully scan your computer. If there is any such file or program that is making the Task Manager crash, they will take care of it and solve the issue.
Read: Why does CPU usage spike to 100% when launching Task Manager?
2] Run SFC and DISM Scans
SFC (System File Checker) and DISM (Deployment Image Servicing and Management) are the most valuable tools that are available on Windows 10. These tools run through commands and most of the users don't know about them.
To run SFC Scan, click on the Start menu and type CMD. Right-click on the Command Prompt from the search results and select Run as administrator. It will open Command Prompt window with administrator privileges. Type the following command and press Enter.
sfc /scannow
It will run the scan and fix the issues with system files automatically.
To run DISM Scan, press Win+X on your keyboard and select Windows PowerShell (Admin). In the PowerShell application window, enter the following command and press Enter.
Dism /Online /Cleanup-Image /RestoreHealth
It will take care of the corrupted files and repair them by replacing them with new files.
Read: Task Manager is not responding, opening, or disabled by the administrator.
3] Troubleshoot in Clean Boot State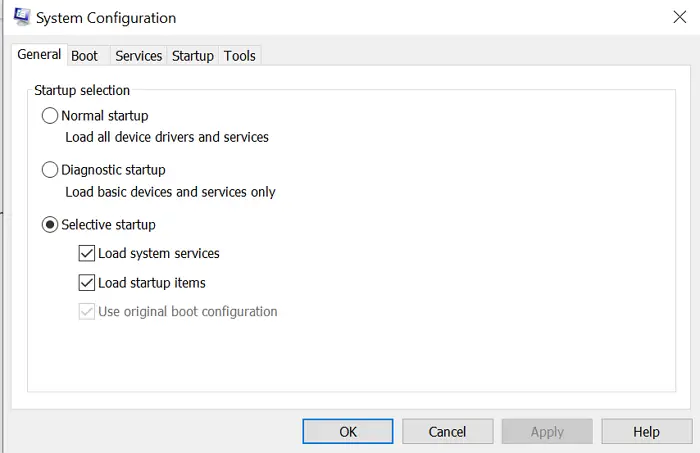 Performing Clean Boot is one of the most effective methods in troubleshooting the issues on Windows 10. Clean Booting means starting a computer with only essential programs like drivers and Microsoft programs. No third-party application will run while on Clean boot. With clean boot, you can find which program or service is causing the crash of the Task Manager and resolve it easily.
To perform Clean Boot, press Win+R on your keyboard to open the Run box. Then, type msconfig in the box and press Enter. It will open the System Configuration window. In the General tab, uncheck the button beside Load startup items.
Now, click on the Services tab. In the Services tab, check the button beside Hide all Microsoft services and then click on Disable all.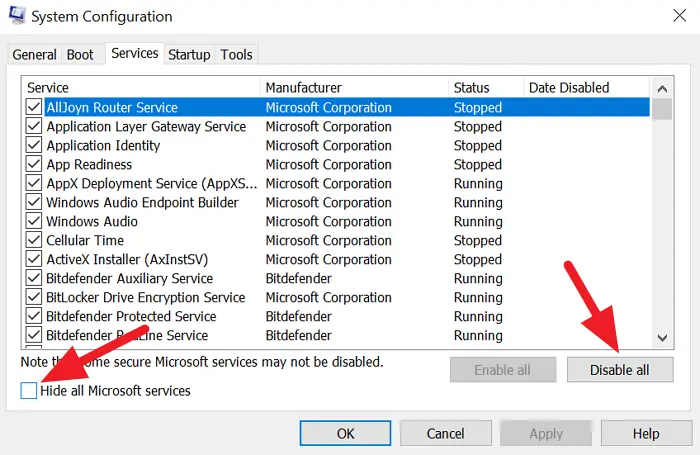 Then, click on the Startup tab and try to Open Task Manager and disable all the programs on startup. If it doesn't run, click on OK and restart your computer.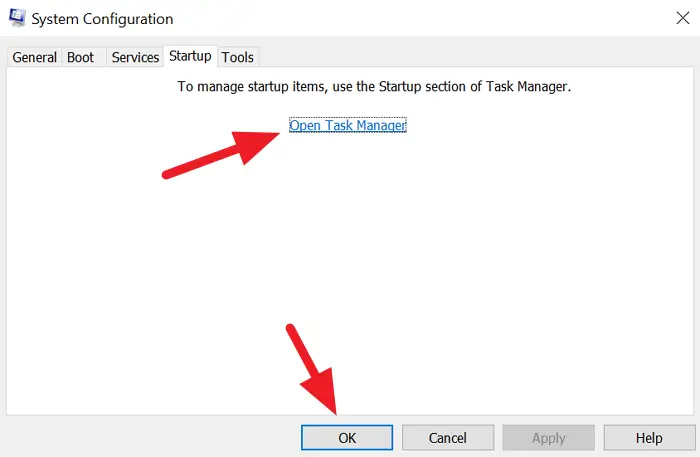 Your computer will now run on Clean Boot mode. Only essential Microsoft programs run. Try opening the Task Manager. If it runs perfectly fine, then the issue is caused by some third-party application which you have to manually find by enabling, disabling each application, and restarting your PC.
Read: How to Reset Task Manager to Default in Windows 10
4] Use the Reset this PC option
If the Task Manager still does not run, try resetting your PC.
To do so, open Settings and click on Updates & Security. Then, select Recovery from the left sidebar and click on Get started under Reset this PC.
Follow the options shown on the screen and reset your PC. It will fix the issue you are having with the Task Manager.
These are the possible fixes that can help in resolving the crash of the Task Manager. If you have doubts or suggestions, do comment below.
Read Pin Task Manager to Taskbar or Start Menu; Minimize Taskbar to System Tray.