If your Task Manager is blank & not showing processes in Windows 11/10, then here are a few things you can do to successfully fix the blank Task Manager issue. This can happen due to system file corruption or malware infections.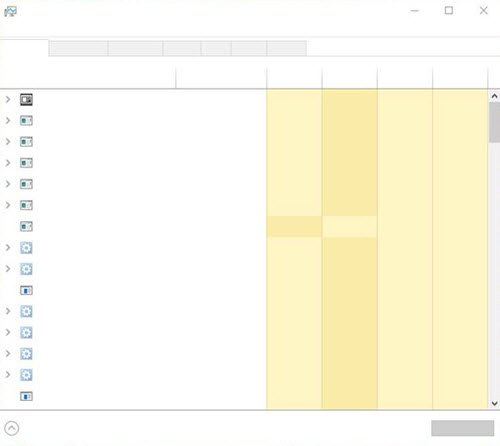 Windows Task Manager is blank
Here are a few things you could try to fix the blank Task Manager issue:
Restart PC and see
Ensure that display columns are selected
Scan computer for malware
Run System File Checker
Repair System Image using DISM
Troubleshoot in Clean Boot State.
1] Restart PC
This is the most common solution that you can use to fix the problem. Sometimes you can get rid of that by restarting your system.
2] Ensure that display columns are selected
Ensure that you have checked the desired columns which you want to be displayed. If none are selected, you may see no details. You have to right-click on the space near Name and select the columns.
3] Scan computer for malware
One of the reasons why people get this issue is because of malware. If your computer is infected by malware, you may face blank Task Manager problems. Scan your computer with your antivirus software. You may also use a second opinion malware scanner.
Even though most of us may have antivirus software installed on our Windows computer, there may be times of doubt, where you might want a second opinion. While one can always visit online antivirus scanners from well-known security software to scan one's PC, some prefer to have a standalone on-demand antivirus scanner installed locally. At such times you may use these on-demand antivirus scanners.
Run the scan at Boot time or in Safe Mode for best results.
4] Run System File Checker
Running SFC will repair corrupted or damaged Windows files. You will need to run this command from an elevated CMD.
5] Run DISM Tool
When you run the DISM tool, it will repair Windows System Image and Windows Component Store in Windows 10. You will have various options including /ScanHealth, /CheckHealth, and /RestoreHealth. In an elevated command prompt you need to run the following command:
DISM.exe /Online /Cleanup-image /Restorehealth
When you run this tool, a log is created at C:\Windows\Logs\CBS\CBS.log. This process takes around 15 minutes or more depending on the level of corruption.
6] Troubleshoot in Clean Boot State
A Clean Boot is used to diagnose and later troubleshoot issues with your system. During a Clean Boot, we start the system with a minimal number of drivers and startup programs which helps isolate the cause with interfering software. Once you have booted in the Clean Boot State, check if the problem persists.
If it does not then there is some third-party process interfering with its proper functioning. Enable one process after another and see which process makes the problem appear. Thus you can find the offender.
If the problem does not disappear, then you may need to use the Reset This PC option.
Hope something here helps you.
Related read: Task Manager is not responding, opening, or disabled by the administrator.