In this post, we will show you how to stop Windows 11/10 from changing audio device. Windows OS has had its share of issues. And to fix these issues, Microsoft constantly rolls out new updates. However, updates can bring their own issues too. One such issue experienced by a few Windows users after updating or upgrading their systems is that their audio settings keep changing automatically.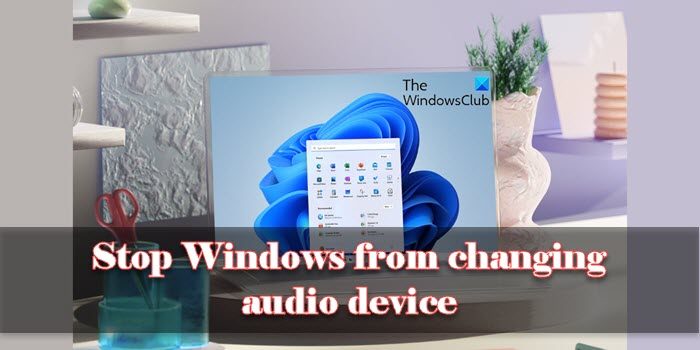 Each time the user plugs in a new audio device to the system, Windows change the default audio settings and give charge of the audio to this new device. Seeing Windows constantly messing up with your audio settings can really be annoying. In this post, we will show what to do if your sound settings keep changing in Windows.
Stop Windows from changing audio device
If there's just one device in question, try connecting it to some other USB port or using another pair of headphones. If audio keeps switching from headphones to speakers each time you plug in a new device, use these solutions to fix the issue.
Troubleshoot Audio.
Install/ Revert Windows Update.
Update/Rollback/Reinstall audio driver.
Switch to a different user account.
Scan for viruses.
Monitor audio switching and switch it back.
Let us see these in detail.
1] Troubleshoot audio device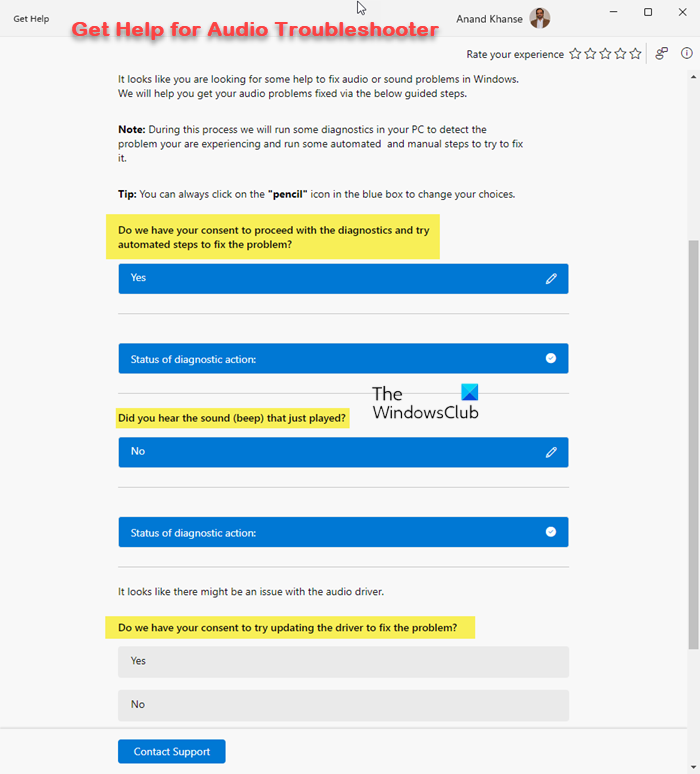 Start by running the new Get Help Audio Troubleshooter. It will diagnose and troubleshoot most of the audio issues. Those who won't get access to the automated audio troubleshooter in the Get Help app may run the Playing Audio troubleshooter to fix audio setting issues on their Windows 11/10 PC.
Click on the Start button icon.
Select Settings.
Navigate to Troubleshoot > Other troubleshooters.
Click on the Run button next to the Playing Audio option.
Allow the troubleshooter to detect and resolve audio issues.
You may also run the Hardware and Devices troubleshooter to check if there's a fault in your primary audio device.
2] Install/Uninstall Windows Update

Go to Start > Settings > Windows Updates and check if there's an update available. A few users have experienced the error after a Windows Update. If there's a faulty update, Microsoft would have released another update to fix all its bugs and issues. Install any pending updates. If you see no updates, try uninstalling the last update and see if it helps.
3] Update/Rollback/Reinstall audio driver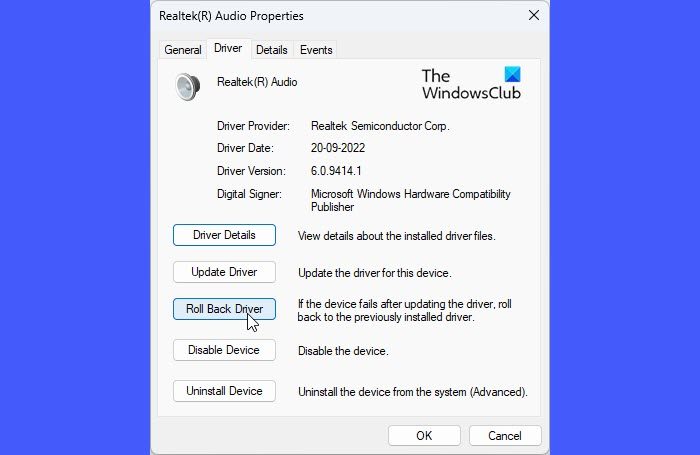 Some corrupt or outdated audio drivers may also cause such issues. To check that, try updating, downgrading, or reinstalling your audio drivers.
To update drivers, go to the Windows Updates section and see if any driver updates are available under the Optional Updates section. You may also visit the manufacturer's website to manually install the latest available drivers for your audio device.
To roll back your audio driver to a previously installed version, right-click on the Start button icon and select Device Manager from the WinX menu. Then expand Sound, video and game controllers and locate the audio driver. Right-click on it and select Properties. In the driver properties window, switch to the Driver and click on the Roll Back Driver button.
To reinstall the driver, click on the Uninstall Device button in the driver properties window. Select the Attempt to remove the driver for this device checkbox and click on the Uninstall button. Next time you reboot your system, Windows will automatically download and install the missing and required audio driver on your PC.
4] Switch to a different user account
Each user profile in Windows has its own set of audio preferences. If you've created another user account in Windows, switch to that account.
Click on the Start button icon and then click on your profile name. Select another profile to switch to.
If audio keeps switching from headphones to speakers in your primary account but not in this account, the sound settings of your primary account may have got corrupted. Reset sound settings for your primary account and see if it works for you.
5] Scan for viruses
Malicious software can modify your system settings and prevent it from working properly. If your default audio settings keep changing automatically and repeatedly, your PC may be infected by a virus or a similar threat. Scan your PC using a good antivirus software. You may use the built-in antivirus Windows Security or a third-party security software to perform a deep scan and quarantine viruses if any.
6] Monitor audio switching and switch it back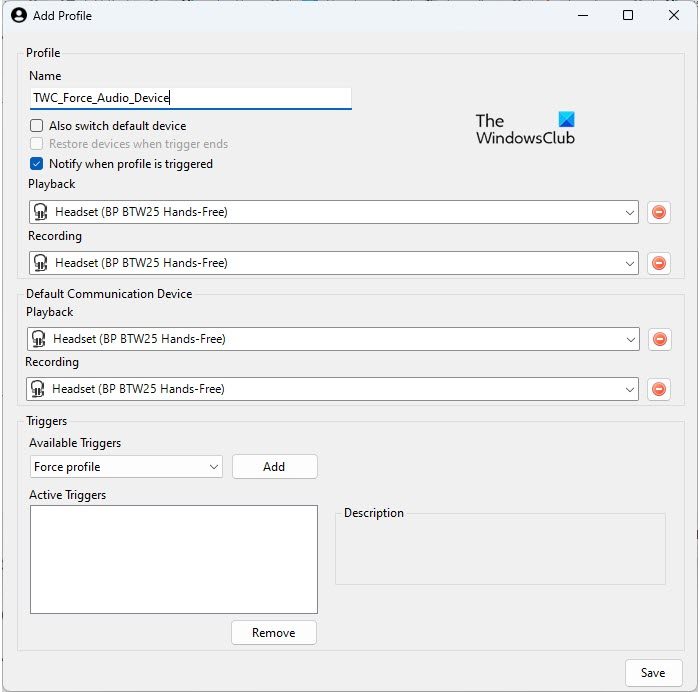 SoundSwitch is an open-source software that lets you monitor audio switching in Windows and switch it back. It is used to switch default playback/recording devices using hotkeys, but you may configure it to keep your desired audio device selected as default.
Download and install SoundSwitch.
Launch SoundSwitch.
On the Playback tab, uncheck the Hotkey enabled option. Make sure all other options remain unselected.
On the Recordings tab, uncheck the two Hotkey enabled options. Do not select anything else on this tab.
On the Profiles tab, click on the Add button.
Give the new profile a suitable name.
Using the available dropdowns, select a Default Playback device, a Default Recording device, a Default Communication Playback device, and a Default Communication Recording device.
Within the Triggers section, select Force profile in the Available Triggers dropdown.
Click on the Add button.
Click on the Save button.
In the Settings tab, select the Start automatically with Windows checkbox.
This will automatically trigger the profile when the current sound device changes.
If none of the above solutions help, troubleshoot in a clean boot state to detect any third-party software conflicts.
I hope this helps.
Also Read: Fix Hyper-V Audio not working in Windows 11.
Why does Windows keep changing my audio device?
If Windows keeps changing your audio settings without your permission, you may have installed some faulty OS update or have outdated audio drivers. This may also happen when a third party software change your current system configuration as per their own settings. A virus attack may also take control of your PC and change your audio device automatically.
How do I stop Windows from changing my default audio device?
To stop Windows from changing your default audio device, you should troubleshoot your audio device first. Run Windows built-in Playing Audio troubleshooter and see if it fixes the issue. If not, roll back/ update/ reinstall audio drivers. Then troubleshoot in a clean boot state to see a third-party software is conflicting with your audio settings.
Read Next: Audio not working on Microsoft Team.