Being a victim of a malware attack is very common. Although an anti-virus can remove all malware, spyware, etc., it may not be able to detect and fix various system file corruption made during the attack. SmartFix is a free Windows software that lets you troubleshoot & fix common system-related issues so that you can start using your normal computer normally after getting attacked by malware.
Recover Windows computer after a malware attack
SmartFix is made for doing only three jobs. You can use it when your computer is under attack and after removing malware, adware, spyware, etc. using an anti-virus. There are three options included in this software, and they are-
Perform SmartFix integration into the System Recovery Environment
Perform full recovery of the network settings and restart the computer
Launching AutoRuns, AdwCleaner, etc.
If you go with the first option, you can start SmartFix from System Recovery Environment that appears if you press the F8 button during system boot time. From there, it will start working, and try to remove all the suspicious malware files so that users can resume their work as fast as possible.
The second option (Perform full recovery of the network settings and restart the computer) is handy when adware or malware has changed your network settings. If you are not able to use the internet after recovering from an attack, you should make use of the option. It will perform a full recovery of network settings so that you can start using the internet on your personal computer.
The third option (Launching) lets you run various programs. You can download and run AdwCleaner, DR. Web CureIt, ESET Online Scanner, Kaspersky Virus Removal, etc, if you have a valid internet connection. You can use AdwCleaner when your computer has adware, Kaspersky Virus Removal Tool when your PC has malware, and so forth.
Using SmartFix to troubleshoot common Windows problems
To start using SmartFix, you need to follow these steps.
To get started, you need to download it from the official website. It doesn't require installation because of the portability. After download double-click on the executable file to open the interface. As mentioned previously, you can find three options.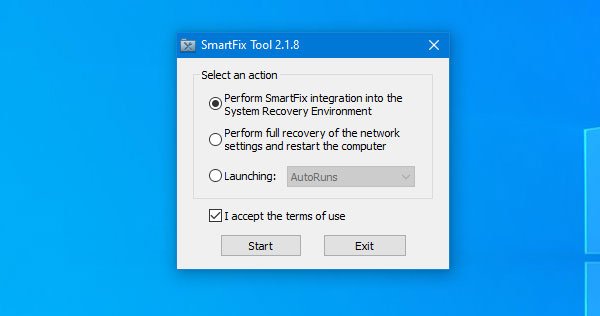 You need to choose what you want to do. If you select the first option, you can find a message saying "SmartFix integration into the boot menu has been successfully completed" on your screen. After that, you need to boot your system into Recovery Environment and go to Troubleshoot > SmartFix Tool.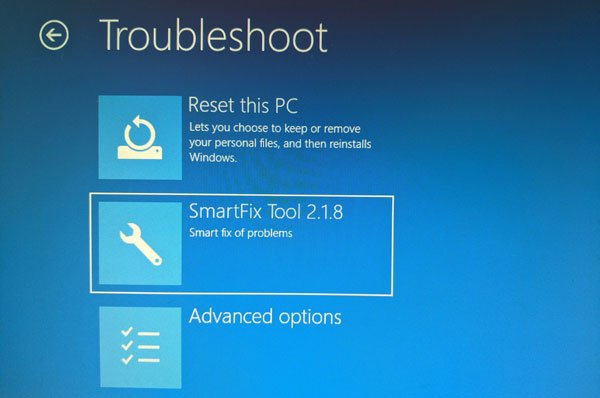 After that, it will run accordingly to find and repair file corruptions.
The second option is useful when your network settings have been changed by malware or adware. If you select this option, it will try to recover the previous network settings and restart your computer. To use it, choose the second option, and click the Start button.
The third option lets you download various tools like:
TIP: Our portable freeware FixWin can help you fix most Windows problems with a click.
There is no need to open a browser, go to the corresponding website to download those tools as SmartFix can do that for you. Many times you might need to run such software to remove malware, adware, etc. You can choose one software according to your requirements. If the software requires installation, you can find the installation wizard after downloading. However, if the software is portable, you can run it directly without installing. The Launching drop-down menu looks like this-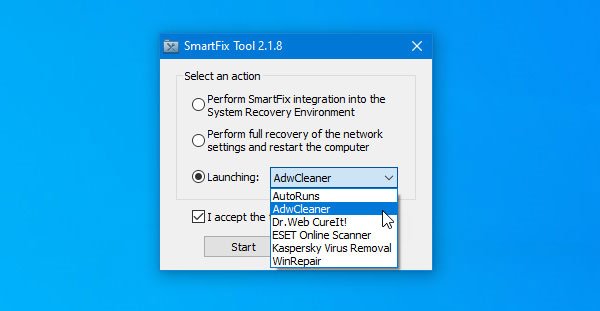 To download any software, you must have an internet connection. You can utilize the second option before this one if you do not have the internet connection on your computer.
If you like, you can download it from the official website. It is fully compatible with Windows 10.
Tron Script is another free tool to Scan, Clean, and Disinfect your computer.