SCNotification stands for System Center Notification. It is a notification engine and a part of SCCM (System Center Configuration Manager). The SCCM allows users to manage large groups of computers remotely. System Center Configuration Manager uses SCNotification to install updates. While logging in to the company's domain as an administrator or user, some users have seen the SCNotification has stopped working"error. In this article, we will discuss some possible solutions that may help you fix the problem.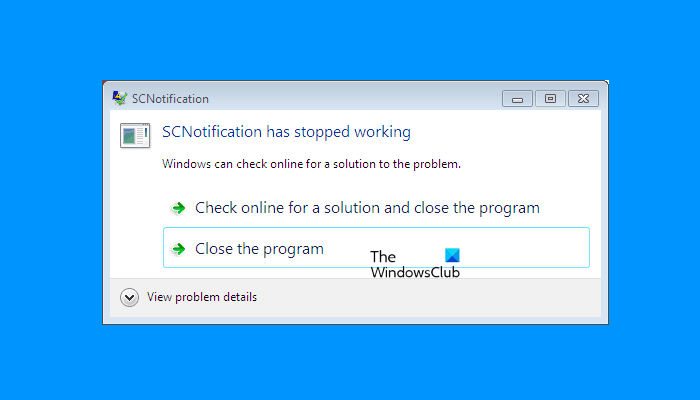 SCNotification has stopped working
The reasons could be many for which you are getting the SCNotification has stopped working error popup message on your Windows device, like corrupted Microsoft .NET Framework, permission issues, etc. If you see this error on your computer, you can try the following solutions in no particular order to get this problem fixed.
Change the machine.config file permissions
Repair Microsoft .NET Framework
Uninstall and reinstall the Microsoft .NET Framework
Below, we have explained all these fixes in detail.
1] Change the machine.config file permissions
As explained above, permission issues are one of the causes of this error. The machine.config is a machine-level configuration file. When you install Microsoft Visual Studio .NET on your computer, a machine.config file is automatically created. The applications that require Microsoft .NET to run do not work if the machine.config file is not executed or if there are permission issues with the machine.config file.
Check the permissions of the machine.config file. Go through the following instructions to check and change the permissions of the machine.config file.
Open File Explorer. Copy the following path and paste it into the address bar of the File Explorer. After that, hit Enter.
C:\Windows\Microsoft.NET\Framework\v4.0.30319\config

In the above path, v4.0.30319 represents the version number of Microsoft .NET. Scroll down and find the machine.config file. Once you find it, right-click on it and select Properties.
When the machine.config Properties dialog box appears, click on the General tab. In the Group or user names section, select System, Administrators, and Users one by one and check the permissions for each of them. If any of them does not have full control permissions, you have to edit its permissions. For this, click on the Edit button.
In the Permissions for machine.config window, select the user whose permissions you want to change. Now, enable the Allow checkbox next to the Full Control. Click Apply and then click OK.
2] Repair Microsoft .NET Framework
If the above fix does not solve your problem, repairing Microsoft .NET Framework will help. To do so, you have to download the free Microsoft .NET Framework repair tool from Microsoft's official website. After downloading the tool, double-click on the installer file to launch the tool.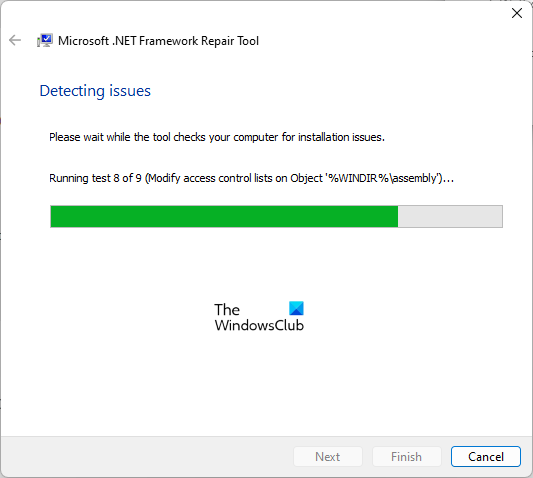 Now, read the license terms and select the "I have read and accept the license terms" checkbox, and click Next. After that, the tool will start detecting issues in your system and apply repairs automatically. After the troubleshooting process gets completed, click Finish.
This should fix the issue.
3] Uninstall and reinstall Microsoft .NET Framework
If the issue still persists, you have to reinstall Microsoft .NET Framework. You cannot uninstall Microsoft .NET Framework from Windows 11/10 Settings or Control Panel as you will not see it listed there. Hence, you have to disable and enable it again in Windows Optional Features. This process will uninstall and reinstall Microsoft .NET Framework on your system.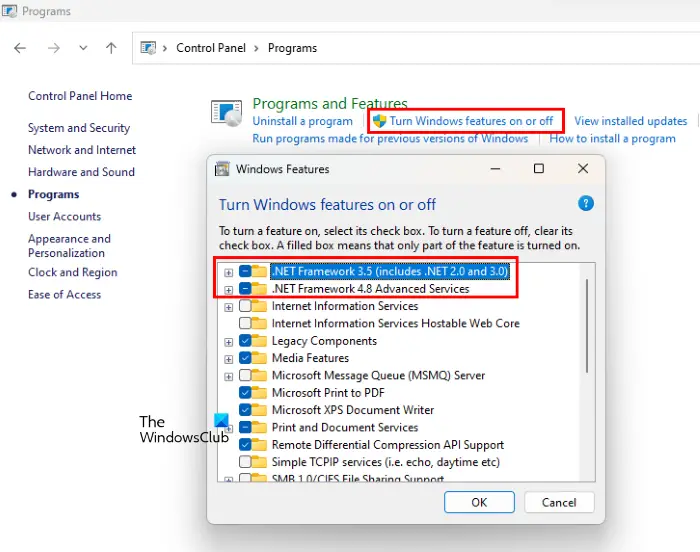 Follow the steps written below to open Windows Optional Features:
Open the Run command box by pressing the Win + R keys.
Type control panel and click OK. This will open the Control Panel.
Select Category in the View by mode.
Click Programs.
Now, click Turn Windows features on or off.
Read: What is LockAppHost.exe in Windows? Is it malware?
How do you fix an exe that has stopped working?
You may see the error (application).exe has stopped working. In this error message, you will see the name of the application that has stopped working in the place of (application). This usually happens when a particular program crashes due to any reason. One of the causes of an application crash on a Windows device is incompatibility. If you are running an application that is not compatible with the version of your Windows operating system, you will experience several issues with that application. To fix this problem, run that program in compatibility mode. The steps for the same are written below:
Right-click on the desktop shortcut of the program and select Properties.
When the properties dialog box appears, select the Compatibility tab.
Under the Compatibility mode section, enable the checkbox that says Run this program under compatibility mode for.
Select Windows 8 in the drop-down.
Click Apply and then click OK.
Another thing that you can try is to check whether there is any third-party background application conflicting with the app that is showing you the error. For this, troubleshoot your system in a Clean Boot state.
How do I get rid of SearchApp exe?
SearchApp.exe is a genuine Windows application that is responsible for showing you the search results for your search queries on your Windows computer. You should not disable it, as doing so may result in a system crash. It is a lightweight genuine Windows application. Hence, it does not consume a lot of system resources. However, there have been certain instances when users complained that SearchApp.exe is causing several problems on a Windows device.
You may find SearchApp.exe consuming high memory or CPU when you search for something on your Windows device. But if it shows high CPU or high disk usage most of the time, you need to take action. Generally, such a thing happens when the user's system is attacked by a virus or malware with the same name as SearchApp.exe. By giving the virus or malware a name similar to the genuine Windows applications, attackers try to trick antivirus software.
In such a case, you have to check the digital signature of SearchApp.exe. If the digital signature shows Microsoft copyright, it is a genuine application and you need not bother about it anymore.
Hope this helps.
Read next: What is Sihost.exe in Windows?