If you are trying to use the Run as administrator context menu option in Windows 11/10 but find that it is not working or opening the program with administrator privilege, then you may need to carry out a few things.
Run as administrator option not working or missing from Context Menu
To fix this Run as administrator not working or missing issue, follow these suggestions:
Turn on User Account Control
Clean up Contect Menu items
Perform SFC & DISM scans
Change Group Membership
Scan system with anti-malware
Troubleshoot in Clean Boot State
Create a new Administrator account.
Run as administrator option not showing in Windows
1] Turn on User Account Control
If you try to open software with administrator privilege, the UAC or User Account Control prompt appears, where you need to confirm the permission. However, if you have disabled UAC by mistake or some malware has done it without your consent, you might face this issue. Therefore, verify if the UAC is turned on or not. If not, enable User Account Control and see if this helps.
2] Clean up Context Menu items

Use one of these Context Menu Editor software to remove unwanted context menu items – especially those whch may have been added in the recent past.
3] Perform SFC & DISM scans
If some system file has got corrupted, this issue can occur. So run the System File Checker as well as DISM to repair your OS files.
4] Change Group Membership
Sign in with your administrator account or ask your administrator to do this. If you have a Standard User account, add your account to the Administrators Group.
To do this, search for netplwiz in the taskbar search box and open the result. After that, select your user account and click the Properties button.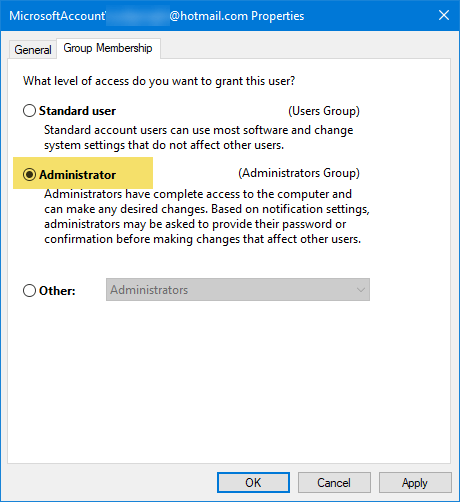 Next, go to Group Membership tab > select Administrator > click Apply and OK buttons to save the change.
Then, re-sign into your computer and check if the Run as administrator option is working or not.
5] Scan system with antimalware
Sometimes this problem occurs due to malware. If none of the solutions are working for you, you should install an antimalware software and scan your whole system. There are many free antivirus software such as Bitdefender, Kaspersky, etc., available which can do a good job.
6] Troubleshoot in Clean Boot State
You can troubleshoot in Clean Boot State to see which third-party Service may be causing the issue. A Clean Boot starts a system with minimal drivers and startup programs. When you start the computer in clean boot, the computer starts by using a pre-selected minimal set of drivers and startup programs, and because the computer starts with a minimal set of drivers, some programs may not work as you expected.
7] Create a new Administrator User account
If your standard user account fails to utilize the 'Run as administrator' functionality, try to create a new administrator user account and check if you can use the same or not. You need to sign in with your main admin account and then create another admin account and use it.
If nothing helps, you may need to use the Reset This PC option, making sure you select the option to save your existing files and data.