Rogue Legacy 2 is crashing or freezing on their computers for some users. It's not new that new games are crashing as it takes time for every great thing to become perfectly optimized. However, a bug might not be the only reason behind this issue, there are some other factors and their respective solutions that we are going to see in this article.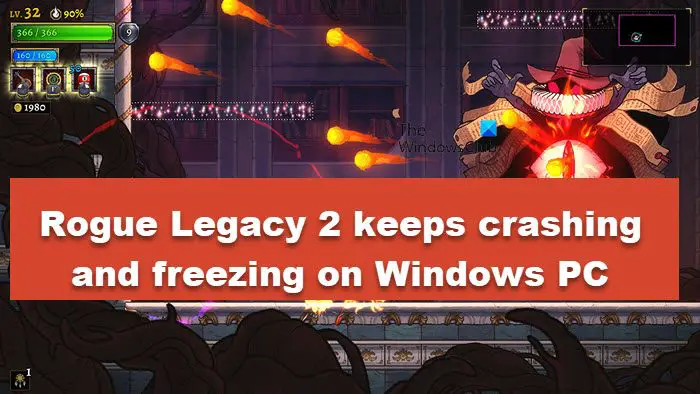 Rogue Legacy 2 keeps crashing or freezing in Windows 11/10
If Rogue Legacy 2 keeps crashing and freezing on PC, start the troubleshooting process by checking for updates. If updating was not useful at all then try the listed solutions.
Close the background apps
Verify integrity of game files
Disable overlay apps
Update Graphics Driver
Run the game as an administrator
Change the power options
Run the game in DirectX11
Update Rogue Legacy 2
Let's start with the first way to solve the issues.
1] Close the background apps
Let us start the troubleshooting process by closing all programs from the background. For that Open Task Manager by Ctrl+Shift+Esc, right-click on all the applications that are consuming an ample amount of CPU, GPU, and Memory, and select End task, one by one. Now go back to your game and see if it's freezing. Hopefully, this should allow having smooth gameplay.
2] Verify integrity of game files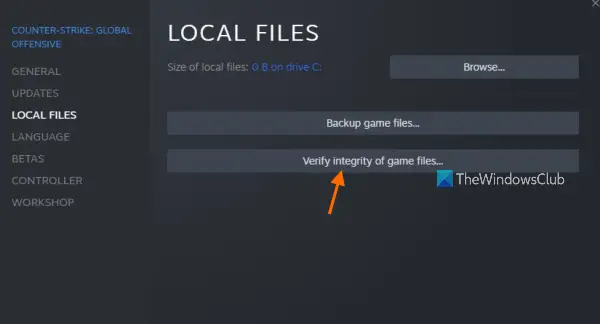 By some means, game files can be corrupted or missing. You can verify the integrity of game files and repair them. Here's how to do so.
For Steam Users
Open Steam and go to Library.
Righ-click on the game and select Properties.
In the Local Files tab, click on Verify integrity of game files.
For Epic Game Users
Open Epic Games and go to its library.
Go to Rogue Legacy 2.
Click on the gear icon to go to the Settings.
Click on Verify.
The process may take some time. Once done restart your computer, this should resolve the issues, and if it is not resolved, move to the next fix.
3] Disable Overlay apps
Next up, we are going to disable Overlay apps or Overlay in apps that can interfere with your game and cause issues. The following are the steps to disable the game's Overlay in Discord.
Open the Discord app.
In Apps settings, click on the Overlays option and turn on the Enable in-game overlay options.
Go to the Games tab, and click on Rogue Legacy 2.
Now, switch off the in-game overlay for your game.
Reboot your computer.
You should also disable Steam Overlay for your game if the option is enabled.
Finger-crossed, you won't face issues anymore. But if it continues to persist then try the next fix.
4] Update Graphics Driver
Updating Graphics Driver may sound like a simple task. However, it seems that doing so always slips off our minds, which in turn causes freezing and crashing problems. Some ways to update the Graphics driver are.
Hopefully, this will do the job for you.
5] Run the game as an administrator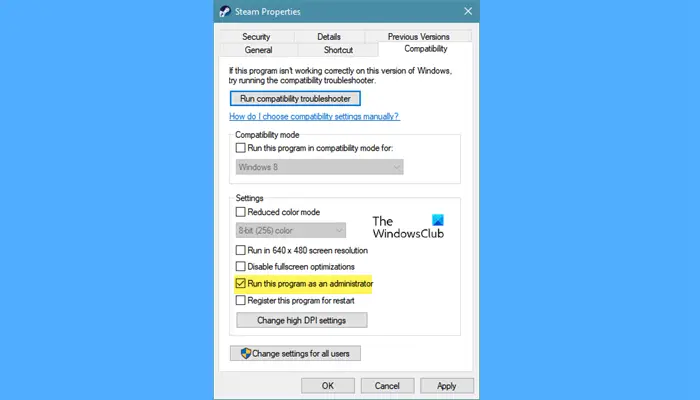 You should try running the game as an administrator. For some users, doing the same worked. It also makes sense that sometimes, your game needs to create some files and for that need administrative privileges. So, you can open Rogue Legacy 2 or Steam as an administrator and see if that works. For that, right-click on the app and select Run as administrator or use the following steps.
Right-click on Steam or Rogue Legacy 2 and click on Properties.
In the Compatibility tab, select Run this program as an administrator.
Select Apply and then Ok to save the changes.
Hopefully, this will do the job for you.
6] Change the power settings
If you have set the power settings at low mode then switching it up to higher settings is recommended as it may solve the issues by giving your game an ample amount of resources to run.
Search and click on the Control Panel in the search bar.
In Hardware and Sound, click on Power Options.
Switch it to High Performance or Ultimate Performance.
Once done, restart your PC. Hopefully, you won't need another fix, but if you do then the next fix is available.
7] Stop Windows from turning off the Controller
Some users had reported that when they were playing with the Xbox controller, the game used to crash after an hour or so. So, they did some tinkering with the Device Manager. We are going to do the same and see if that works.
Open Device Manager.
Look for Xbox Controller, it might be under Sound, video and game controllers.
Right-click on it and go to Properties.
Click on the Power Management tab and untick Allow the computer to turn off this device to save power.
Finally, save your changes and see if the issue persists.
If nothing worked, then you need to wait for the update as it will optimize the game even further.
Also Read: L.A. Noire not working, launching or opening on Windows PC 
System Requirements to play Rogue Legacy 2
Your PC must have the following requirement for smooth gameplay.
Minimum
RAM: 8 GB
OS: Windows 7
VIDEO CARD: Nvidia GTX 680, AMD R9 280X
PIXEL SHADER: 5.0
VERTEX SHADER: 5.0
FREE DISK SPACE: 5 GB
DEDICATED VIDEO RAM: 2048 MB
Recommended
RAM: 16 GB
OS: Windows 11/10
VIDEO CARD: Nvidia GTX 680, AMD R9 280X
PIXEL SHADER: 5.0
VERTEX SHADER: 5.0
FREE DISK SPACE: 5 GB
DEDICATED VIDEO RAM: 2048 MB
Why does my Rogue Company keep crashing?
Rogue Company is out for a while, and hence, is decently optimized to work on a Windows computer. So, the first few things that you need to check are the GPU driver version, corruption of game files, and the system requirements. Or better, check our guide and see what to do when Rogue Company keeps crashing.
If a game keeps crashing for no reason, check your system requirements and make sure that the game is compatible to run on your system. Also, check the software requirements, things such as Visual C++ Redistributable and DirectX, are required to play any modern game.