Here is a full guide on how to fix error code 109 on Roblox. Roblox is a great online gaming platform that brings gaming enthusiasts together and enables them to play a variety of games. However, like any other platform, it is not immune to bugs and errors. Roblox users have encountered a lot of error codes while playing games. One such error code is 109 that prevents you from playing your favorite game on Roblox. Now, if you are facing the same error, this article will help you fix it up with several working solutions.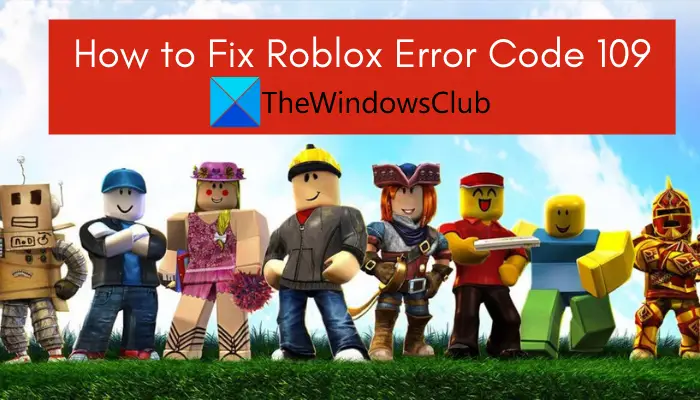 Unable to Join, The ROBLOX game you are trying to join is currently not available, Error Code 109.
What causes error code 109 on Roblox?
Here are some of the possible causes of error code 109 on Roblox:
The error might be caused due to a server problem. If Roblox is facing a server outage or its servers are down for maintenance, this error can be triggered. So, check the server status of Roblox and make sure it is operational.
Your internet can also be causing the same error on Roblox. In case you are connected to an unstable internet or there are some internet issues, it might result in error 109. Try troubleshooting internet problems or power cycle your networking devices to fix the error.
VPN or proxy server might also trigger the same error. So, if the scenario applies, disable VPN or proxy settings to counter the problem.
Your antivirus can interfere with Roblox and trigger this error code. In that case, simply turning off antivirus will help.
How to Fix Roblox Error Code 109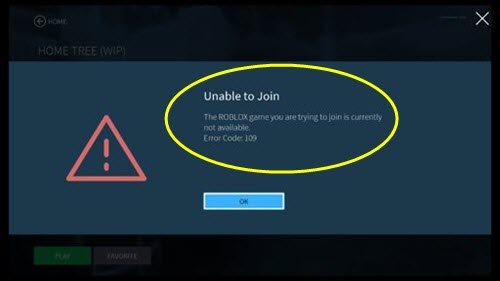 Here are the methods to resolve the error code 109 on Roblox on Windows 11/10 PC:
Check if the Roblox server is down.
Check your internet connection.
Disable VPN/ Proxy Settings.
Disable antivirus.
Reinstall Roblox.
1] Check if the Roblox server is down
This error might be a result of a server-side problem. There might be some maintenance work going on at the Roblox site. Or, maybe there is a server outage issue. So, before trying any other solution, make sure the Roblox servers are not down at the moment resulting in error code 109. You can use free service status detector websites to check whether or not Roblox servers are down. Or, you can directly contact the Roblox support team on their official social networking account and know the current status of Roblox servers.
If indeed the Roblox servers are down, you can't do much in that case. You will have to wait for the servers to be up and working again to fix the problem. Try again after some time and see if the error is resolved now. In case Roblox's server status is fine and running, there might be some other problem causing this issue. You can move to the next potential fix to get rid of the error.
2] Check your internet connection
The error 109 on Roblox might be triggered due to internet problems. An unstable internet connection results in many errors and prevents streamlined gameplay. If you are dealing with network and internet problems, you are most likely to receive this error code on Roblox.
You can try fixing Internet connection problems on your system and then check if the issue is resolved. You might also be dealing with a problem of low WiFi strength, WiFi keeps disconnecting, limited internet, or some other WiFi problem. Troubleshoot your WiFi issues and then try playing on Roblox, and see if the error is fixed. Also, check the speed of your WiFi and see if it is good enough to play online Roblox games.
The problem might also lie with your router cache. To counter it, you can perform a power cycle on your networking device like a router or modem. For that, unplug your router or modem and wait for a minute to let it completely turn off. After a minute or so, plug your router nack and restart the device. This will clear the router cache and reset it. See if this fixes the issue for you.
Read: Roblox keeps crashing on Windows PC.
3] Disable VPN/ Proxy Settings
In some cases, users have faced this error due to their VPN. Anonymity systems like VPN can cause problems with some versions of Roblox and it might run into various errors. So, in case you have enabled a VPN client, try disabling it and then check if the error 109 on Roblox is fixed. If yes, you can be sure that the problem was caused due to your VPN. You can then uninstall the VPN software if you want.
If you are using a proxy server, try disabling proxy settings on your Windows 11/10 PC to fix the error. Here are the steps to do that:
Firstly, press Windows + R hotkey to evoke the Run dialog box and then enter 'inetcpl.cpl' in it to open the Internet Properties window.
Now, navigate to the Connections tab and then click on the LAN Settings button.
Next, disable the Use a proxy server for your LAN checkbox present below the Proxy server section.
After that, click on the OK button to save changes.
Finally, reboot your system and start Roblox; hopefully, the error will be fixed now.
Read: How to Fix Roblox Error Code: 267 on Windows PC.
4] Disable antivirus
Your antivirus can be the main culprit causing the error 109 on Roblox. It can be interfering with your game and might have quarantined the game files, and thus, causing the error. If the scenario is applicable, you can disable the antivirus protection and then see if the error is fixed. In case you don't receive the same error code after turning off your antivirus, you can be sure your antivirus was at fault.
Now, disabling antivirus all the time is not recommended. So, to resolve the issue, you can add the Roblox application to the exception list of your antivirus. This will make sure that your antivirus doesn't block processes related to Roblox.
5] Reinstall Roblox
If none of the above methods fixes the error for you, you can try starting with a fresh installation of Roblox. The problem might be with the corrupted installation of Roblox or the outdated version of Roblox. So, first, uninstall Roblox from your PC using Settings > Apps > Apps & features. After that, download the latest version of Roblox from its official website and install it on your PC.
Hopefully, you won't get the error code 109 on Roblox anymore.
Read: Fix Roblox Error 279 and 529 on Windows PC.
What error code is banned Roblox?
In most cases, Roblox displays the error code 267 if a specific Roblox experience has banned you. However, you will find more other information along with the error code. That being said, you can find the ban's duration, which is one of the most important things you might want to know. For your information, it displays the exact time duration.
Now read: Fix Roblox Error Code 103 and Initialization Error 4 on Xbox or PC.