If you have recently installed a Windows 10 Update and after that, found that the default pre-installed Windows Store apps have gone missing, then this tutorial will help you get them back. Some users who upgraded to Windows 10 Fall Creators Update have experienced this issue, and hence this post.
Default Pre-Installed Windows apps are missing
If you are facing this issue, here are a few things you could try.
1] Repair the app
This is the first thing that you can use to fix this issue. If the update was not installed correctly for an app, this solution will be helpful for you. Press Win+I to open Windows Settings pane. Go to Apps > Apps & features. On the right-hand side, you will find all the pre-installed apps. Find the 'missing' one and click on it. You will see Advanced options that you need to click.
On the next page, you will find two different options, i.e., Repair and Reset. First, click on Repair and give it some time to do its job.
After finishing, check whether you can open that app or not. If not, use the Reset option.
For your information, not all the pre-installed apps have both options. You may not find the "Repair" option for some. In that case, you need to use the "Reset" option.
2] Reinstall missing app from Windows Settings
Although all the pre-installed apps cannot be uninstalled from the Windows Settings panel, you should try it, if the option is available. Open Windows Settings panel by pressing Win + I button and go to Apps > Apps & features. Click on the app name and select the Uninstall option.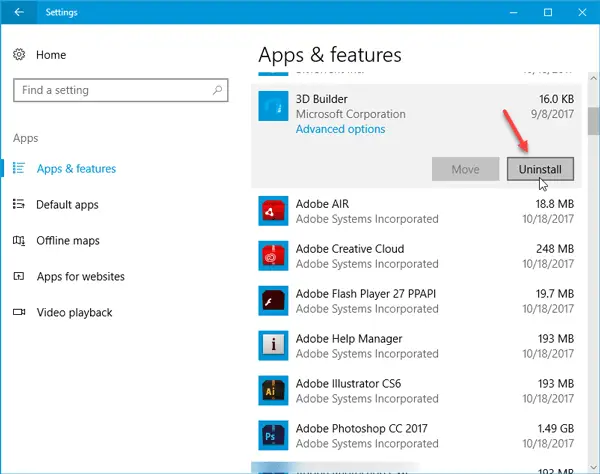 After that, open Windows Store, search for the app and install it. You will get the app in Windows Store if it is possible to uninstall it from Windows Settings panel.
TIP: This post will help you if the Windows Store app is missing.
3] Use in-built Troubleshooter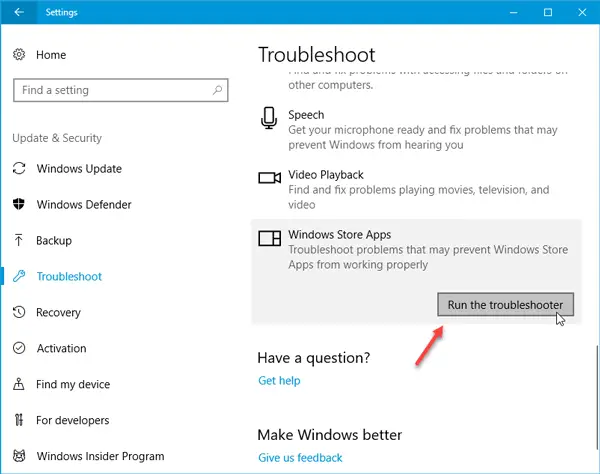 Press Win + I to open Windows Settings panel. After that, go to Update & Security > Troubleshoot. Scroll down on your right-hand side to find out Windows Store Apps. Click on Run the troubleshooter. See if this helps.
4] Reinstall apps using PowerShell
This is a powerful method to fix missing pre-installed apps in Windows 10. Also, if any of the apps are not acting correctly, you can use Windows PowerShell to uninstall the apps and reinstall the apps. You may also use 10AppsManager to perform the same job. Follow this guide, in case, you need to re-register Windows Store apps.
These solutions will help you for sure – if not you may rollback to the previous Windows 10 version.